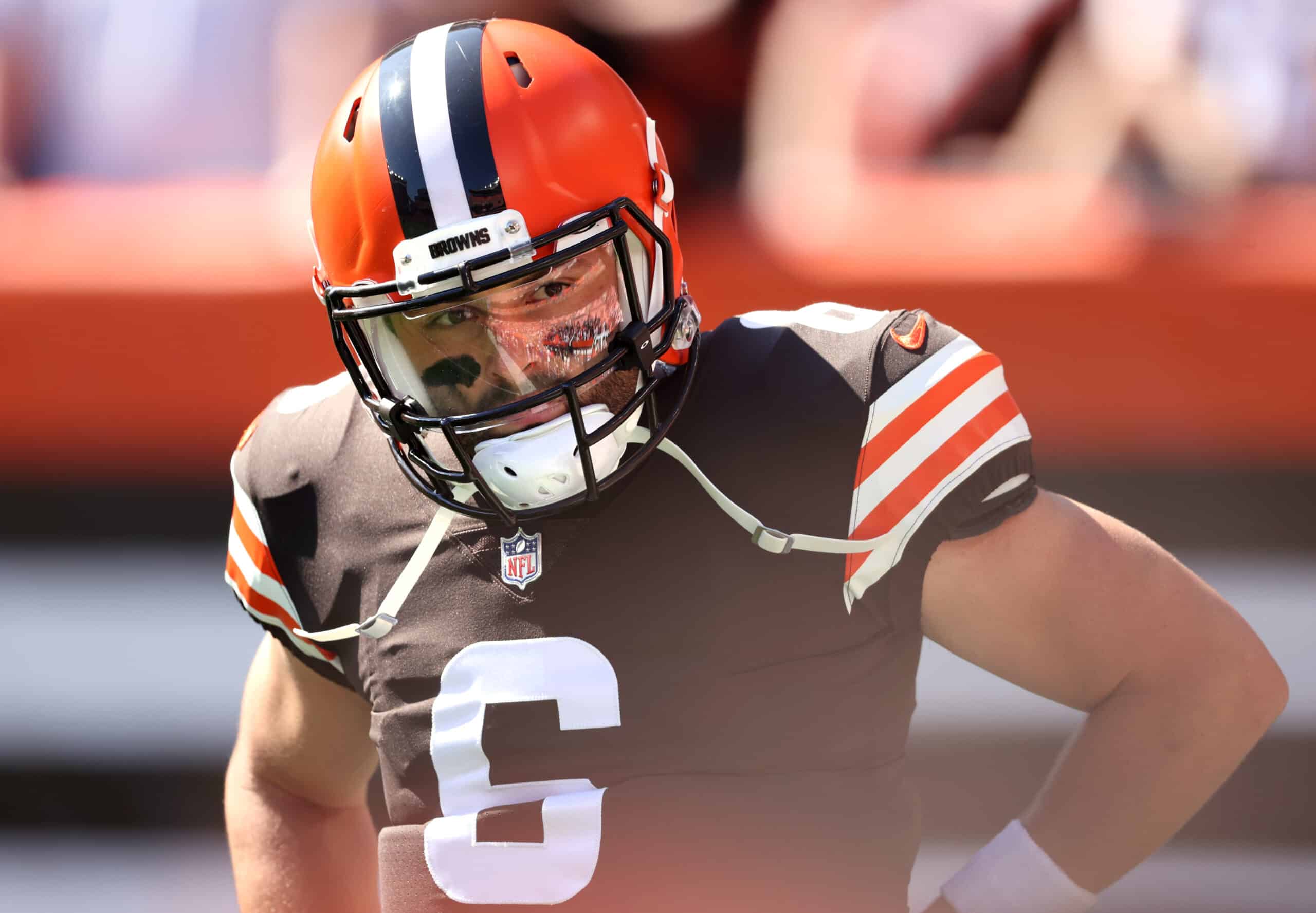 Cleveland Browns quarterback Baker Mayfield has taken his fair share of criticism for his shaky play since sustaining a torn labrum in his left shoulder in Week 2 against the Houston Texans.
Former NFL quarterback Sean Salisbury of SportsTalk 790 in Houston explained why he's not overly worried about Mayfield's long-term direction during a Wednesday appearance on 92.3 The Fan's "Bull and Fox" show.
"I'm not making excuses for him. If it continues, we'll discuss it, but I can tell you this is that he's not making excuses," Salisbury said of Mayfield. "I can't fathom the world that thinks that this position that you're supposed to play perfect every week.

"I don't get it. I don't and I'm not apologizing for saying it. If you think Baker Mayfield can't play, you're a friggin' idiot. Period."
Mayfield went 15-of-33 passing for 155 yards during the 14-7 victory against the Minnesota Vikings in Week 4.
"I'm not making excuses for Baker Mayfield," Salisbury said. "I thought he sucked last week, but the other side of it is I know damn well how competitive…I guarantee you when he watched the tape, he'll tell you he didn't play well.

"He'll tell you he didn't play well because you know what? He knows where his expectations are."

The Browns did not commit a turnover against the Vikings.
"I can't believe when I go on social media and when I hear people talk about the fact that a guy has a bad game, and that, 'He's no longer elite. We got to replace him. Oh, we could trade (Deshaun) Watson for him.'" Salisbury said. "I mean…I'm not calling out fans, but you cannot be this friggin' stupid."
Through four weeks of the 2021 season, Mayfield has completed 74 of 113 pass attempts (65.5%) for 935 yards (22nd in the NFL), two touchdowns (tied for 29th in the NFL) and two interceptions (tied for seventh).
Mayfield's QBR of 39.8 ranks 26th in the league this season, and has a 26-23 career record as an NFL starter.
Even though Mayfield has denied his left shoulder injury has affected his performance, his statistical output says otherwise.
Also, Mayfield's off-target rate (39%) in the Minnesota game was the highest of his career. #Browns @ESPNStatsInfo https://t.co/olewlv1oCW

— Jake Trotter (@Jake_Trotter) October 8, 2021
#Browns QB Baker Mayfield said left shoulder is still attached and doesn't have anything to do with accuracy issues. "I throw with my right," he said.

— Nate Ulrich (@ByNateUlrich) October 3, 2021
"One week he's changed the culture by eight million fans, and then the next week because he goes on the road, plays poorly, misses some easy throws, who for whatever reason whether he's hurt, I'm not a doctor. I don't know that, but I'll be damned," Salisbury said. "'Now, we got to replace him.' With what?…I heard the same crap about Aaron Rodgers the very first week of this season against the Saints."
Salisbury said there are weeks players play poorly, and he had advice for anyone who was mad about his analysis of Mayfield's critics.
"If you're mad that I say this, so somebody who's listening, sitting in their home, no offense, I know more about the position than you do. That's number one," Salisbury said. "Two is I know how tough it is to play because I threw to the other guy plenty, and I've spent countless hours studying this position over the last 40 years."
Salisbury made an analogy about his NFL quarterback expertise.
"If you're going to consider (Dr. Anthony) Fauci an expert (about the COVID-19 pandemic), I'm an expert at this," Salisbury said.
Ultimately, the Browns front office must determine whether to offer Mayfield a contract extension, and maybe more importantly, how much to offer.
Mayfield is under contract through the 2022 season after the team picked up his fifth-year option on his rookie deal in the offseason.
Plus, the Browns might value Mayfield more highly than the NFL's other 31 teams given the franchise's poor quarterback play for years.
In 2019, Mayfield became the first Browns quarterback to start all 16 games since Tim Couch did in 2001.
In the 2020 season, Mayfield led the Browns to the playoffs for the first time since the 2002 campaign, and led the team to its first playoff win since Jan. 1, 1995.
Salisbury acknowledged Mayfield played poorly against the Vikings, but the Browns still won.
"I can't believe that whether it's national hot take show or somebody sitting in row four saying, 'I understand we have an opinion and we played like a** last week. He was not good,'" Salisbury said. "I know they got on the plane and they won.

"Now, I can give you a 400-yard performance in a loss, and it looks pretty, but you lose now. I don't Cleveland Browns fans are so scarred from the last 20-plus years or other fans wherever they're going through difficult times…I mean how dare us because they have a bad performance think that he's no longer a good player?"