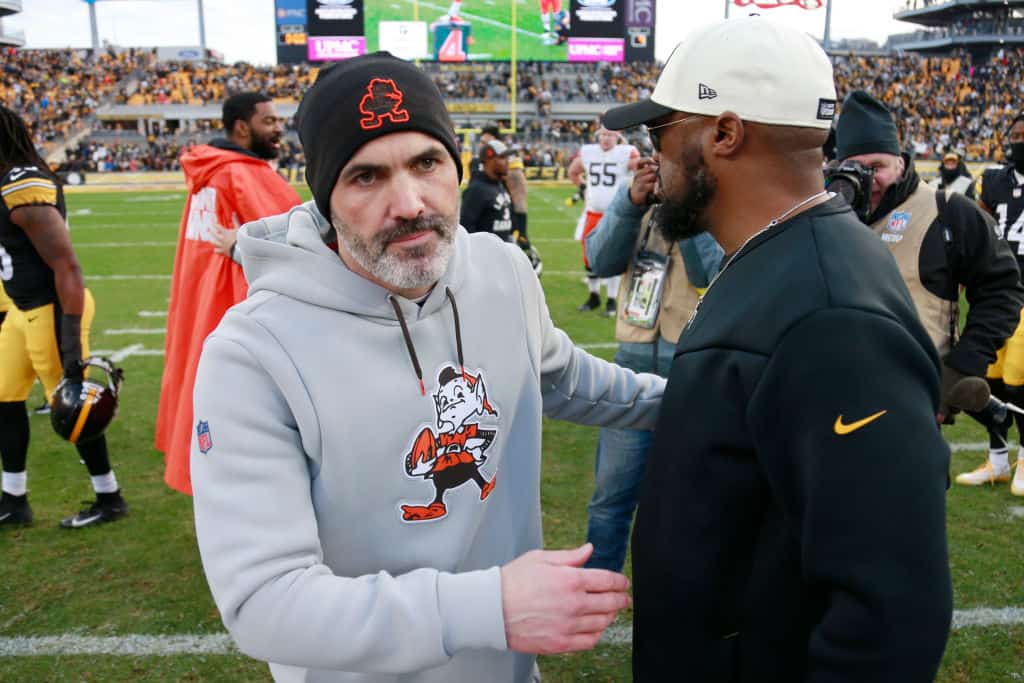 After watching the Cleveland Browns lose to the Pittsburgh Steelers in Week 18, fans have to wonder what is going to happen with the Browns.
2021's discord was all around the offense and fixes that were supposed to improve things.
2022's issues involved an experienced defensive unit that never lived up to its promise or talent.
And special teams endured rough spots also.
Two hours before kickoff, the Browns announced that Andrew Berry and Kevin Stefanski were holding a press conference at 3:30 PM on Monday.
#Browns Andrew Berry and Kevin Stefanski will speak to the media tomorrow at 3:30.

— Brad Stainbrook (@StainbrookNFL) January 8, 2023
That means changes are coming to the coaching staff, and these are necessary to figure out what the roster should look like in 2023.
What Should The Changes Be?
The offensive, defensive, and special teams coordinators should be fired.
Alex Van Pelt is supposed to be in Kevin Stefanski's ear collaborating on play design and calling.
Deshaun Watson held the ball far too long against the Steelers and tried to do too much.
Jack Conklin did not play, and it seemed like no one took that into account with the play calling and design for the Steelers game.
Fans always want Alex Van Pelt to call plays for the Browns do you know in this whole career the only team to let him call plays was Buffalo for one year,in Green Bay quarterback coach

— Barry Harris (@buckeyeguy1011) January 8, 2023
As for the defense, it is time for Joe Woods to go; many argue it is past time.
The #Browns firing Joe Woods and keeping everyone else from the Haslams down is like buying an air freshener for a 1974 Maverick that has sat in the back yard for 45 years.
It may smell better but it still doesn't fix the fact that it doesn't run. pic.twitter.com/MnoeAjBILM

— R.S (@ThoughtsofRS) January 8, 2023
The Browns need a fresh face and approach to defensive play.
Special teams have been a disappointment this season also.
Cade York needs a better coach, and the Browns need someone who can assemble an effective hands team.
Good Riddance Joe Woods & Mike Priefer.

— Corey Stewart (@coreyexamplez) January 8, 2023
What About Coach Stefanski?
Since he is expected to be at the press conference, it seems very likely that Kevin Stefanski will be the Browns' HC in 2023.
Percentage these people will be back…
– Stefanski 50%
– Woods 1%
– Priefer 1%
– Alex Van Pelt 33%#Browns #BlackMonday #BrownsTwitter

— Justin 🎙 (@BuckeyeJC714) January 8, 2023
He should not be calling the offensive plays assuming the Browns find a good offensive coordinator who can take the reins and do a better job.
And his seat will get really hot in 2023 if the Browns are not better.
Monday afternoon should be interesting.