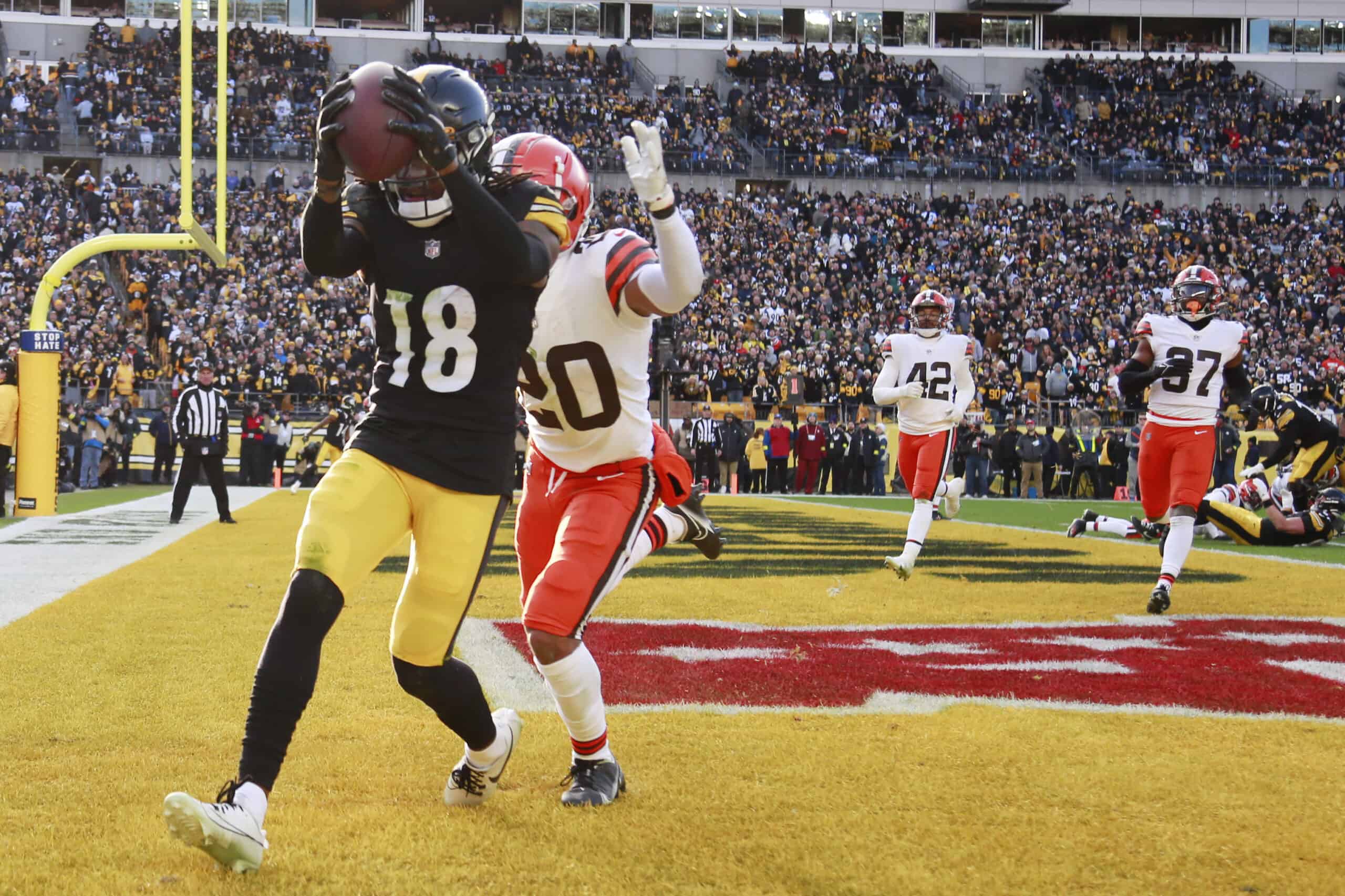 Not a whole lot went right for the Cleveland Browns in their regular season finale.
After falling to the Steelers in Pittsburgh 28-14, the Browns end the season with a 7-10 record and a last place finish in the AFC North.
Now, the days begin counting down until the offseason and NFL Draft ultimately to reshape this team to some degree.
Before any of that, though, let's take a look at our studs and duds from the season finale in Pittsburgh.
Dud: Jedrick Wills
Before getting to Jedrick Wills' abysmal day, hopefully his MRI tomorrow doesn't indicate anything more than what he believes will be an MCL sprain, per Mary Kay Cabot.
#Browns Jed Wills said he likely has an MCL sprain but will have an MRI tomorrow to clarify I pic.twitter.com/U31aFw61Y0

— Mary Kay Cabot (@MaryKayCabot) January 8, 2023
That injury happened on Cleveland's meaningless final drive, which is unfortunate for Wills.
However, throughout the game prior to that, Wills had no answers for Pittsburgh's defensive front.
Steelers defensive end Alex Highsmith gave Wills troubles all afternoon.
He and Cameron Heyward completely took Wills out of a play that resulted in a Deshaun Watson sack.
Heyward would be called for roughing the passer, but it's still a terrible rep from Wills.
Alex Highsmith with a disgusting ghost move for the sack.

He owns Jedrick Wills, man.

— Derrick (@Steelers_DB) January 8, 2023
Wills also helped kill a drive early in the game with a holding call, something that's become a weekly issue with him.
Jimmy Donovan goes and there was the weekly Jed Wills holding penalty. 😂

— … (@PeppaPike) January 8, 2023
"Forgettable" is about the nicest word most would use to describe Wills' season.
Sunday served as a small encapsulation of that.
Stud: Myles Garrett
Myles Garrett didn't have his best day by any means.
But he's one of the few on Cleveland's defensive front who brought it on Sunday.
The Browns got to Kenny Pickett just once, courtesy of a beautiful pass-rush move from Garrett.
Myles Garrett hit the eurostep to get this sack on Kenny Pickett 🤩pic.twitter.com/rqDyTeBHId

— ClutchPoints (@ClutchPointsApp) January 8, 2023
Garrett will close the year with 16 total sacks, which will tie Philadelphia's Haason Reddick for 2nd most this season.
He also tallied seven total tackles including two for a loss.
Myles dealt with some distractions this week, too, with Jadeveon Clowney causing a bit of a stir.
After the game, Garrett mentioned he'll be "frustrated" watching other teams in the playoffs.
Hopefully, that same taste is in the mouths of others around the locker room as well.
#Browns Myles Garrett says he'll be frustrated as heck watching playoff teams over the next few weeks pic.twitter.com/DbUbIYBAFQ

— Mary Kay Cabot (@MaryKayCabot) January 8, 2023
Dud: Kevin Stefanski
Cleveland's coaching staff took a ton of criticism this season, and rightfully so.
Defensive breakdowns and offensive lapses plagued the Browns all year.
While the players are the ones who need to execute, much of that falls on coaching.
Sunday seemed like another game where the Browns simply were not prepared on either side of the ball.
Ultimately, Stefanski deserves some blame for that.
I am officially done defending Stefanski

— Adam the Bull (@adamthebull) January 8, 2023
The #Browns have nothing to be optimistic about going into next year. This Steelers Team is horrible! We are slow and predictable on offense. Small, soft, & vanilla on defense. Good luck running it back with this Stefanski! Mark my words, Browns are 1 year from a total rebuild!

— Garrett Bush (@Gbush91) January 8, 2023
Plus, not to beat a dead horse, but the lack of Nick Chubb touches in so many games this year, and on Sunday, is mind-boggling.
Credit Pittsburgh's defensive front for staying solid, but just 12 touches for Chubb doesn't feel like enough.
Two of those didn't come until the final drive.
On a day when Chubb averaged 6.8 yards per carry, Stefanski only gave him the ball 12 times. I guess he's saving Chubb for the playoffs again. #Browns https://t.co/33OeMwOLgt

— Roberto Shenanigans (@Rob_Shenanigans) January 8, 2023
On Cleveland's second drive, the Browns faced a third and two.
Instead of Chubb, Stefanski draws it up for Kareem Hunt.
He didn't get the first, and Cleveland punted.
Those are the types of decisions that has Browns fans losing confidence in their head coach.
Dud: MJ Emerson
It was a tough afternoon for MJ Emerson, no doubt about it.
He matched up with Steelers rookie receiver George Pickens and did not fair too well against the former Georgia Bulldog.
Pickens hauled in two ridiculous catches while working against Emerson.
He also drew a pass interference on Emerson right at the goal line which led to an eventual six points for Pittsburgh.
George Pickens is a magician 🪄pic.twitter.com/hjbM9w08G1

— ClutchPoints (@ClutchPointsApp) January 8, 2023
Pickett to Pickens for 24! #Steelers #NFL pic.twitter.com/4Jy6erNwGC

— Blitz Guy (@BlitzGuyOG) January 8, 2023
The secondary as a whole deserves a dud for Pickens' touchdown, which again came from a coverage breakdown up the seam.
FEED GEORGE PICKENS pic.twitter.com/76NwGM84sD

— Baxter Street Boys (@baxstboys) January 8, 2023
With Joe Woods likely out the door, ideally, these types of lapses don't happen anymore in 2023.