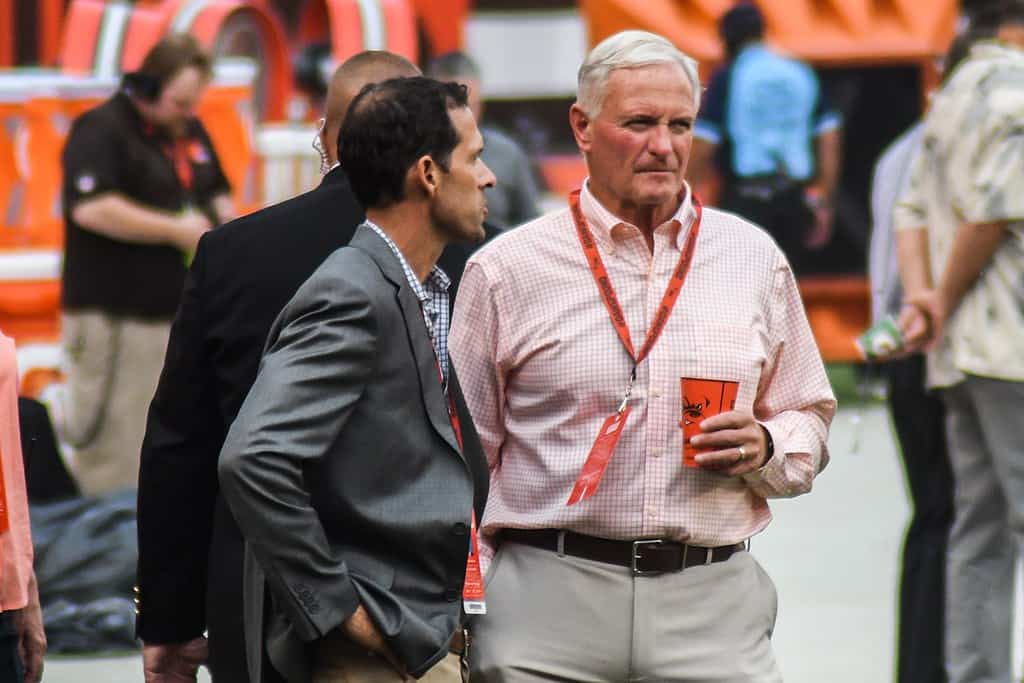 There have been plenty of conversations about Paul DePodesta from the moment he was hired by Jimmy Haslam.
Sashi Brown was already in place and projected to bring the Cleveland Browns into the Analytic Age.
So why did Haslam reach out to add a baseball guy?
And how was it the baseball guy was the football guy´s boss?
Watch Paul DePodesta try to explain what he does 🤣

— Mike @ Everything Cleveland (@MikeFromCLE) January 14, 2020
Well, as it turned out, everyone- including the incoming head coach- would report directly to the owner.
Haslam wanted all his primary decision-makers to battle for his attention and approval.
What could go wrong with that, right?
When the wheels started falling off the bus, changes were made.
Sashi Brown met his fate first.
All he did was set the Browns up for a total rebuild.
How Hue Jackson stuck around longer than Brown is a mystery.
But he would unceremoniously follow Brown to the streets in due time.
And then there was the Chief Strategy Officer… the baseball guy in charge… Paul DePodesta.
Was analytics dead in Cleveland?
Speculators bet DePodesta would be elsewhere by the end of the 2019 season.
DePodesta Didn´t Seem to Have Much Sway Early On
Paul DePodesta always had Jimmy Haslam´s ear.
That doesn´t mean Haslam followed his CSO´s advice right away.
But eventually, even the most hands-on boss realizes when an employee does something better than he does.
In 2016, Paul DePodesta wrote Jimmy Haslam a Hail Mary email arguing against Hue Jackson and in favor of Sean McDermott. In 2019, DePo wanted Kevin Stefanski but John Dorsey "flexed my muscles and got what I wanted," with Kitchens. Today, DePodesta finally gets his guy. Godspeed.

— Seth Wickersham (@SethWickersham) January 12, 2020
Haslam´s first opportunity to defer to smarter people was when he hired Hue Jackson.
Sashi Brown joined DePodesta in strongly recommending Sean McDermott for the Browns´ head coaching job.
The owner did not listen to their advice, and promptly let Jackson become the worst (by record) NFL coach in history.
Buffalo hired McDermott, whose Bills are co-favorites to win the AFC East this year.
Brown was gone when the ax finally fell on Jackson.
Haslam was keen to name offensive coordinator Todd Haley as the interim coach.
DePodesta was able to squash that idea, and Gregg Williams became the team´s first winning coach in years.
If Sashi Brown had won the power struggle with Hue Jackson and had this coaching staff in place for the start of the season, he might be in the running for Executive of the Year.

— Bill Barnwell (@billbarnwell) December 16, 2018
But the decision-making structure of the Browns was still in flux.
John Dorsey, a football guy, was the new general manager.
And he was ready to fight for his choice of permanent head coach.
As most Browns fans know, DePodesta was high on Minnesota´s Kevin Stefanski.
But Dorsey, with a little help from his popular rookie quarterback, persuaded Haslam to promote Freddie Kitchens.
There are plenty of theories why Dorsey wanted Kitchens, and few of them are kind.
Fortunately, DePodesta´s choice didn´t get hired away this time before the Browns were in the head coach market again.
Haslam Finally Follows DePodesta´s Advice
Jimmy Haslam over-ruled DePodesta´s first two choices as head coach.
In the case of Jackson, the owner ignored passionate pleas from his CSO and his general manager.
Sashi Brown and DePodesta had a plan on how and when to use the draft picks they accumulated,
That plan was undermined by the hire of a wheeler and dealer in Dorsey.
Another top analytics guy left the team after the 2018 season because the vision of the team went awry.
His name was Andrew Berry.
But despite all that, rumors swirled of a growing role and bond between Haslam and DePodesta.
John Dorsey and Freddie Kitchens didn't buy into Paul DePodesta's emphasis on analytics, and now they're gone. via TLOD https://t.co/5MabBiIh2C

— Tony Grossi (@TonyGrossi) January 3, 2020
Kitchens proved ill-prepared for his new role.
Dorsey did him no favors by pretending Kitchens´ position was safe.
Kitchens was ultimately fired and Dorsey refused to adjust his role under the new sheriff.
That new sheriff was the old sheriff, Paul DePodesta.
And this time he not only got his man in Kevin Stefanski, but he also convinced Andrew Berry to return as general manager.
in hindsight…

Terry Pluto:

"Paul DePodesta and the Haslams saw the chemistry between Andrew Berry and Kevin Stefanski when Stefanski interviewed for HC at the end of 2018. That's why they quickly pivoted to them after Dorsey and Kitchens were fired following the 2019 season"

— BrownsFreak51 (@BrownsFreak51) May 3, 2020
Jimmy Haslam talks about how he finally found his cohesive, uni-visioned team.
But that team was standing right in front of him before the wasted 2019 season, too.
What Happens to DePodesta if Stefanski and Berry Work Out?
Everybody who is a part of the Cleveland Browns organization is on the brink of legends status.
When a long-suffering fan base is finally rewarded, they remember names.
My father can barely remember where he lives some days.
But mention the 1986 Giants, and he can tell you the name of the backup right guard and water boy.
The @Browns are going to the Super Bowl

— Kristin J (@kblaze81) May 8, 2020
Baker Mayfield, Nick Chubb, Myles Garrett, and the rest of them will be Sons of Cleveland forever.
If only everything works out the way it´s supposed to.
Kevin Stefanski and Andrew Berry will add years to their Cleveland careers with a Super Bowl.
I hope to see you all at my Cleveland Browns SUPER BOWL party in TAMPA, FLORIDA in February!

— Vern Thompson (@VernThompson) May 8, 2020
People tend to let championship players and managers fade a little longer into the sunset.
But what about Paul DePodesta?
Not many folks can name team vice presidents or Chief Strategy Officers.
When Paul DePodesta leads the Browns to the Super Bowl, will Jonah Hill play him in the "MoneyBrowns" movie? Just askin'

— Jayson Stark (@jaysonst) January 5, 2016
Fortunately, DePodesta´s fate lies with Jimmy Haslam.
And owners are just as quick to let heroes hang around longer than they might deserve.
DePodesta will be Haslam´s hero if he delivers the Vince Lombardi Trophy to Cleveland.
Organizational heroes get treated like family.
That means a vice-president or even team president position could be in DePodesta´s future.
One more from @AlbertBreer on @BullandFox yesterday on #Browns: "The coach is going to help pick the GM and then you figure out whether or not Paul DePodesta lines up with everybody else. By the way, I'm not 100% positive that Paul DePodesta 100% wants to stay in the NFL, anyway"

— Keith Britton (@KeithBritton86) January 3, 2020
Unless DePodesta decides he needs a new challenge.
Maybe his next goal is a Stanley Cup or NBA Championship?
Is DePodesta Really That Smart?
Paul DePodesta is one of those people you know is smart as soon as he speaks.
Every MLB team he worked for raves about his knowledge, organization, strategy, and reasoning skills.
But that doesn´t mean a little luck doesn´t help.
Berry, Stefanski, and DePodesta are a dream team of smart, analytical minds with a clear vision for the Cleveland Browns woof woof

Can't wait to see how they play this draft tonight, expect big things#Browns #NFLDraft pic.twitter.com/Iq6Rnz9fib

— Browns EyeTest (@BrownsEyeTest) April 23, 2020
Sean McDermott went to Buffalo with the plan he sold DePodesta and Brown on.
But the Bills suffered a harsh setback related to injuries and unexpected retirements in 2018.
Would Jimmy Haslam find the patience to let such a speed bump go?
One can debate whether McDermott, Berry, or DePodesta would have survived a Mayfield regression.
But that is all speculation and circumstance.
Right now, Paul DePodesta is making Jimmy Haslam look smarter than ever.
And Browns fans are feeling better about all of it.