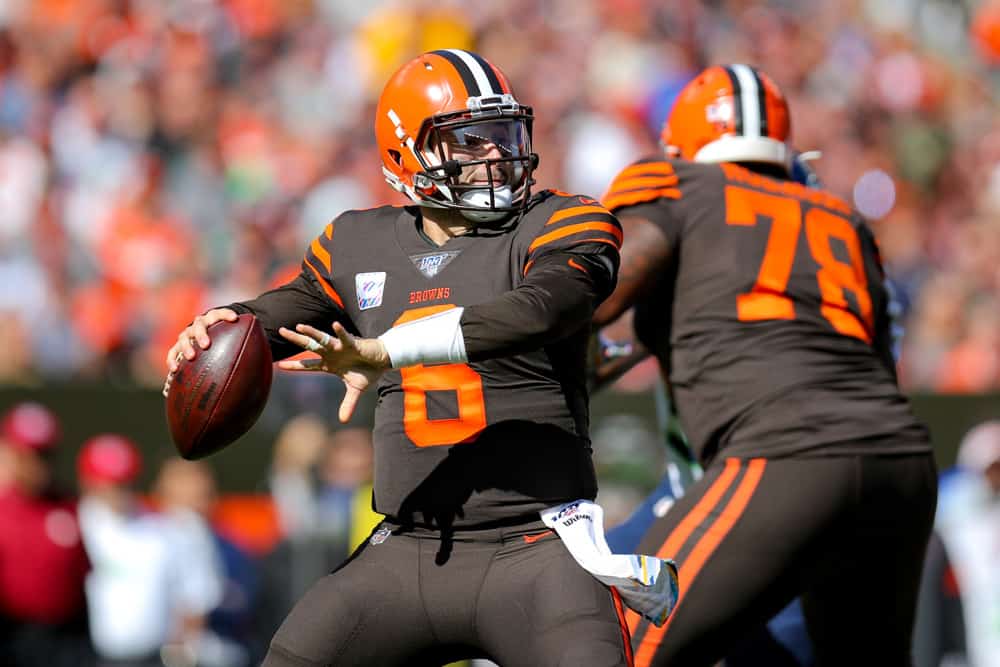 Baker Mayfield heads into the 2020 NFL season looking for his form he had in the 2018 season.
Pro Football Focus details important areas in which Mayfield will need to improve in order to upgrade the Cleveland Browns' offense this upcoming season.
At the end of January, Pro Football Focus ranked Mayfield as the 18th-best quarterback.
Let's take a look at what Pro Football Focus says are areas that Mayfield needs to improve upon in 2020 to rise the ranks.
1. Adjusted Completion Percentage
The "Signature Stat Spotlight: Quarterbacks" article discusses the advanced statistics that Pro Football Focus looks at closely.
It is not surprising to Browns fans that Mayfield, who ranked second-to-last in completion percentage, also ranked second-to-last in adjusted completion percentage among quarterbacks with at least 300 dropbacks:
"Cleveland Browns second-year quarterback Baker Mayfield ranked second-to-last at 69.5%."
The only quarterback who had a worse adjusted completion percentage was Detroit Lions quarterback Matthew Stafford.
Surprisingly, Stafford ranked 16th in non-adjusted completion percentage in 2019.
Last season, Kevin Stefanski led an offense that included Pro Bowler Kirk Cousins, who ranked in the top five in both completion percentage and passer rating.
Cousins also is a strong deep-ball thrower:
5. Kirk Cousins – 58 👀 https://t.co/yD4QbkPG8U

— PFF MIN Vikings (@PFF_Vikings) May 12, 2020

If Stefanski can transform the average 2019 Browns offense into a top 10 one, it partly should be due to Mayfield's more accurate passing in 2020.
2. Clean-Pocket Passer Ratings
Stefanski had a top-10 offense in Minnesota in 2019, while Mayfield was ranked 31st in passer rating.
Among the quarterback with 200 clean dropbacks, the bottom four quarterbacks in clean-pocket passer ratings were the following:
"[Dwayne] Haskins, Andy Dalton, Mayfield and Kyle Allen were the only four quarterbacks with sub-90.0 clean-pocket passer ratings in 2019."
Fortunately for Mayfield, he is in the best situation of the four quarterbacks.
With Landry and Beckham returning, Mayfield will have to improve on his clean-pocket passing:
Baker Mayfield was 66.8% accurate in the 1-20 yard range last season. That was the worst rate in the NFL. Jameis Winston was second last at 67.4%. pic.twitter.com/S9XerrX2ST

— QB Data Mine (@QBDataMine) May 1, 2020
The signing of Austin Hooper and the hopeful career season for David Njoku will provide the 2020 version of Mayfield a cavalcade of targets on any passing opportunity.
3. Passer Rating on Non-Play-Action Dropbacks
The final statistic that Pro Football Focus highlights is a specific type of passer rating that Mayfield will have to improve:
"Jackson recorded the highest NFL passer rating on non-play-action dropbacks at 109.5, and Mayfield recorded the lowest passer rating on said dropbacks (68.8)."
Mayfield hopes to have a 2020 similar to his 2018 instead of his 2019 season.
In his rookie season, he had the fourth-most game-winning drives in the league and was sacked among the fewest in the league.
However, he did improve in an important statistic from 2018 to 2019.
In 2018, he ranked 10th with 12.0 yards per completion.
Then in 2019, he ranked sixth in the category.
After an All-Rookie season in 2018, Mayfield was ranked No. 50 on the NFL Top 100 list.
According to Hall of Fame tight end Tony Gonzalez, Mayfield has the most pressure on him of any NFL player this season.
Meanwhile, ESPN analyst Dan Orlovsky expects Mayfield to bounceback in 2020 because of the improvement at offensive line.
It sounds like first-year general manager Andrew Berry has supreme confidence in Stefanski's system and Mayfield's talent because he thinks that the quarterback will have a "fantastic year."