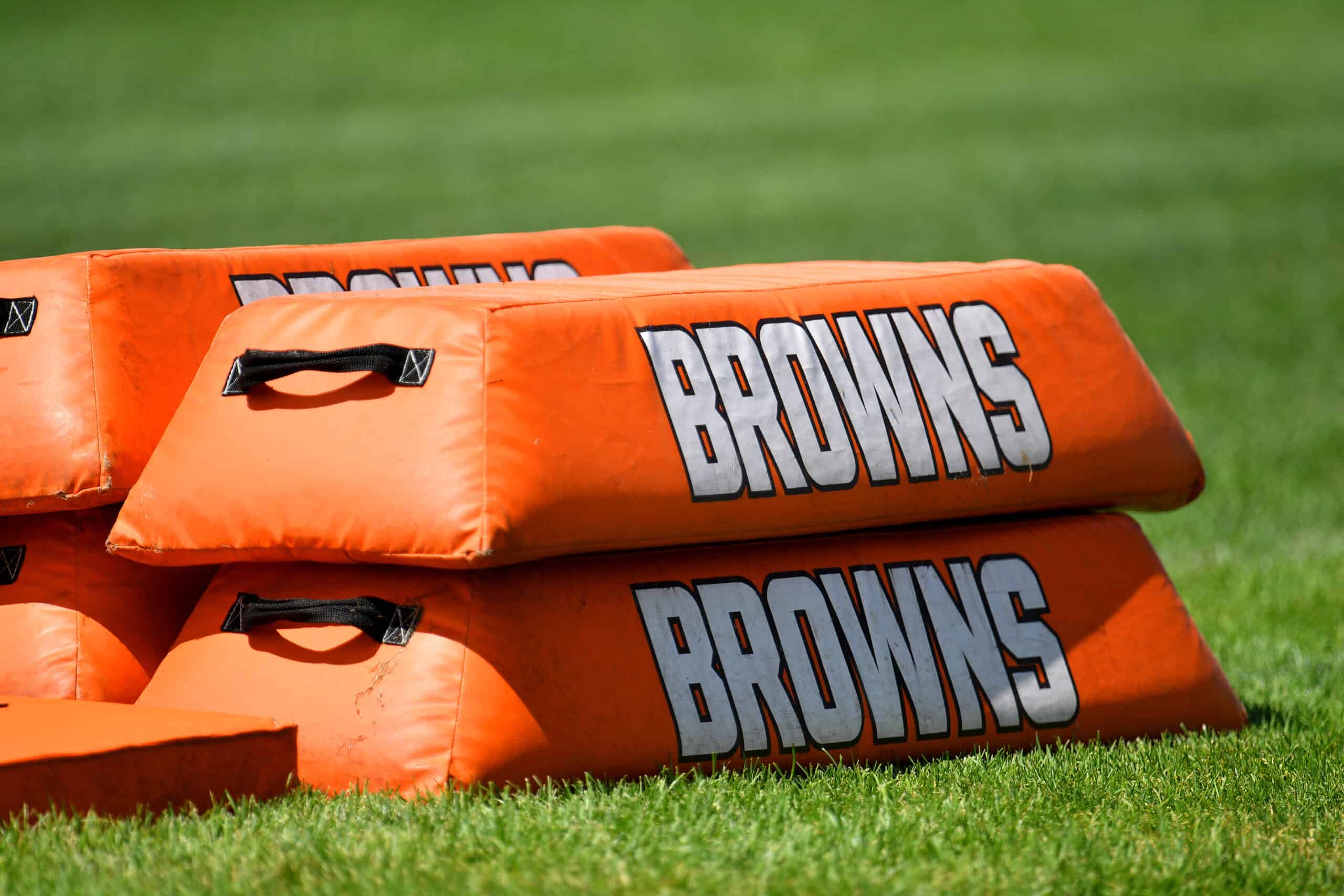 Andrew Berry and Kevin Stefanski introduced Deshaun Watson to the media and fans Friday.
And it is easy to think the Cleveland Browns roster is all but set with Watson and Amari Cooper in the fold.
But there are still a lot of holes on this team, some bigger than others.
Browns QB Deshaun Watson with his jersey after his introductory press conference. #Browns pic.twitter.com/WFy3nGA5eF

— Hayden Grove (@H_Grove) March 25, 2022
April's 2022 NFL Draft will fill some of them, for sure, even if Berry has to wait for the second round.
Social media teases several trade offers and there are plenty of free agent rumors to consider, too.
Lest we miss an important component, let's scroll through the current Browns' roster to see what they need.
Offensive Backfield: Almost Set 
Deshaun Watson is the unquestioned starting quarterback, with Jacoby Brissett ready to cover any games missed.
This fits Berry's preference of signing a backup that can mimic the style and strengths of the starter.
Baker Mayfield's salary continues to hold up any trade, but there is no scenario in which he plays this season.
Meanwhile, Kareem Hunt survived the Watson trade after seeing his name leading off most rumored deals.
Nick Chubb just stiff armed this dude into 2023 pic.twitter.com/Gea4JlaPRG

— NFL Memes (@NFL_Memes) January 4, 2022
D'Ernest Johnson will join Nick Chubb as the gameday trio, assuming nobody bids against the Browns' qualifying offer.
Demetric Felton should feel challenged, if not threatened, by the acquisition of Jakeem Grant.
Felton might have to impress more in the running game if he is to survive final cuts.
Cleveland retained John Kelly and Tre Harbison who could both vie for practice squad positions.
Receivers Group: Still Lacking 
Andrew Berry traded for Amari Cooper, re-signed David Njoku, and added Jakeem Grant through free agency.
And the Browns receiving corps is still lacking.
That's because the locker room door opens both ways, and Jarvis Landry and Rashard Higgins went the other direction.
Cooper essentially is the safety-occupying deep threat lacking since Odell Beckham Jr. left.
DONOVAN PEOPLES-JONES! Wow.

Browns up 21-7. pic.twitter.com/tLocHIwdUy

— NFL on CBS 🏈 (@NFLonCBS) November 7, 2021
But Jakeem Grant could be the more useful acquisition as the WR-3 and in the return game.
Donovan Peoples-Jones is a lock, but Anthony Schwartz and Ja'Marcus Bradley have to impress in preseason.
Miller Forristall and Nick Guggemos don't rule out an additional tight end signing with Njoku and Harrison Bryant.
In fact, it is likely at least one more seasoned wide receiver (Landry, Will Fuller?) and tight end will be in the final 53.
Offensive Line: Shallow, But Healthy
Bill Callahan's offensive line room has been the calmest so far this offseason.
Although a shudder went through it with the release of veteran center, JC Tretter.
Cleveland believes Nick Harris is ready to step in between Joel Bitonio and Wyatt Teller.
Working with a pair of All-Pro guards should provide cover for any deficiencies in Harris' game.
Jedrick Wills getting up and through the alley on DART like he's running the rock. Young man is so athletic.

Also, Wyatt Teller peeling here late to pick up 57's blitz saves this 3rd down. Teller has put together two very impressive starts to begin 2020. #Browns pic.twitter.com/yMpoKrZ4Mf

— OBR Film Breakdown (@TheOBRFilmBDN) September 19, 2020
Berry announced plans to roll with Jedrick Wills at left tackle after an injury-tainted 2021.
And the return of both right tackle Jack Conklin and swing tackle Chris Hubbard reinforces that.
All told, the Browns have 8 other linemen on the roster, including the versatile Blake Hance.
But center is the only position Hance didn't play last year, so adding an experienced backup is not out of the question.
Defensive Line: Where'd Everybody Go? 
Myles Garrett is the only defensive end/edge rusher left with any NFL defensive snaps under his belt.
Gone are Joe Jackson (Carolina), Gustin Porter, Takk McKinley, Ifeadi Odenigbo, and of course, Jadeveon Clowney.
2021 UDFA Curtis Weaver is the only other end in the building, and it is unlikely he is slated to step in opposite Garrett.
Defensive tackles are somewhat more plentiful, thanks to the signing of free agent, Taven Bryan.
Back-to-back plays by 2nd year DT Jordan Elliott. He slips the block in play #1 to make the -6 yard TFL, but play #2 is more impressive. Elliott takes on a double-team, fights off both blockers and makes the tackle for no gain. Haven't seen Billings do this. #Browns pic.twitter.com/Whye256t4K

— Roberto Shenanigans (@Rob_Shenanigans) August 30, 2021
But the former first-round pick out of Jacksonville has not shown much more than some pass-rush potential so far.
It wouldn't be a total upset if the young Jordan Elliott and Tommy Togiai won the starting jobs in September.
But it is safe to say a handful of contenders will join the competition for tackle and end positions soon.
Cleveland already extended an offer to Clowney, and it should not surprise anyone to see Porter Gustin return.
Linebacker: How Many Stay? 
Well, at least there won't be weekly articles in Browns' media about Mack Wilson's future.
Andrew Berry exchanged the oft-maligned linebacker for another player in need of a change of scenery, Chase Winovich.
Winovich notched 5.5 sacks in a part-time role in 2020, but New England felt he was a liability against the run.
Playing behind Myles Garrett or, shall we say… a Jadeveon Clowney-type might mitigate that.
Jeremiah Owusu-Koramoah played out of his mind in the 1st half. This kid is special. Here's a couple highlights. And that sack is not a designed play. JOK saw an opening to the QB and he took it. #Browns pic.twitter.com/nhPu7B6WnW

— Roberto Shenanigans (@Rob_Shenanigans) September 26, 2021
Cleveland rotated all 6 linebackers into the mix last season, but things could change a bit in 2022.
Jeremiah Owusu-Koramoah is ready for a bigger role, likely next to returning middle linebacker, Anthony Walker.
Sione Takitaki is penciled in as the third starter, but a healthy Jacob Phillips could change that situation.
With Tony Fields and Willie Harvey Jr on board, this room could be set, but another addition wouldn't surprise.
Secondary: Could Be Safer
Cleveland's cornerback group is arguably the team's biggest strength.
Greg Newsome's emergence and a bounceback season by Greedy Williams made things tough for opposing passers.
Troy Hill had a strong season covering the slot, and none of them was the best corner on the team.
Denzel Ward justified any amount of money he gets on his pending extension (don't even mention free agency!).
TURNOVER On 3rd & 6, Roethlisberger intercepted by AJ Green ends the half#Browns 0 #Steelers 10 H pic.twitter.com/ytyGWzmwQF

— Sᴘᴏʀᴛs 24/7 (@Sports_24x7_) January 4, 2022
And 2020 UDFA AJ Green more than held his own in a fill-in role late in the season.
Cleveland lost safeties MJ Stewart (Houston), Javonte Moffatt (Jets), and Ronnie Harrison (FA).
Hopefully, 2nd-year player Richard LeCounte regained his strength and learned a lot watching as a rookie.
Because John Johnson and Grant Delpit are as good a safety tandem as most but need some reinforcements.
Special Teams: Not So Much 
Other than long snapper Charlie Hughlett, none of the Browns special teams players are set.
But punter Joseph Charlton and kicker Chris Blewitt will get a shot at making an impression.
Both were signed to reserve/futures contracts, and the preseason roster spot that goes with them.
Berry might be ready to draft a kicker, as he reportedly wanted to last season.
BOOM! CHASE MCLAUGHLIN FROM 57 YARDS! pic.twitter.com/Z2yOjdKsNv

— B1G CHAMPS Barstool Illini (@BarstoolILL) September 26, 2021
Rumors were Cincinnati heard the Browns would draft Evan McPherson in the 6th round of the 2021 NFL Draft.
That is how McPherson became a fifth-round selection for the team in orange stripes.
Special teams coordinator Mike Preifer survived a second-consecutive subpar effort by his unit.
But his top assistant did not, and that should be the first of lots of changes on kicks and punts for 2022.