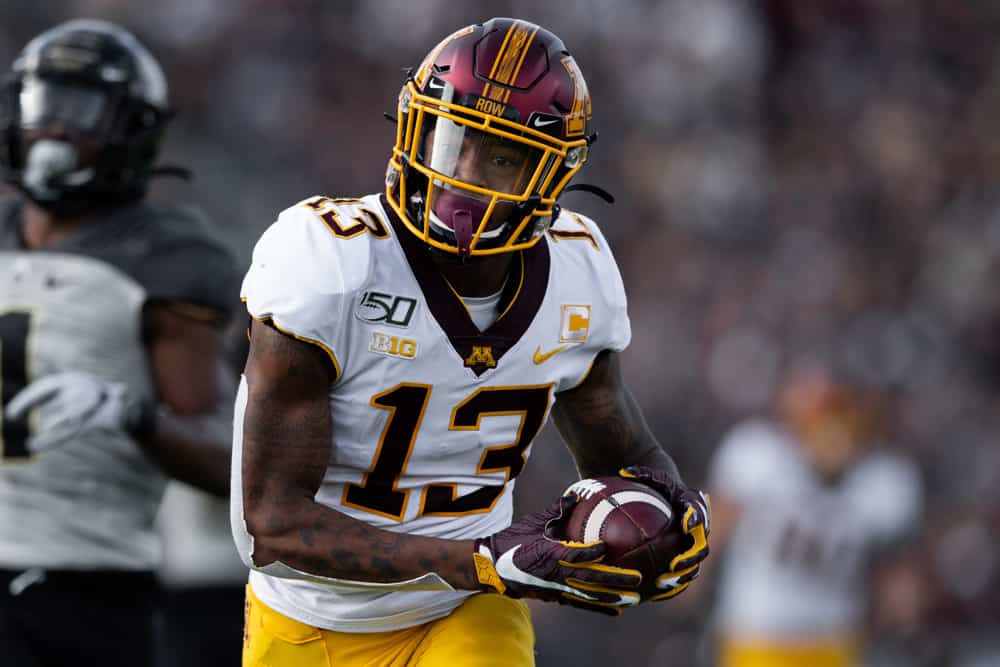 Andrew Berry and the Cleveland Browns have gone hard and heavy on defense so far this offseason.
Most folks expect that pattern to continue in this weekend's NFL Draft.
Cleveland could use another starting-caliber cornerback, an interior defensive lineman, and a speedy linebacker.
Rashod Bateman was getting a lot of buzz from scouts/execs I spoke with over the last couple weeks & that was before he tested as well as he did at his pro day (4.41 40). A couple believe he's the best WR in this draft, better than Chase, Smith or Waddle. Bold.

— Michael Giardi (@MikeGiardi) April 8, 2021
As final mock drafts are filed left and right, those are the most popular choices for Cleveland's 26th pick.
Many even have Berry trading up to grab another impact player for Joe Woods.
But what if his top-ranked defenders are off the board before Berry can grab one?
Berry will not reach for a player, even if he fills a need.
He might trade down if the opportunity presents itself, but it is more likely he will take the best athlete available.
Rashod Bateman's route running ability>>>> pic.twitter.com/cAnN2ERCtt

— Johnny Kinsley (Tony Romo Hive CEO) (@Brickwallblitz) April 22, 2021
Even if the best athlete available is a wide receiver.
Cleveland appears ready to start Odell Beckham Jr and Jarvis Landry in their base offense.
Rashard Higgins and Donovan Peoples-Jones are ready when Stefanski goes 3- or 4-wide.
But Kevin Stefanski lacks one ingredient that could make his offense more explosive.
That is someone who can draw a safety away from Beckham or make teams pay for doubling the wrong receiver.
Browns Draft Rashod Bateman, WR Minnesota
Before I start gushing about Rashod Bateman, let me give credit and/or grief to Sports Illustrated's Pete Smith.
Smith stole my thunder by mocking Bateman to Cleveland in his final (5.0) mock draft this weekend.
But instead of moving on to an alternate possibility, I will stick with the best option likely to fall to 26.
And I say fall because Bateman could have been the first wide receiver off the board in 2020.
Rashod Bateman: 46 RECs on 10+ yard throws in 2019

Most in CFB 🥇 pic.twitter.com/8km1L1uSP5

— PFF Draft (@PFF_College) April 22, 2021
That was before Covid-19, complicated by his asthma, affected his play and availability.
Questions popped up about Bateman's speed, until he put up a pair of sub-4.4 40s at an unofficial Pro Day.
CBS Sports, NFL's Daniel Jeremiah, and PFF rank Bateman among the top 6-8 receivers in this NFL Draft.
But half of the receivers ranked with him are tabbed as slot receivers in the NFL.
PFF ranks Bateman as the third overall outside wide receiver.
After charting some of these top WRs I came away feeling there wasn't *that* big of a gap between Jaylen Waddle and Ja'Marr Chase to their probable Round 2 counterparts in Elijah Moore and Rashod Bateman.

And that's not a knock on Waddle/Chase. Just how much I like Moore/Bateman

— Matt Harmon (@MattHarmon_BYB) April 8, 2021
And as per Jeremiah:
"Bateman has excellent size, burst, and route polish. He is sudden in his release and gains ground quickly versus off coverage. Very sharp and crisp at the top of routes. He doesn't drift and does a nice job working back to the quarterback when necessary. And he can adjust on the deep ball and won several 50/50 balls in 2019. Overall, Bateman has some room to develop, but he has all of the tools to emerge as a quality starter at the next level."
Other analysts note Bateman's intelligence and leadership qualities, important checkmarks in Berry's player evals.
Would Bateman See The Field in 2021? 
Bateman fills a specific role in filling Stefanski's promise of a more explosive offense.
Assuming he lives up to predictions, he would be active every Sunday.
That could bump Donovan Peoples-Jones off the gameday roster and eat into Rashard Higgins' playing time.
With Landry in the slot, Beckham and Bateman present a dilemma to defensive backfields.
That Rashod Bateman – Stefon Diggs player comp 👀 pic.twitter.com/DdD3yFXV9L

— PFF Fantasy Football (@PFF_Fantasy) April 24, 2021
Bateman can outrun the defense and give Baker Mayfield a reliable deep target.
But even if Beckham's recent injury costs him a half-step, most corners will need help on his side, too.
With each wideout drawing attention, Landry and the tight ends should find open spots in the middle.
It's a pick-your-poison scenario for the defense, who also has to mind Cleveland's potent rushing attack.
And with the top-ranked offensive line in front of him, Mayfield will have time to spot the open receiver.
Most explosive plays since 2019:
🥇 Ja'Marr Chase – 46
🥈 DeVonta Smith – 44
🥉 Rashod Bateman – 37 pic.twitter.com/JfUQgyl7mI

— PFF (@PFF) April 17, 2021
Bateman's success would enhance another favorite past-time of Browns fans and pundits.
Andrew Berry knows Rashard Higgins can play the Beckham role to a worthy degree.
OBJ trade rumors and 2022 roster speculation could hit all-time highs.
Alternate Wide Receiver Options
Bateman is probably the most reliable option in the second half of the first round.
But Berry might find good alternatives by trading back into or moving up in the second round.
Oklahoma State's Tylan Wallace is PFF's next highest-rated outside receiver.
And Dyami Brown out of North Carolina is a popular second-day option.
Terrace Marshall Jr.: 59.5 career contested catch %

Best in the 2021 NFL Draft🐯💪 pic.twitter.com/Wa6y9GUnDl

— PFF (@PFF) April 22, 2021
But Jarvis Landry and Odell Beckham would be ecstatic to see another LSU wideout join the mix.
Terrace Marshall Jr offers much of the same attributes as Rashod Bateman.
Justin Jefferson and Ja'Marr Chase stole the spotlight at LSU, but Marshall drew enough attention to project as a late first-round selection.
Marshall owns an injury-risk label that popped up during a recent Pro Day and could cause him to fall into the second round.
But he is not likely to be available by the time Cleveland announces their second pick.