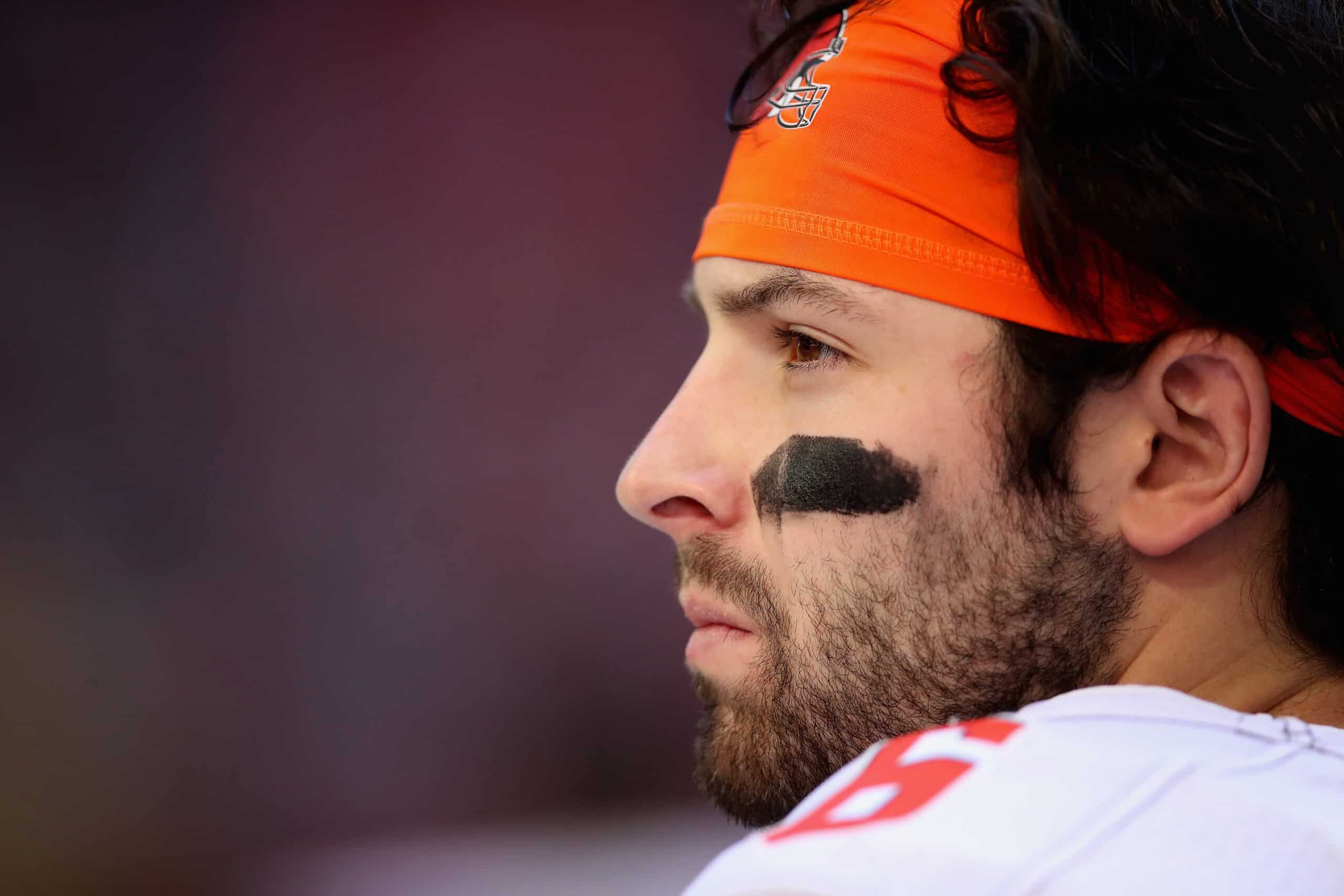 Now that the Cleveland Browns are eliminated from the pursuit of Houston Texans quarterback Deshaun Watson, the next logical question is what should they do about Baker Mayfield?
That is an interesting question that could elicit a few answers, but first, we need to understand how the Browns front office really feels about Baker Mayfield.
We know what they said about Mayfield, but do they really stand behind what they said?
Their actions this week do not look as though they do.
What They Previously Said About Mayfield
To recap, both GM Andrew Berry and Kevin Stefanski said multiple times publicly that they are confident in Mayfield.
Andrew Berry is sticking by his statement that the Browns expect Baker Mayfield to be their starting quarterback to start the 2022 season. More: https://t.co/sxKtY38NpC Photo: Dan Labbe, https://t.co/a4YA4W2Cro pic.twitter.com/DtD48g8IUZ

— clevelanddotcom (@clevelanddotcom) March 1, 2022
They believe injury played a big part in his ineffectiveness in 2021, and a healthy Mayfield in 2022 will be the Browns QB1.
If that is what they truly believe and Watson was just too tempting to not pursue, then they should keep Mayfield.
What if they don't really stand behind what they say?
If They Are Not Convinced Mayfield Is The Guy
If Berry and Stefanski have doubts, then they need to trade Mayfield.
It is not fair to either the Browns or Mayfield to continue if the confidence in him is gone.
In fact, it could lead to another strange season, and everyone is still trying to recover from the 2021 oddness with Odell Beckham Jr.
Time To Level Up And Be Honest
A little honesty would be nice.
January: The Browns put out the word that they plan to keep Baker Mayfield.
March 15-16: The Browns try to get Deshaun Watson.
March 17: The Browns put out the word that they plan to keep Baker Mayfield. #SureJan https://t.co/35Mhmnlb3i

— ProFootballTalk (@ProFootballTalk) March 17, 2022
Everybody knows football is a business, and winning and money dictate how things go.
However, honesty and integrity are not outdated concepts.
Berry and Stefanski look dishonest given what they previously said.
They also look to have questionable integrity to want Watson who has a lot of issues and potentially faces a suspension and fan backlash for his checkered past.
Whoever told Chris Mortenson #Browns wanted "an adult" at quarterback must know they really are done with Baker because it's safe to assume that Mayfield and his people didn't appreciate hearing that on the 4-letter network. Divorces are ugly and this one may get messy.

— Daryl Ruiter (@RuiterWrongFAN) March 17, 2022
Somehow it was leaked to Chris Mortenson of ESPN that the Browns want an "adult" at quarterback.
That is all well and good, and maybe Mayfield is not the right choice which is debatable with valid points on both sides.
But everyone in the Browns organization needs to start acting like responsible adults by modeling integrity and honesty.
It's a poor look for the Browns to trash Baker Mayfield as being immature considering the circumstances.

Just trade him if you don't want him.

— Pete Smith (@_PeteSmith_) March 16, 2022
Will Mayfield Request A Trade?
The other piece of the puzzle is how Mayfield will bounce back from all of this.
How @bakermayfield looking at the @Browns after they didn't get Watson and now need a qb and want him again😑😑😑 pic.twitter.com/VNgjsps8Cs

— Qadaffi Da King (@QadaffiDaKing) March 17, 2022
Will he want to stay in Cleveland?
Might he request a trade?
How he handles this situation will also play a key role in how the Browns proceed after the Deshaun Watson fiasco.
These issues are far from resolved so we will have to wait and watch as events unfold between now and the NFL Draft in late April to see how things may turn out.