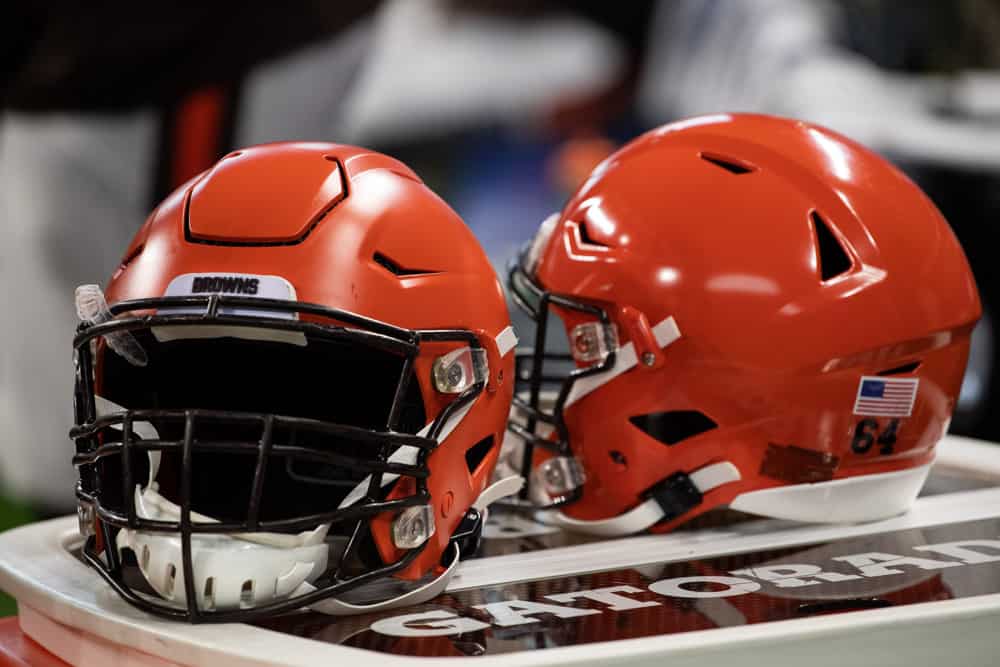 The offseason is basically over at this point, but the Cleveland Browns might not be done making moves.
The front office has already done an incredible job of bringing in talent.
The Browns addressed multiple important areas such as tight end, offensive line, and safety during the offseason.
They used a majority of their cap already, but Cleveland was able to free up some extra funds.
Cleveland recently renegotiated the 2020 salary of defensive end Olivier Vernon.
The Browns and DE Olivier Vernon have agreed to a renegotiated contract, per source. Vernon, previously due $15.25M non-guaranteed, gets $11M guaranteed through a $7M signing bonus, $3.75M base salary and a $250K workout bonus, plus $2M more available via incentives.

— Field Yates (@FieldYates) July 7, 2020
The organization will get some extra money available after restructuring the deal.
The Browns roster looks strong on paper, but could use a few upgrades before the season begins.
Sign Everson Griffen?
Throughout the offseason, the Browns have been linked to free agents Jadeveon Clowney and Everson Griffen.
At this point, it's unlikely that Clowney lands in Cleveland with Vernon renegotiating his deal.
The Browns already offered Clowney a one-year deal worth $15 million, which he declined.
The team should move on to cheaper options since it doesn't sound like Clowney is going to lower his price tag.
Although, Griffen should still be on the table for Cleveland since he should be more willing to take a short-term deal.
The 32-year-old defensive end is coming off a fairly productive season in 2019.
He recorded 41 tackles, 24 quarterback hits, and eight sacks through 15 games with the Minnesota Vikings last season.
At this point in his career, Griffen would likely take a cheap one or two year deal with a competitive team.
The Browns don't exactly need more bodies on the front-four, but he'd be a nice insurance piece and reliable rotational player.
Myles Garrett Extension?
Superstar pass rusher Myles Garrett has been rumored to be looking for a massive contract extension.
It's unclear exactly how much the deal is going to be worth, but it could be around $25 million per season.
The #Browns view Myles Garrett as a long term member of the organization.

Per @RapSheet Myles has a chance of making up to 25 million a year in a possible contract extension.

Do you like this move for the Browns? Let us know below! pic.twitter.com/PWJAIZ5spu

— The Hottest Take Sports Podcast (@Hottest_TakePod) May 5, 2020
Browns general manager Andrew Berry has already mentioned that the organization wants to keep Garrett around for the long haul.
Garrett has recorded 30.5 sacks through his first 37 games in the league.
He's one of the best pass rushers in the NFL and is only 24 years old.
The Browns could use the money leftover from Vernon's restructured deal and keep it for a possible massive extension for Garrett in the near future.
Upgrades At Linebacker?
The weakest spot on the Browns roster heading into training camp is clearly the linebacker position.
The only returning linebacker coming off a decent year is Mack Wilson.
He recorded 82 tackles, four tackles for loss, and one sack through 16 games (14 starts) last season.
It was a solid rookie campaign, but the former fifth-round pick still has plenty of areas to improve upon.
The Browns could benefit from adding a veteran like Clay Matthews or Markus Golden.
Both players are still free agents and would likely accept cheap one-year deals.
They would be instant upgrades at the linebacker spot in Cleveland.
It's unclear if the Browns have any interest in bringing in another linebacker, but Vernon's restructured deal should give them enough to add someone.
There are a few different routes the team could take with the extra money, so we'll see what the front office decides to do.
Vote!
[socialpoll id="2663243″]