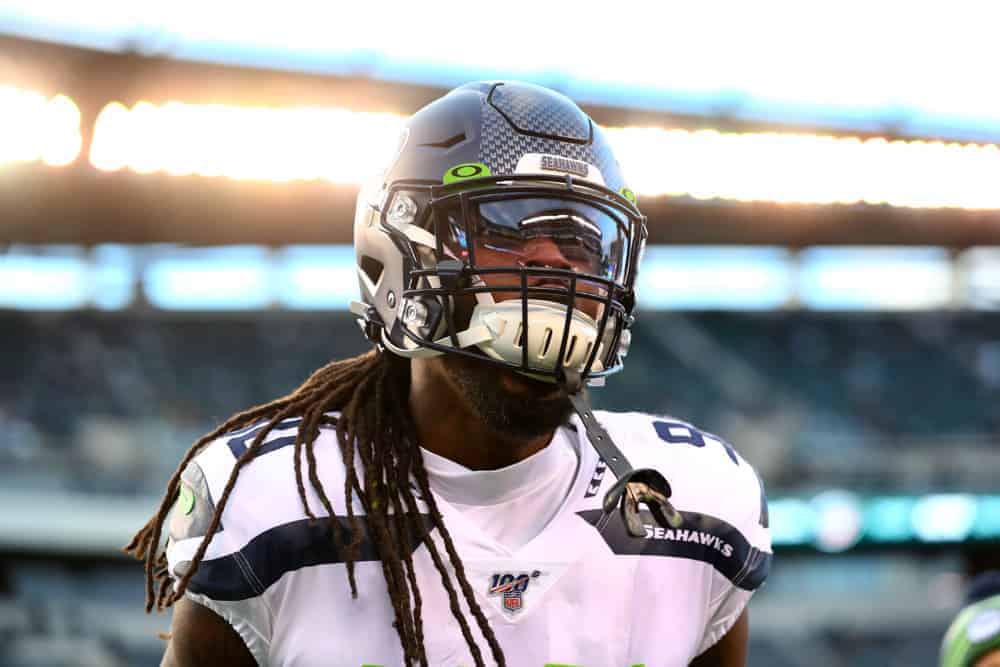 The long-rumored Cleveland Browns pursuit of Jadeveon Clowney may finally be reaching a conclusion.
Without the star defensive player joining the Browns.
Charles Robinson of Yahoo Sports says Tuesday's re-structuring of Olivier Vernon's contract signals an end to the Clowney chase:
I believe the Olivier Vernon renegotiation officially ends the #Browns' pursuit of Jadeveon Clowney. Now I expect that it's on to finishing off a Myles Garrett extension.

— Charles Robinson (@CharlesRobinson) July 7, 2020

Cleveland.com's Dan Labbe also reported the effect of Vernon's new deal:
"Also likely spells the end of the team's pursuit of free agent Jadeveon Clowney."
Keeping Vernon And Moving On From Clowney
The Browns decision to re-structure defensive end Oliver Vernon's contract is driving today's news on Jadeveon Clowney.
Vernon will be guaranteed $11 million in 2020 instead of a non-guaranteed deal for $15 million.
The Browns and DE Olivier Vernon have agreed to a renegotiated contract, per source. Vernon, previously due $15.25M non-guaranteed, gets $11M guaranteed through a $7M signing bonus, $3.75M base salary and a $250K workout bonus, plus $2M more available via incentives.

— Field Yates (@FieldYates) July 7, 2020
While both are effective starters, Clowney is considered to be a more disruptive force on the defensive line than Vernon.
Pro Football Focus gave Clowney an 87.3 grade in 2019 while Vernon received an 80.4.
Surprisingly, Vernon recorded one more sack (4) than Clowney (3) last season.
It wasn't Clowney's finest season playing in Seattle but his last full 16-game season was special:
Jadeveon Clowney had a career year in 2018 pic.twitter.com/flFAKdAJbm

— PFF (@PFF) January 19, 2019
But the Browns spent months linked to Clowney and as training camp looms, must have felt like clarity was more important than continuing the pursuit.
While Cleveland comfortably has more than $30 million in cap space available in 2020, it appears they were unwilling to match Clowney's asking price of $17-18 million per season.
The run-stuffing, quarterback-hunting Clowney would have given the Browns a dynamic duo on the defensive line with Myles Garrett on the other side.
But Clowney would have come with risks.
He was seeking a long-term deal even as the Browns attempt to sign young players like Garrett, Baker Mayfield and Denzel Ward to extensions.
Plus, Clowney had offseason core surgery and it's questionable how close the Browns medical team can get to him to examine it during the pandemic.
What we don't know, and may never will, is whether the Browns ever offered Clowney a contract, or whether he had any desire to sign with the Browns.
Focusing On A Garrett Extension
As Charles Robinson tweeted, the Browns are moving onto a new goal:
"Now I expect that it's on to finishing off a Myles Garrett extension."
Garrett, recently named the game's top disruptor by NFL.com, will be a free agent following the 2021 season.
Myles Garrett earned the highest grade of any edge defender against playoff teams in 2019 pic.twitter.com/jw4bklDPca

— PFF (@PFF) June 27, 2020
Reports say he is searching for a deal worth $25 million per season.
It would be surprising, and possibly reckless for the Browns to have two players on their defensive line making a combined $40 million per year.
This season, Garrett and Vernon will combine to make $21 million.
The fact remains the Browns have an estimated $38 million in cap space available for this season.
That figure looms large as highly productive players remain as free agents, including additional options for the defensive line.
But it's clear the Browns focus heading into this season is retaining their own young players, beginning with a player even better than Clowney – Myles Garrett.