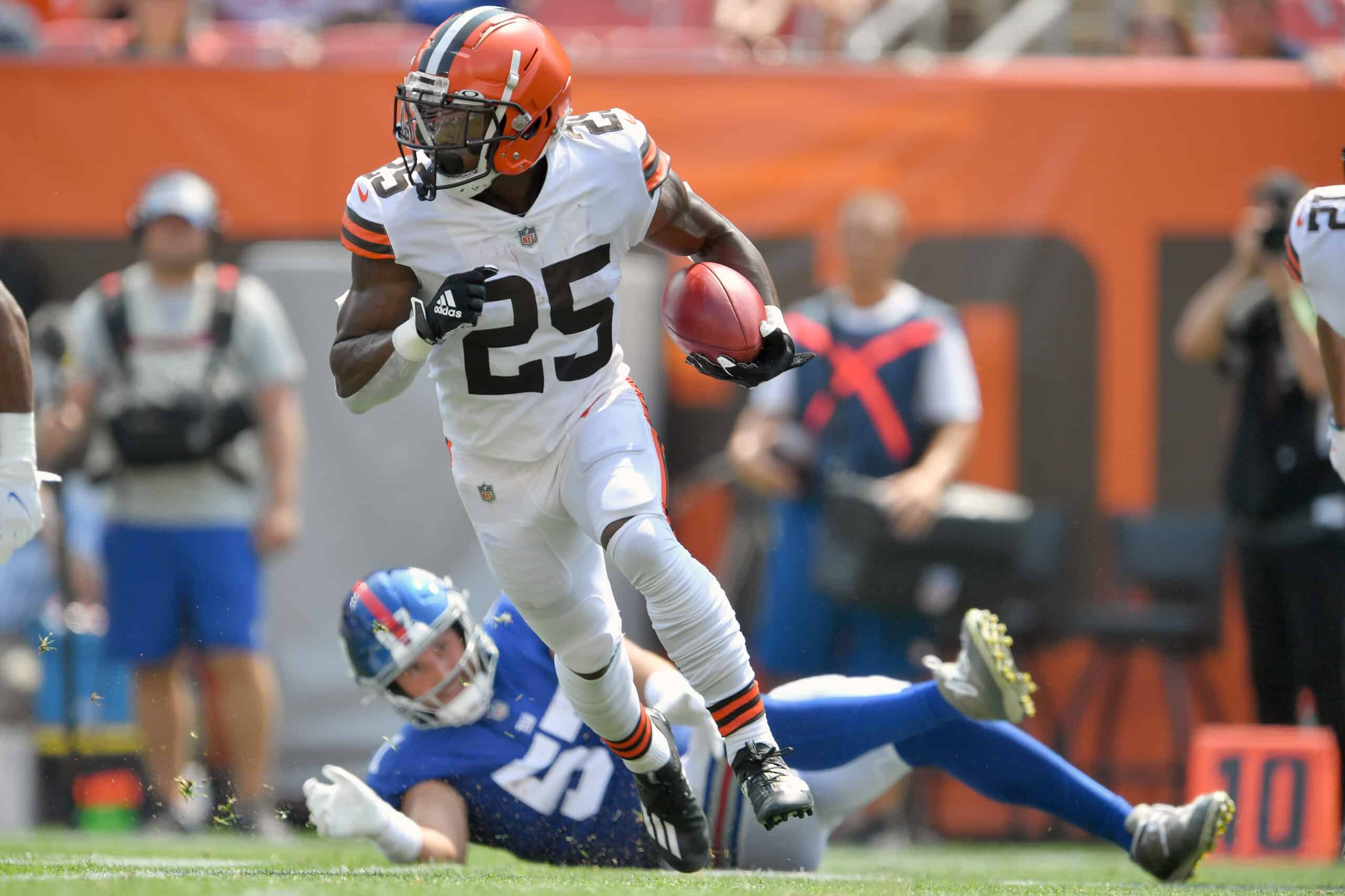 Cleveland Browns fans were excited about the team drafting Demetric Felton in 2021.
He is a smart and versatile player which fits perfectly into the mold and culture of what Andrew Berry is trying to build in Cleveland.
Felton is both a running back and a wide receiver.
The 23-year-old Felton played in 16 games, scoring 2 touchdowns receiving while catching 18 of the 21 passes targeted to him.
DEMETRIC FELTON WITH THE MOVES!

HIS FIRST NFL TOUCHDOWN 🔥pic.twitter.com/WmQHjT6VNP

— UCLA Barstool (@UCLABarstool) September 19, 2021
Demetric Felton is into the end zone for the Browns! 👏

His second touchdown of the year! pic.twitter.com/7bmDy7YtcO

— UCLA Barstool (@UCLABarstool) January 9, 2022
His running attempts were few and far between.
He had just 7 rushes for 24 yards on the season.
As a rookie, he performed well when called upon.
What are the expectations for Felton in Year 2?
Felton Will Be Used More
There is no doubt that Felton was underused in 2021.
He was a rookie trying to learn two playbooks in a COVID-19 NFL season so that probably contributed to his underuse.
Deebo Samuel has an average of 10.4 YAC yards

Demetric Felton was 11.3

The team average was 5.5

I really hope to see Felton get more involved

— ChadP71 6elieve (@chadp71) January 31, 2022
That year of experience and sitting behind veterans Jarvis Landry, Odell Beckham Jr., and Rashard Higgins will benefit him.
Not that any of them had an outstanding season for him to emulate, but their successes and failures were in the limelight so the pressure was off of his shoulders.
What Position Will He Be Tapped For More Often in 2022?
That depends on what the Browns plan to do in the next couple of months.
Is D'Ernest Johnson sticking around?
If he is, that will limit Felton's touches as a running back.
What will the Browns wide receiver room look like?
If the team signs a veteran, presumably Donovan Peoples-Jones would step up to WR2.
At that point, Felton and Anthony Schwartz will be competing for WR3, and there could be a 2022 draft pick in the mix for that WR3 job also.
Special teams is an area where Felton played consistently in 2021 and that also could increase in 2022.
He fielded 32 punts and 9 kickoffs for 399 total return yards.
Conclusion
Felton can deliver results as long as the Browns actively and consistently insert him into the 2022 offensive strategy.
He has good hands and needs to have the ball in them more often in his sophomore season.