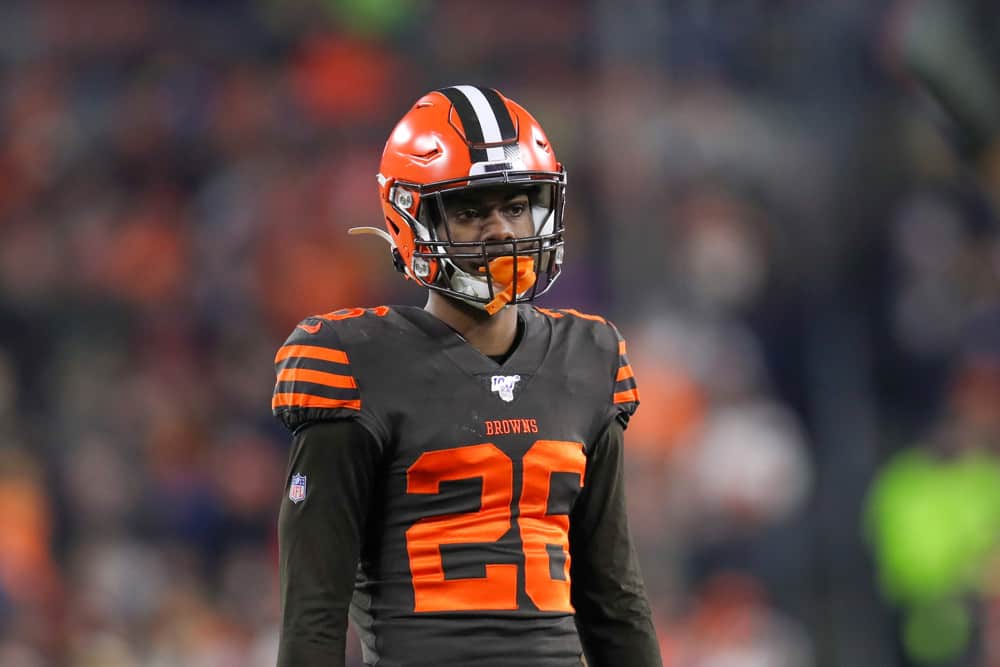 The Cleveland Browns were hopeful that they were getting a lockdown defensive back when they selected Greedy Williams in 2019.
The 22-year-old defensive back was taken in the second round by Cleveland, so the expectations were fairly high for Williams.
Sadly, injuries derailed part of Williams rookie season, but Browns fans saw promising signs from him.
The biggest question heading into 2020 will be can Williams stay healthy and prove he was worth the second round selection?
Williams in 2019
Williams recorded 71 tackles, 1.5 tackles for loss, and eight interceptions during his two seasons at LSU.
He was projected to be one of the top defensive backs throughout his entire draft class.
The Browns were able to snag him fairly early, but unfortunately weren't able to get a full season out of Williams in 2019.
He finished the season with 47 tackles, two tackles for loss, and two passes defended through 12 games.
The stats weren't quite Pro Bowl caliber last season, but there is no doubting his physical ability.
Greedy Williams turned on the burners 🏃💨

📺: NFL Network pic.twitter.com/bTg5Lcjub1

— SportsCenter (@SportsCenter) March 4, 2019
Honestly, it's quite surprising that the Browns were able to land Williams in the second round.
He was projected as one of the best defensive backs in the draft.
What Can Williams Do in 2020?
Sadly, hamstring issues knocked out Williams for a few games last season.
The good news is, Williams didn't suffer any long-term injuries that will hold him back in 2020.
He should be fully healthy for the beginning of training camp.
Williams is long, fast and disruptive and has good ball production.
He has phenomenal physical talent that had him projected in the Top 10 of his draft class.
Hopefully the interceptions will come with time as he hauled in eight of them during college.
The tackling is the biggest concern right now, but hopefully new defensive coordinator Joe Woods can help Williams with that.
Williams is an extremely good press corner with excellent speed.
He is going to be a dangerous threat on defense, assuming he's able to clean up some of minor issues in his game.
Williams is the type of defensive back that strikes fear into an opposing quarterback.
Williams & Ward
The Browns have some of the most exciting young talent throughout the entire league.
Williams and Denzel Ward could end up being the most dynamic duo at defensive back in Browns history.
Both players have superstar potential and are in the beginning stages of their careers.
Ward is entering his third season and already has five interceptions and 97 tackles.
He is already a Pro Bowl defensive back and hasn't even played a full season in the NFL.
What is scary is the fact that Williams might actually have more potential.
Browns fans should be excited about what these two stars could accomplish together.
Williams could end up being one of the biggest steals of the last decade.
Time will tell, but it certainly appears that Cleveland has a superstar defensive back in the making.