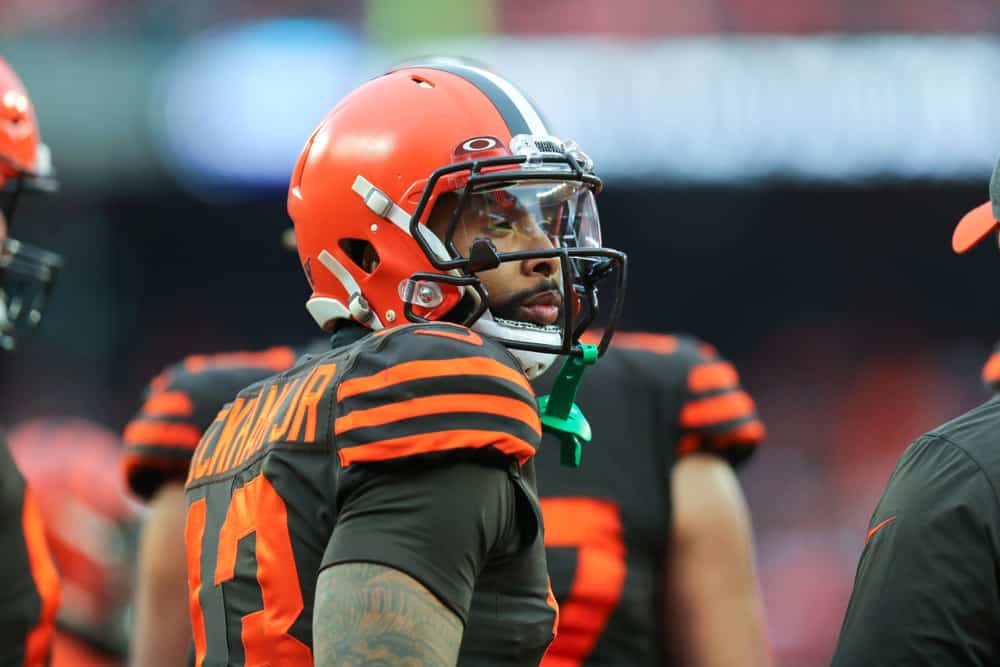 Cleveland Browns wide receiver Odell Beckham Jr. has insisted he isn't leaving the team.
Beckham, 27, tweeted to Los Angeles Dodgers pitcher Alex Wood and comedian Bob Menery after they predicted the receiver would go to New England.
It comes after Sunday night's news of the Patriots signing quarterback Cam Newton, whom Beckham has worked out with this offseason.
Beckham said he has "unfinished business" with the Browns.
U can find me in The LAND homie! We got unfinished business https://t.co/sqnWRGwLGT

— Odell Beckham Jr (@obj) June 29, 2020
Lol no sir boss! But y'all got my brother , wishin nothin but the best and LUV https://t.co/7tGiuvxJsp

— Odell Beckham Jr (@obj) June 29, 2020
Wood wished Beckham success in a follow-up tweet despite the receiver denying the trade rumor to the Patriots and their allegiances to different SEC schools.
Beckham played on LSU's football team and Wood pitched for the University of Georgia.
Wishing you success wherever you are! Big fan even though you're a Tiger. Dawgs on top baby 😂😂😂 https://t.co/dZH24ubkoY

— Alex Wood (@Awood45) June 29, 2020
Beckham was among several NFL players who posted on social media to react to Newton signing a one-year contract with the Patriots.
@CameronNewton U been workin! U deserve tht! SWEAAAAAH!!! 😭😭😭

— Odell Beckham Jr (@obj) June 29, 2020
ESPN Senior NFL Insider Adam Schefter reported while the Browns had some interest in Newton, the Patriots were the only team to make him an offer.
Pairing Newton and Beckham together would be quite the duo.
The three-time Pro Bowl receiver has been part of several trade rumors since arriving last year in Cleveland after a trade with the New York Giants.
However, both Schefter and Cleveland.com's Mary Kay Cabot have refuted rumors that Beckham is on the trading block.
Beckham has been vague about his future with the Browns in the past.
Perhaps some of it came from the lack of success the Browns had in 2019, which prompted the firings of head coach Freddie Kitchens and general manager John Dorsey after a 6-10 season.
In December 2019, Beckham reversed course, stating, "I'm not going anywhere. I'll be here. We're going to figure this thing out. It's just too special to leave."
The Browns still have Beckham under contract through the 2023 season, owing him an average of $18 million per year.
Beckham also had quite the offseason, beginning with handing LSU football players cash in front of cameras and slapping a security officer in the aftermath of January's College Football Playoff title game.
In January, Beckham had core muscle surgery to repair a nagging injury, which contributed to a slip in his production last season.
In 2019, Beckham played in all 16 games catching 74 passes on 133 targets for 1,035 yards and four touchdowns.
Since Beckham's surgery, he has posted several of his offseason workouts to social media, which includes exercising with his girlfriend Lauren Wood.
Last week, Browns head coach Kevin Stefanski said Beckham is "free and clear" and "100%" ready for training camp.
NFL training camps are scheduled to begin on July 28.