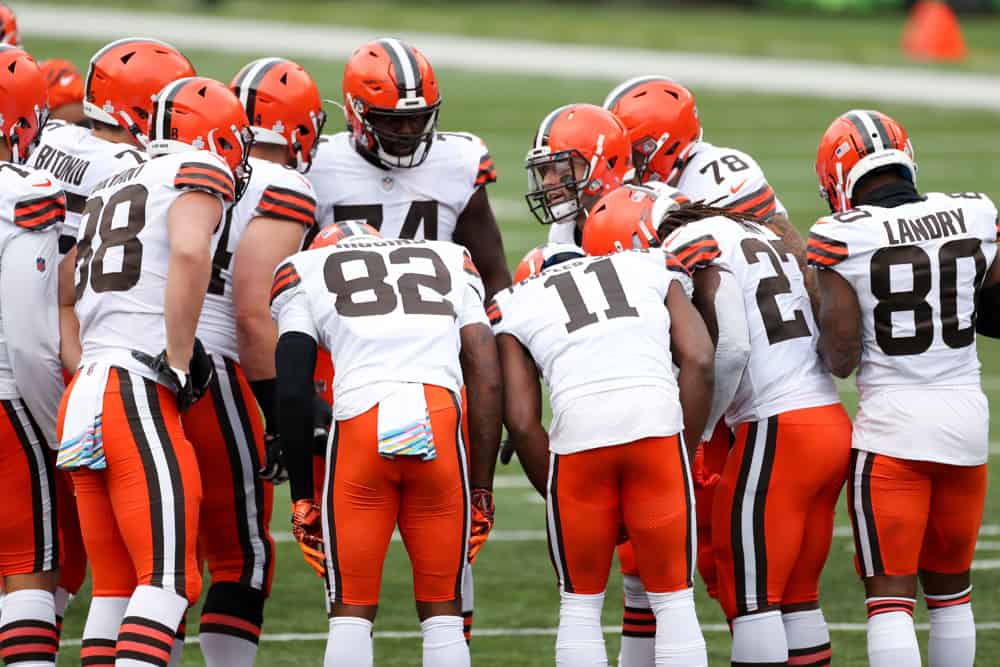 There is nearly universal agreement that the Cleveland Browns have had a successful free agency and draft period leading up to the 2021 NFL season.
Defense was the main priority, and five of the eight draft picks were defensive players.
They are:
Greg Newsome II, cornerback
Jeremiah Owusu-Koramoah, linebacker
Tommy Togiai, defensive tackle
Tony Fields II, linebacker
Richard LeCounte III, safety
Assuming these players make the team and perform as expected, there is a Cleveland Brown veteran who benefits from the team's draft picks.
That is Myles Garrett, defensive end.
Here's why.
They Are Quick, Versatile, And Have Good Instincts
Last season, Myles Garrett was the star of the Browns defense.
He was the best player on the field at anticipating and getting to the play.
Myles Garrett was MOVIN' to catch Mecole on this play 😳🔥 @MylesLGarrett @Browns pic.twitter.com/SsIoLFJ39u

— The Checkdown (@thecheckdown) May 22, 2021
Thus, the defense went as Myles went.
On the games, he played well; they looked good.
Then, there were the games when he was out with COVID-19.
The entire defensive scheme changed when he was not able to play.
Though Garrett is a phenomenal talent, surrounding him with speedy players with good instincts just gives opposing offensive coordinators more to contend with.
It is not a one-way street; these draft picks will benefit on the field, in meetings, and in the gym with Garrett.
Greg Newsome has already talked about the effect he believes playing alongside Garrett will have.
"I just have to do my job. He is definitely setting the bar and showing he is ready to go. Whenever we get the pads on, he is going to be ready to go. How hard he works, it kind of shows me how hard I need to work all of the time to be as successful as a player like that."
The draft picks are versatile and can be moved around to play different positions as necessary.
Creating more confusion and uncertainty for opposing offenses are keys to capitalizing on mistakes and turnovers.
Though the defensive draft picks are the focus of this article, if they are combined with the free agent signings of veteran stars like Jadeveon Clowney, Takk McKinley, John Johnson III, and Troy Hill just to name a few, Myles Garrett has peers on the field who can potentially play up to his level at their respective positions.
Let's not forget that Denzel Ward should be ready to play too; losing him to a season-ending injury last preseason was a crushing blow.
A Wildcard
By the numbers, Myles Garrett benefits the most.
However, there is a wildcard in this draft class that could make a big impact on offense.
He is Anthony Schwartz, and if he plays well, he could benefit another established Browns veteran.
That is Baker Mayfield.
Though the Browns have a talented corps of wide receivers (and tight ends), Schwartz would be a unique and interesting component in the 2021 Browns offense.
His speed will open up the field in ways we have not seen before with Brown's offense.
Whereas opposing defenses have keyed in on OBJ, Jarvis, or Higgins, putting Schwartz on the field will inevitably create stress for coordinators who attempt to figure out who can try to stay with him.
WRs coach Chad O'Shea calls Anthony Schwartz's football IQ 'very impressive,' plans to 'maximize his speed'

📰 » https://t.co/hODdaSX31c pic.twitter.com/gi1XkWCrse

— Cleveland Browns (@Browns) May 20, 2021
Browns wide receivers coach Chad O'Shea talked about the possibilities with Schwartz last week.
"Anytime you have a player that has this attribute of elite speed, there are so many things that you think, as a coach, that you can do with them," One of the things is just get the ball in his hands. We feel like he can come in here, mentally, and we can move around different spots to maximize his speed."
Is it any wonder Browns fans are ready for September?
There is a lot of excitement expected from all of these players that will make fall Sundays extra fun.