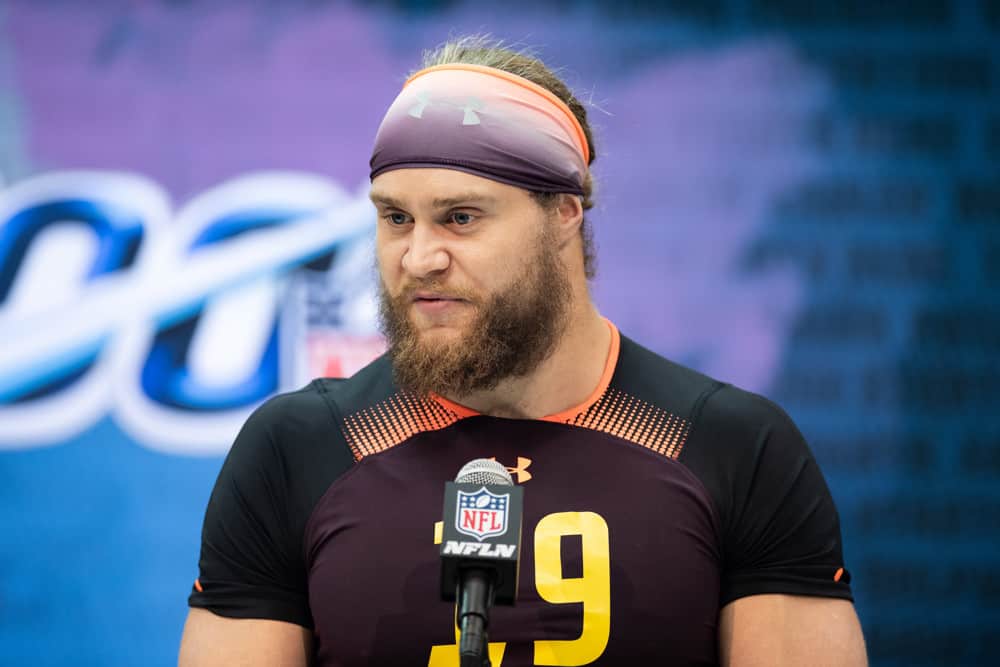 When Adrian Clayborn went out with a hip injury, how many of you thought about Jadeveon Clowney and Yannick Ngakoue?
Olivier Vernon was inactive with a stomach injury, and you wanted to know who was going to play the edge.
Turns out the Cleveland Browns had a pretty good answer.
Utah 👉🏽 USC 👉🏽 NFL#FightOn pic.twitter.com/MEF86UYSIk

— Vic So'oto (@Coach_Sooto) September 18, 2020
Porter Gustin is a name we've heard before.
He was called up from the Practice Squad as a rookie last November when John Dorsey was scrambling for bodies.
Gustin got his first career sack almost immediately, taking out Ryan Fitzpatrick of the Dolphins.
His 13 tackles over the rest of the six games didn't make Gustin a household name.
But two high-profile hits on Joe Burrow last night might take care of that.
Gustin's open-field tackle for a loss and his hard takedown of the Bengals' rookie after Myles Garrett's strip-sack had fans on their feet.
His four tackles won't leap off the stat sheet, but Gustin was more disruptive than the numbers.
Where Did Porter Gustin Come From? 
Cleveland Browns fans who followed the virtual preseason recognized the young defensive end.
He was a force on the second and third teams and earned some first-team snaps as time went on.
If you noticed rookie Jedrick Wills getting beat in practice or the scrimmages, it was probably by Porter Gustin.
Gustin is the reason Chad Thomas is not on the roster.
I'll be honest, I knew very little about Porter Gustin other than he played at USC. The UFA had a coming out party on Thursday Night Football. This play was glorious but kinda went unnoticed. Think we got a real one #Browns pic.twitter.com/4Crt3xqCBd

— CleWest (@erjmanlasvegas) September 18, 2020
His performance against the Bengals was hard to miss.
But he has shown the same drive, strength, speed, and intelligence throughout his football career.
He was an outstanding high school athlete, earning honors in four sports.
USC put him in games as a freshman at outside linebacker.
He had 137 tackles and 21 sacks in parts of 37 games (23 starts).
But he got labeled before the 2019 draft and fell off the boards of every team.
New Orleans signed him as an undrafted free agent before cutting him at the end of the preseason.
When Cleveland sought edge rushers the following November, they found Gustin available for the practice squad.
How Was Such a Talent Available So Late? 
Injuries blew up Porter Gustin's junior and senior seasons at USC.
An ankle fracture limited him to only 6 games as a senior.
In his junior season, he played only 4 games in between bicep and toe injuries.
Anyone worried that Jedrick Wills got beat for a sack by Porter Gustin? pic.twitter.com/9OmbsMmbEl

— The Brown Spider!!! #D4L (@BrownSpiderCLE) August 31, 2020
Despite limited playing time, Gustin was invited to the NFL Combine.
Gustin told everyone who would listen how healthy he was.
He posted the 5th most bench presses in the combine and ran a 4.69 40-yard dash.
He reminded everyone he played in all 24 games as a freshman and sophomore.
As a sophomore starter, he racked up 68 tackles and 5.5 sacks.
He added 7.5 sacks in his six games as a senior.
But the damage was done, and he fell through all seven rounds.
New Orleans kept Gustin around until the last minute, but there was little other interest.
Can We Expect to See More of Porter Gustin? 
As of this writing, we are unsure of the injury status of Vernon or Clayborn.
But Porter Gustin is not going to make it easy for Joe Woods to pull him from the edge rotation.
He is a weight-room junkie and highly motivated to master his role.
Porter Gustin is quietly becoming great

— Benjamin (@UKfaninOH) September 18, 2020
It was not unusual to see Gustin on the practice field after everyone else left during the preseason.
When he gets on the field, coaches know Gustin will be full motor from snap to whistle.
Further motivation comes from another second-year defensive end picked up off waivers by Andrew Berry.
Joe Jackson recovered a Cincinnatti fumble and was in on a TFL, ending his short stay with 3 tackles.
But it was Gustin who made an impression on fans, and probably on Joe Burrow, too.
The pair will be reintroduced in Week 7.