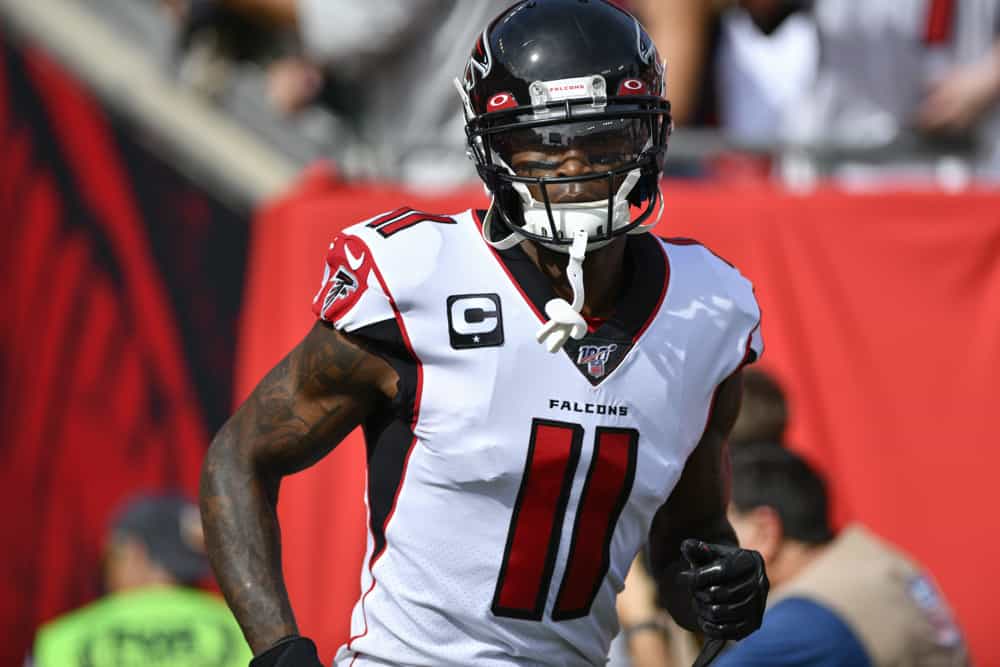 When ex-Falcons wide receiver Julio Jones expressed interest in getting out of Atlanta, teams immediately expressed interest.
The Cleveland Browns were never actively in the Julio Jones race which ended when he was traded to the Tennessee Titans.
While Jones is an excellent player and was a legend in Atlanta, the Browns were wise not to pursue a trade for Jones.
Here are three reasons why.
1. Crowded Wide Receiver Room
Browns Wide Receivers…@obj @God_Son80 @CALLME_WOOD @TheRealF1ash

😱🤯 #Browns #BrownsDraft #NFLDraft #NFLDraft2021 #NFLTwitter #BrownsTwitter #NFL #Cleveland #ClevelandBrowns #Believeland pic.twitter.com/Ukxuh7rsKB

— Max Joseph (@Mjoseph492) May 1, 2021
The Browns are loaded with top tier wide receivers.
To begin with, there is Jarvis Landry who has been a stalwart and consistent performer.
Then, there is Odell Beckham Jr.
While his 2020 season was shortened by an ACL injury, he is looking recuperated and extremely fit so having him on the field opposite Landry makes the offense tick.
Then, there is the younger crowd who also made an impact last season (and earlier in some cases).
The Browns brought back Rashard "Hollywood" Higgins, a fan favorite, who has great chemistry with Baker Mayfield.
While he was the victim of the horrid fumble/touch back call that hurt the Browns' chances in the divisional loss to the Chiefs, expectations grow each season for Higgins and he continually meets them.
There is also second year player Donovan Peoples-Jones.
DPJ caught a game winning touchdown pass in a game with the Cincinnati Bengals last year.
As he matures, he will certainly get more targets from Mayfield.
Rookie draft pick Anthony Schwartz may find his way into this offense also.
These are just the wide receivers.
Let's not forget the host of tight ends that Stefanski likes to use in multiple TE formations.
They are Austin Hooper, David Njoku, Harrison Bryant, and Stephen Carlson.
There are a lot of playmakers who can catch passes from Mayfield, and we did not mention that running backs Nick Chubb and Kareem Hunt are also extremely capable in this area too.
2. "If It Ain't Broke, Don't Fix It"
Julio Jones heading to Tennessee is a big win for the Browns.

Although it would've been dynamic, Cleveland is already loaded on offense.

Julio staying out of Baltimore is the ultimate prize. pic.twitter.com/GS1ZdYFj2P

— Nick Karns (@karnsies817) June 6, 2021
This point relates to the first one.
There are plenty of talented players who can catch passes from Mayfield.
Adding a legend like Julio Jones would have changed the chemistry and may have resulted in a trade of one of the aforementioned receivers.
Keeping status quo on offense is good for the Browns; the offense was humming last year and is bound to only get better the longer the players are together.
3. Offensive Continuity A New But Positive Situation
This is the best Cleveland Browns team since returning to the NFL in 1999.

Bliss. pic.twitter.com/NbG7nONjoD

— Nick Karns (@karnsies817) May 29, 2021
Because the Browns were not successful in the years leading up to the 2020 season, there was a constant flurry of activity and turnover.
It included the head coach, offensive coordinator, and players as well as a new playbook.
Giving Baker Mayfield, in his fourth season, the same principal players, coaches, and perhaps an expanded playbook after this past season is the gift that keeps giving for both Mayfield and Browns fans.
It may sound crass, but the Browns did not need to bring in an established player like Julio Jones to succeed.
Many believe all of the elements for offensive success in 2021 are already in the building.
The time is now to prove it.