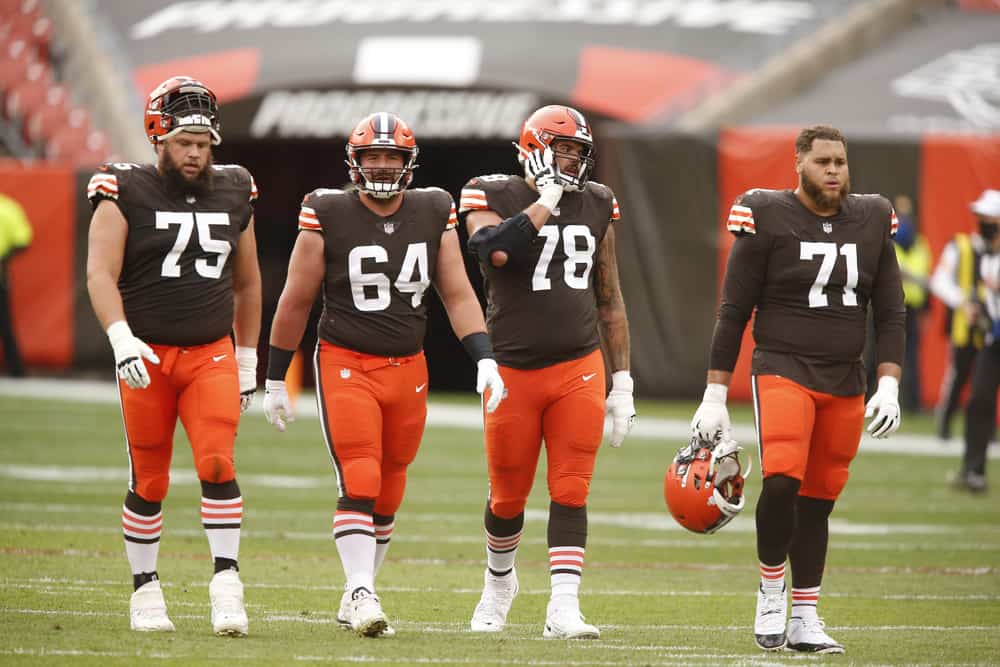 A majority of the moves the Cleveland Browns made this offseason were to upgrade on the defensive side of the ball.
A secondary that was below average and held the team back at times.
However, the defensive unit isn't going to be the most important aspect of this team going forward.
In order to win, Cleveland needs to make sure they have a strong and healthy offensive line.
The Browns offensive line is the glue holding the offense together and it'll be extremely difficult to win without success from the o-line.
Protecting Mayfield
Last season, everyone saw the breakout campaign by third-year quarterback Baker Mayfield.
He produced a fantastic bounce back year and certainly showed he can be the franchise quarterback.
However, Mayfield didn't do it all by himself, so his teammates deserve credit as well.
Mayfield was protected by one of the best offensive lines in the entire league.
The veterans on the o-line didn't miss a beat and the youngsters like Jedrick Wills and Wyatt Teller made huge strides.
Wyatt Teller: 94.1 PFF Grade (1st)

The #Browns guard is looking like a ⭐️ pic.twitter.com/jqM0DtQZQ5

— PFF (@PFF) October 9, 2020
That being said, Mayfield had plenty of time in the pocket to find an open receiver and make a successful throw.
The offensive line didn't often put Mayfield in situations where he was forced to scramble and throw on the run.
It's worth noting, Mayfield threw a career-low eight interceptions in 2020.
That is partly because he's improving and the system he's in, but the offensive line deserves credit as well.
They kept Mayfield out of trouble and gave him enough time to make the correct decision with the football.
Chubb & Hunt
Another important aspect to look at when evaluating the o-line is the run game.
This team is a run-heavy offense, which needs a reliable offensive line to succeed.
Obviously, Nick Chubb is a superstar, but he can't get it done by himself.
In fact, the Browns ranked first in both run and pass blocking grade last season.
#Browns offensive line in 2020:
🔸 Pass blocking grade – 86.5 (1st)
🔸 Run blocking grade – 81.2 (1st) pic.twitter.com/5YLM1nyX1P

— PFF (@PFF) January 6, 2021
Having a successful and reliable o-line opens up endless possibilities for an offensive unit.
The Browns were able to pound the ball on the ground frequently last season because of the protection from the offensive line.
Maybe fans don't always notice it, but having a solid offensive line does make a huge difference in how a team does perform on offense.
NICK CHUBB TOUCHDOWN.

Browns 7-0 pic.twitter.com/dAyBmq8pk4

— Barstool Cleveland (@BarstoolCleve) January 3, 2021
As seen in the video, Chubb is easily able to get through for a long touchdown because of the protection from his offensive line.
Chubb is a beast and could probably juke his way to the end zone anyway, but it's always nice to have some help.
Staying Healthy
The biggest problem for Cleveland is that they don't have much depth at offensive line.
A few injuries on the o-line could set this team back in a major way.
However, it's worth noting they did upgrade at tackle with the selection of tackle James Hudson in the fourth round.
Hopefully, both Drew Forbes and Michael Dunn can take steps forward in their careers.
The biggest factor between winning and losing is going to be health of the Browns offensive line during the 2021 season.