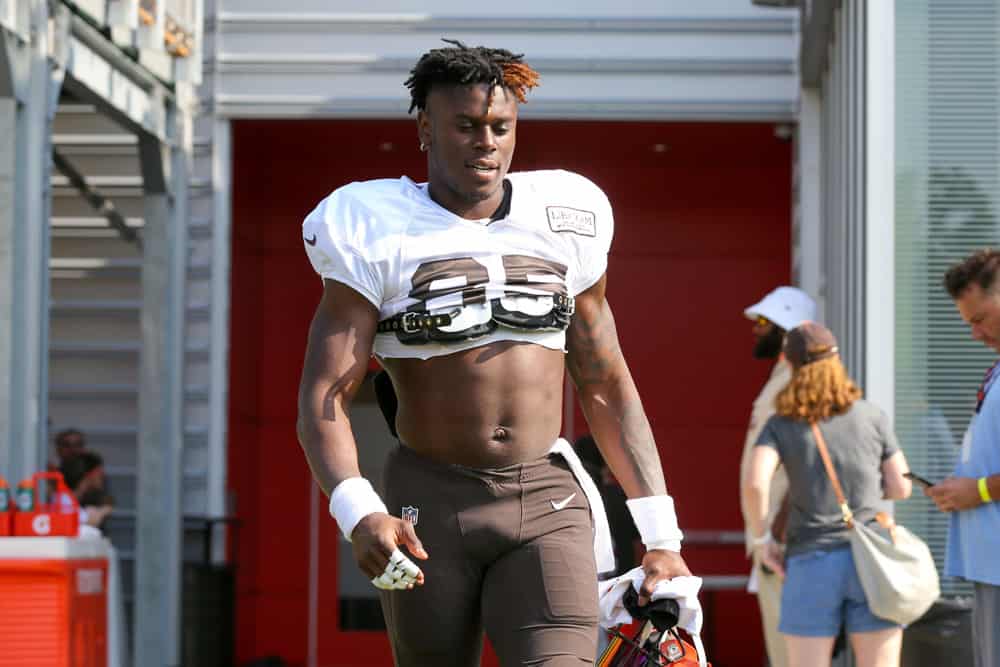 For all intents and purposes, the David Njoku saga came to quite an anti-climactic conclusion.
Just under a month after word broke that he had requested a trade from the Cleveland Browns, the tight end claimed he was "all in" with the team. The Browns successfully convinced Njoku to back down from his demand, which, based on new coach Kevin Stefanski's historical high usage of multi-tight end sets, seemed like a wise move.
A couple weeks into camp, you have to wonder if Njoku feels he made the right call.
The veteran has been putting forth up and down practice performances, while also missing some time due to a wrist injury. Meanwhile, rookie Harrison Bryant has been turning heads throughout camp, leading some to speculate about his potentially nabbing Njoku's spot on the tight end depth chart.
Could Harrison Bryant, the rookie fourth-round pick out of #FloridaAtlantic, supplant David Njoku, a first-rounder out of #Miami in 2017, as the #Browns no. 2 TE? https://t.co/rw6ihvymnz

— Aditi Kinkhabwala (@AKinkhabwala) August 30, 2020
Considering the way things have gone since he bought back in with the Browns, is it possible Njoku is feeling buyer's remorse?
Obviously you can't go too far down the rabbit hole, especially when reactions are based solely on practice sessions. Still, what we've seen so far hasn't worked out in Njoku's favor.
As mentioned, the former first-round pick has been struggling to consistently stand out during camp. He's had his moments, such as the deep grab he pulled in during Sunday's intrasquad scrimmage. Still, he's yet to string together multiple solid days in a row, something which wasn't helped by his recent wrist injury.
Combine this with his mysterious early exit from Saturday's sessions, and you have an overall camp performance leaving a little to be desired.
TE David Njoku, dressed today, walked back inside just after the start of practice. Didn't appear to be any injury…

— Jake Trotter (@Jake_Trotter) August 29, 2020
Though some Browns fans jumped to the conclusion that a trade was near, this appears to be an overreaction for the time being.
What isn't, though, is the constant praise being heaped toward Bryant.
Cleveland's 2020 fourth-round pick seems to grab daily accolades within various camp recaps, constantly displaying the sure-handedness which was highlighted in his draft profile. He's developing notable chemistry with quarterback Baker Mayfield, looking like a potential red zone weapon this year.
It's becoming very apparent Baker Mayfield and Rookie TE Harrison Bryant have a great chemistry building

🎥 via @Brownspic.twitter.com/e8BP9UjaJg

— The Dawgland (@thedawgland) August 28, 2020
While this is certainly a positive development for the Browns' offense, you can't help but be curious about Njoku's thoughts on the matter. After all, the more Bryant thrives, the more interesting the tight end depth chart becomes.
If you're Njoku, how do you react to such an outcome?
Though no specific details have emerged, he seemingly backed down from his trade demand after Cleveland convinced him he'd have a big role this year. It wasn't lofty to assume as much, considering Stefanksi's propensity to put multiple tight ends on the field at once.
However, the assumption was likely that Njoku would be a bigger benefactor than Bryant when it comes to such a scheme.
Yet, just two weeks before the season opener, it's the rookie who's standing out while Njoku's role remains to be determined.
If losing reps to a rookie is something the veteran can make peace with, there's nothing for Cleveland to worry about. Of course, it would help if we knew just what exactly drove Njoku's demand in the first place.
Through separate tweets, he claimed neither a distaste for Cleveland nor the added competition from Bryant and free agency pickup Austin Hooper was the source of his displeasure.
Lol it's not about competition

— Chief David Njoku (@David_Njoku80) July 19, 2020
If the latter were true, Bryant's sudden emergence shouldn't be viewed as a pain point by Njoku.
However, if his desire to be moved truly was driven by Cleveland acquiring two new tight ends over the offseason, one would assume he's not thrilled with the latest camp developments.
It would certainly seem questionable for Njoku to shift from "I want out" to "I'm all in" and then make yet another trade demand. Likewise, Cleveland was able to convince him to stay even after acquiring Bryant and Hooper, so the way things have played out shouldn't be too shocking.
Still, could Njoku make peace with Bryant getting more weekly reps than him this year, an outcome which doesn't feel too far-fetched considering how camp has gone?
It's certainly something to keep an eye on as Cleveland gets closer to finalizing its 2020 depth chart.
Njoku isn't currently carrying any public ill will towards the Browns, even recently saying he wants to stay in Cleveland long term.
That said, if he was willing to demand a trade over the summer, and is now facing the potential of losing playing time to a fourth-round pick, it's not crazy to wonder if whatever feelings sparked his request will soon return.