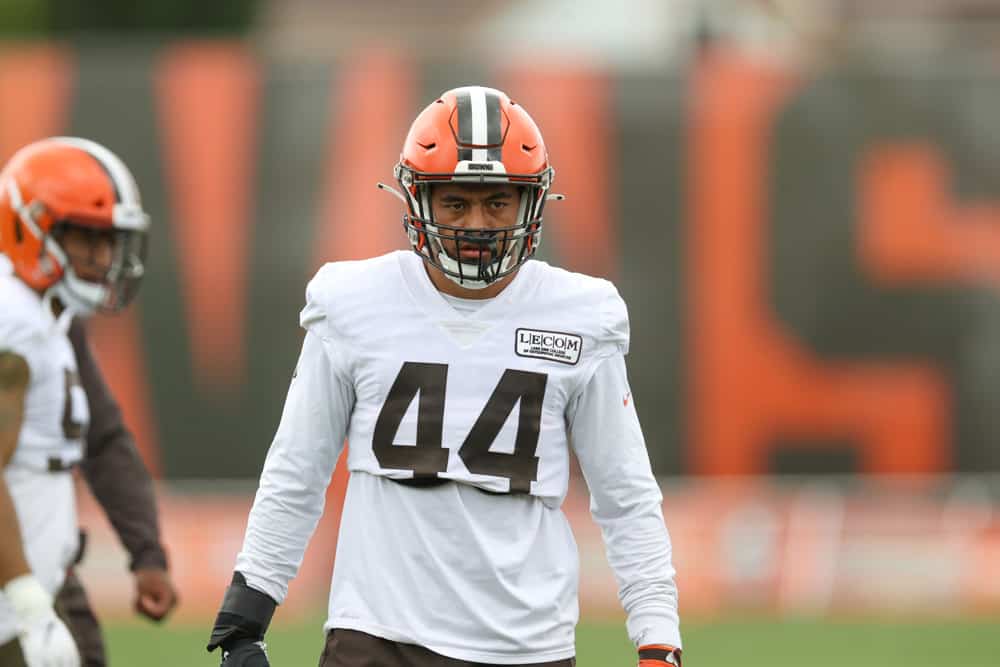 Sione Takitaki enters his third NFL season after showing improvement in 2020.
He may take a much larger role on the defense in 2021.
The 2019 third-round selection jumped onto social media to highlight his NFL performance thus far:
They haven't seen my best! Year 3 it's up! ⏳ pic.twitter.com/WySUhHZrMG

— Sione Takitaki (@STakitaki) February 15, 2021
In 2020, linebackers B.J. Goodson and Malcolm Smith both spent their first years in Cleveland.
They were the team's top two tacklers last year.
However, both are now unrestricted free agents.
If they both depart, then Takitaki has a strong chance at being the team-high tackler in 2021.
However, Cleveland may like to bring back Goodson.
If so, that could allow for the young Takitaki to continue to develop.
Possibly, an even better idea would be to bring in a player like Von Miller.
The Browns have reportedly been looking into Miller, who could be released by the Denver Broncos soon.
If Cleveland does not bring in J.J. Watt, then Miller would be a great option.
Having a linebacker like Miller to mentor Takitaki would be a tremendous situation for the four-year Brigham Young player.
At BYU, Takitaki led his team in tackles and tackles for loss as a senior in 2018.
He also was the tackle for loss leader with 12.5 during his 2017 season.
Can Takitaki be an Effective Every-Week Starter in 2021?
Takitaki can be an effective every-week starter next season because Takitaki started 12 games last year.
His Pro Football Focus grade from 2020 looks strong as well.
He also finished tied for third on the team with 67 tackles last season.
In addition, Takitaki intercepted Ben Roethlisberger in the playoffs:
Big Ben finds an open Sione Takitaki for his fourth INT of the daypic.twitter.com/7Ws4lYulWa

— PFF (@PFF) January 11, 2021
He also scored on an interception he had in Week 11's 22-17 victory against the Philadelphia Eagles:
Carson Wentz with an ugly interception to Sione Takitaki and he takes it the other way for a 50-yard #Browns TD. No excuses for this one.pic.twitter.com/XiwGL9Cpsy

— NFL Update (@MySportsUpdate) November 22, 2020
It was Wentz's last pick-six with Philadelphia, and Takitaki hopes he can increase his own interception total in 2021.
If Takitaki keeps improving, then the Browns could have an impressive linebacker on their hands.
What is the Contract Situation for Takitaki?
Takitaki's rookie contract has two more years left, as he will have the following cap hits in 2021 and 2022, according to Spotrac:
2021: $1,090,219
2022: $1,205,219
As Takitaki continues to improve, the value of his contract for the next two years will be great for Cleveland.
Overall though, the Browns need a boost to their defense.
This is evidenced by the franchise pursuing both Watt and Miller.
The former Texan and potentially former Bronco would be significant additions to this roster.
The Browns defense finished in the bottom half in the league in points, yards, and passing touchdowns allowed last season.
Meanwhile, when looking at the contract situation for B.J. Goodson and Malcolm Smith, the Browns may have a chance at bringing them back:
Goodson's 2020 contract: $2.4 million
Smith's 2020 contract: $1.05 million
There are a lot of potential ways for the Browns to position their defense in 2021.
The first ball to drop should be the Watt or Miller signing.
Then, the rest of the defense should find its form.
No matter how the offseason goes for Cleveland, Takitaki should be a very important part of the 2021 Browns.