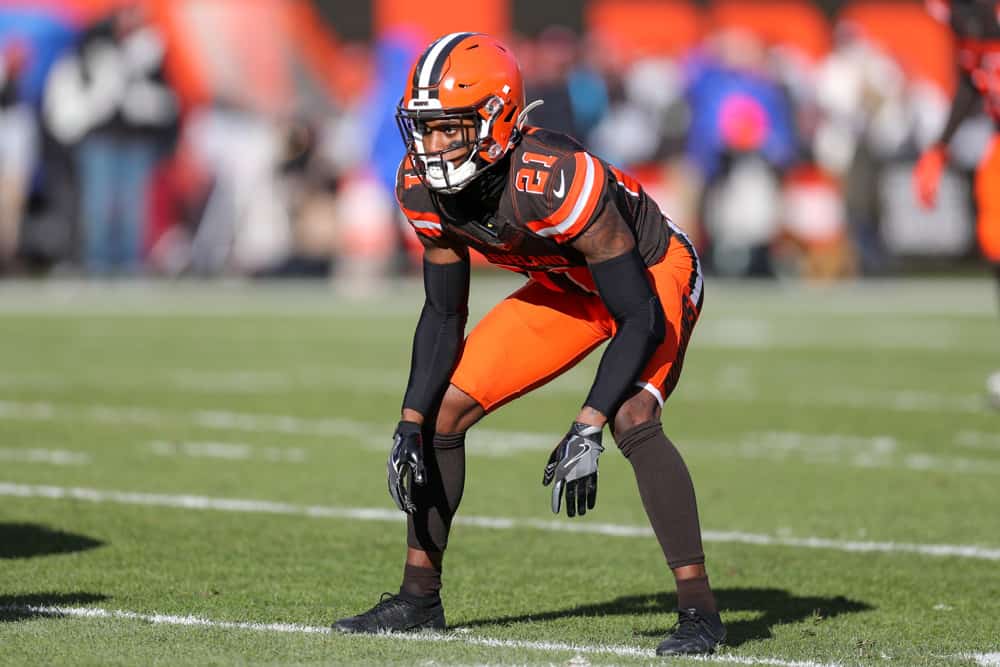 When you talk about the Cleveland Browns defense, it's impossible to leave out Denzel Ward in the conversation.
The cornerback out of Ohio State has cemented himself as a member of Cleveland's secondary and looks to be a part of the team's plans for years to come.
The top-4 graded #Browns on defense in the 2020 regular season:

Myles Garrett – 87.7
Olivier Vernon – 74.2
Ronnie Harrison – 74.0
Denzel Ward – 72.9 pic.twitter.com/qSMKidFrdC

— PFF CLE Browns (@PFF_Browns) January 15, 2021
Still, fans seem to have a split opinion on Ward on social media.
Some are certain in their praise for Denzel, others are hesitant to place him among other top corners in the league.
Here, we'll take a look at his 2020 campaign and see which side of the fence Ward resides on.

Lockdown Coverage
Every NFL defense wants a true "lockdown" cornerback.
Having that can limit when the opposition's number one receiver can do and frustrate the quarterback when "easy" completions stop being so easy.
As far as making life difficult for opposing quarterbacks, Ward checked that box with ease in 2020, allowing one of the lowest passer ratings in all of football.
Lowest Passer Rating Allowed ❌

1️⃣ Xavien Howard – 51.4
2️⃣ Bryce Callahan – 63.1
3️⃣ Denzel Ward – 64.2 pic.twitter.com/tQHNz881d0

— RotoUnderworld (@rotounderworld) February 21, 2021
Part of being a premiere cornerback is having the ability to disrupt passes without picking up a pass interference call.
One forced incompletion for Ward from this past season that stands out was one that came in Cincinnati against the Bengals.
Ward was paired up with A.J. Green, one of the more physical receivers in the NFL, as Cincy threatened in the red zone.
Joe Burrow placed a beautiful back-shoulder fade for Green, which Green managed to get both hands on.
Ward, however, was in no mood to allow six points on that play.
.@denzelward, everybody 😳

📺: #CLEvsCIN on CBS pic.twitter.com/fo6MZrHkxg

— Cleveland Browns (@Browns) October 25, 2020
That play defines what kind of corner Ward is.
A smart, physical defender capable of making touchdown-saving plays.
Playing as tight as he does, Ward lends himself to getting beat, as evident at times in the Divisional matchup with Kansas City.
Kelce shaking Denzel Ward pic.twitter.com/az56JxqC3c

— Billy M (@BillyM_91) January 17, 2021
Still, the times he excels in coverage outnumber the moments he falters by plenty, and 2020 was no exception.

Tackling
Tackling ability was a huge knock on Ward as a rookie.
It was clear it was not something he prioritized, and he jokingly shrugged off concerns about it from coaches and the media.
Heading into 2019-2020, Ward had a change of heart.
#Browns CB Denzel Ward has changed his tune about tackling since last year. He said today second concussion he suffered last season opened his eyes, made him realize importance of changing technique to protect himself.

— Nate Ulrich (@ByNateUlrich) May 22, 2019
That mindset change for Ward has paid off in a huge way.
One of the best tackles from this past season came courtesy of Denzel.
Denzel Ward really SLID under a block to make a tackle 🤯 pic.twitter.com/7FJlo6hdzP

— Footballism™ (@FootbaIIism) October 27, 2020
After 12 missed tackles in his second season in Cleveland, Ward missed just five last year, bringing his missed tackle percentage under 10% for the first time in his career.
This part of his game has taken a massive step in the right direction, a welcomed sight for Browns fans.

Clutch Factor
It's one thing to make big plays happen. It's another to make those plays when it matters most and the game is on the line.
In 2020, that was another area of strength for Denzel Ward.
Denzel Ward seals the win for the Browns. pic.twitter.com/nMrQ4Cyjvk

— Eleven Warriors (@11W) October 4, 2020
.@Denzelward coming up BIG‼️

📺: @NFLonFOX pic.twitter.com/a6ic2e4c3w

— Cleveland Browns (@Browns) November 22, 2020
Missed interceptions in crucial moments often come back to haunt a team.
Look back to Super Bowl LI. One of New England's late-game drives is completely eliminated if Robert Alford held onto what should have been an easy takeaway.
Instead, Tom Brady and the Patriots go on to complete the comeback.
Neither of Ward's game-sealing interceptions were in as high of a leverage situation as the Super Bowl.
It's still better to see Denzel make those plays instead of letting the football slip through the hands.
I have a feeling we'll see some more game-ending takeaways from Ward before his playing days are done.

Injuries
One notable blemish that remains on Ward's resume is his injury history.
So far through three seasons, he is yet to play a full 16-game slate.
A concussion, along with issues regarding his hamstring, calf, and groin have all forced Denzel to miss time.
It may not be right to predict future injuries for a player, but injury history cannot be ignored entirely.
If there is one big desire from fans for Ward, it's for him to be able to play an entire season without getting hurt.

Overall Grade: A-
2020 was a great season not only for Cleveland, but for Ward as well.
Yes, injuries forced him to miss some action yet again.
However, when the former Buckeye was on the field, he was making things happen.
Breaking up passes, snagging interceptions, shedding blocks to make tackles, and just finding a way to make an impact was what last season was all about for Denzel.
I expect more of the same in the coming years.