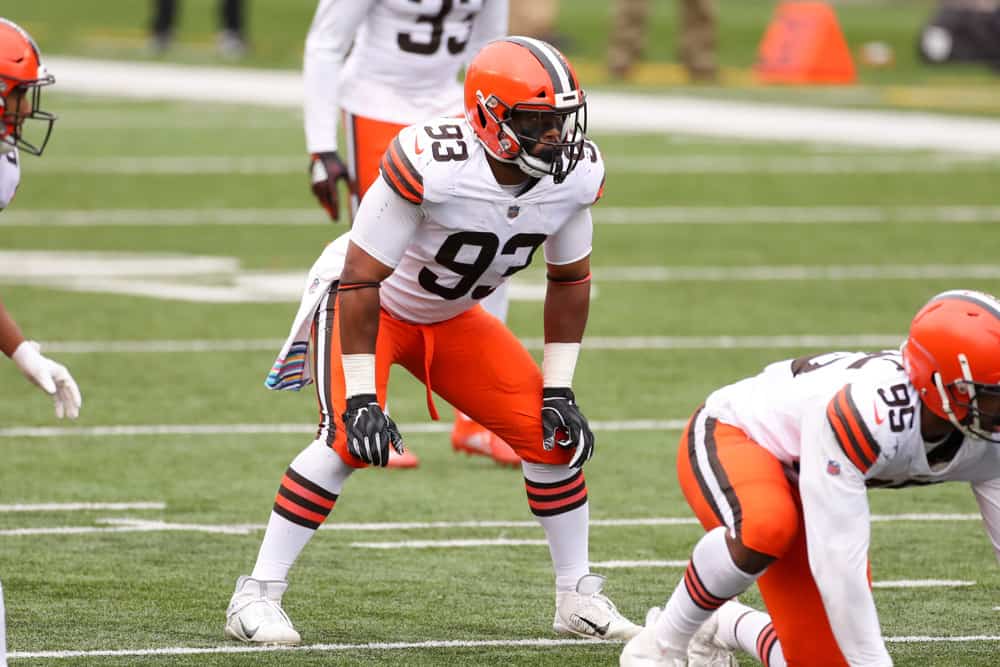 After giving up a 4th down reception to Tyreek Hill, good enough for a game-sealing first down, the Cleveland Browns season was over.
Who was the man trailing Tyreek Hill?
HENNETHING IS POSSIBLE pic.twitter.com/HjATlHrOO0

— Barstool Sports (@barstoolsports) January 17, 2021
That would be linebacker B.J. Goodson.
It's hard to be upset with Goodson on this play.
Could he have stepped up and made a miraculous play in coverage?
Maybe.
It's unlikely, though, considering he's a bulky linebacker trying to cover one of the fastest guys in the league.
Perhaps defensive coordinator Joe Woods could have had better personnel to line up opposite of Hill, rather than someone who outweighs Tyreek by about 60 pounds.
That play, and the 2020 season, are now in the rear-view mirror.
The front office has decisions to make as they piece together a roster for next year.
The man who gave up the season-ending first down, B.J. Goodson, should be a part of those future plans.

Not Bad, Not Perfect
It's clear to anyone who watched the Browns that neither Goodson nor any other linebacker on the roster are stars.
The Browns linebacker unit entered the league 31st out of 32 teams according to Pro Football Focus.
There's probably more than one unit in the league that's worse than them, but it's still a group that will need addressed in the offseason.
Our starting linebackers could use more speed.

— CLEVELAND WINS! (@CLEVELAND_WINS) January 25, 2021
Linebackers linebackers linebackers

— Sean Kaminski (@CalCubic) January 25, 2021
Cleveland does need better and faster linebackers, and Goodson doesn't necessarily fit that bill.
He does, however, have a year playing in Cleveland under his belt.
Despite the unit as a whole not being great, Goodson pieced together a good season defensively.
Sure, there were plays where his lack of speed hurt (see the 4th down conversion again on that).
However, in a group that lacked awareness, Goodson was one LB who would find himself making heads-up plays throughout the season.
Back-to-back solid plays by B.J. Goodson.

First, he makes a pass break up to force the incompletion.

On the second play, he diagnoses quickly and while he misses the tackle, he at least misses correctly, forcing the ball carrier to turn back inside. No tackle but a good play. pic.twitter.com/2GLwP2oBnC

— Mike Bossetti (@bossetweets) September 28, 2020
BJ Goodson is the #Browns most underrated player and defender:

14 Games
91 Tackles [5 missed, 5.2%]
2 INTs
6 Pass Deflections
2 TFL
3 QB Hits

BJ Goodson served up an 79.8 PFF Grade [Best Amongst Teammates] in the #Browns Wildcard Victory against the Pittsburgh Steelers. 👀

— Baker Mayfield/Kevin Stefanski SZN (11-5) (@brownsculturee) January 14, 2021
The lack of speed, made obvious by poor matchups, is something Cleveland can live with.
Every linebacker unit in the NFL has slower guys that should never be assigned a receiver with quickness (which is all of them).
He was not perfect in stopping the run by any stretch, and you won't find Goodson in any conversations about the best linebackers in the league.
Goodson provided some stability for a unit that sorely lacked that this season and it would be wise to keep that in the locker room.

Providing Depth
His contract was only good for this past season, worth about $2.4 million.
Getting him back on a similar deal would be a win for Andrew Berry.
While Goodson was solid this past year, it seems unlikely he played himself into any kind of larger deal.
With teams trying to get faster at that position (Cleveland included) it's just tough to see a big payday coming his way.
If the price is right, Berry should aim to bring Goodson back for another season.
That's not an advocation for him to start or even see the field with any sort of consistency.
The Browns, like any team, need depth, especially in this COVID era.
We saw how the virus impacted rosters each week this season.
There is no guarantee that COVID-19 isn't still lurking when next season rolls around.
Having a guy on the roster that will be plug-and-play after spending a year with the team will provide value.
Even if COVID is gone, injuries are still commonplace around the NFL and Goodson could quickly find himself back in a relevant spot on the depth chart.