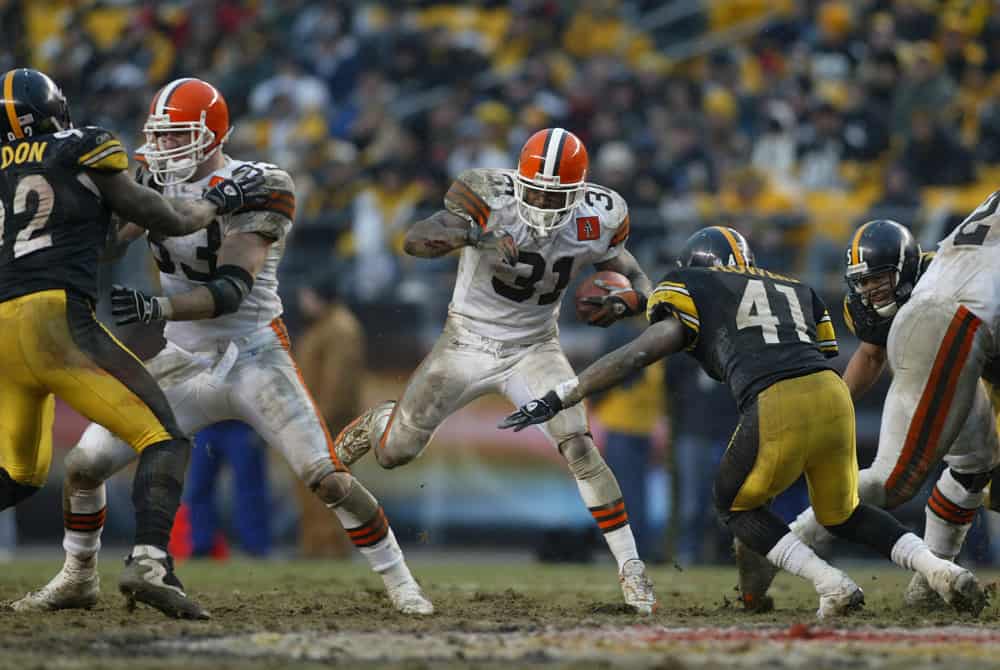 In his 40 years of life, former Cleveland Browns running back William Green has seen extreme highs and lows on and off the field.
William Green grew up in Atlantic City, New Jersey.
He was one of 5 kids who tragically lost both their parents in the span of 16 months.
William was orphaned before he turned 14.
His parents both died from AIDS before he entered high school.
Bobby Green, William's father, was also an athlete in his teenage years.
After serving in Vietnam, Bobby was never the same.
He turned to heroin to self-medicate.
As a result, he contracted AIDS.
His mother, Mable Ruth Green, worked really hard to raise five kids while trying to get her husband off of drugs.
She contracted AIDS from William's father and died a year after him.
If that was not enough, his older brother was sentenced to 20 years in prison for shooting a woman in a casino shortly after their parents' deaths.
Football became his outlet and his path to taking care of his family.
Other kids mocked him for playing football while they were dealing drugs in the projects.
And most importantly, football became his distraction.
Promising High School Career
In High School, Green was separated from his siblings and living with his grandmother (his father's mother) Catherine Green.
William's smile, personality, and athleticism reminded Catherine so much of her son Bobby before he fell victim to drugs.
During this time, Green found a coach, mentor, and father figure in his 7th-grade math teacher, Tim Fetter, who also was the coach of William's youth team, the Atlantic City Dolphins.
Besides making sure he did his school work, Fetter got William in the weight room.
When it was time to go to high school, Fetter was the one who paid the $3,500 annual tuition for Willie to go to Holy Spirit High School, a much better alternative than the public high school in the projects where William would have gone.
During his junior year of high school, he met his future wife, Asia Gray who was Miss Pleasantville, NJ, 1998.
He was a star on special teams and as running back.
His coach learned quickly that the team was most successful when the ball was in William Green's hands.
Before each game, he wrote "Mom" and "Dad" on each of his taped wrists.
He had a stellar senior year finishing with 1,512 yards and 19 TDs.
Named by Rival-Net to the All American Football Team, William was ranked the 4th best RB in the country.
Record Breaker at Boston College
For William, it was a no-brainer to accept a football scholarship to Boston College.
Even though BC was not on his radar initially, he liked that they ran the ball well and often.
BC's other selling point was that it was only 5 hours from his grandmother and Tim Fetter, and he hoped his grandma could watch his games on television.
Ohio State, Florida, North Carolina, Wisconsin, and Nebraska also pursued him.
Green did not disappoint in his time at Boston College.
Green had back-to-back 1000 yard seasons in 2000 and 2001.
In 2001, Green was a Heisman Trophy nominee, Consensus All-American, and Big East Offensive Player of the Year.
Green failed to rush for at least 100 yards only once and he ran for 180 or more yards five times, including 213 yards in a game at Rutgers
10-28-2000, Boston College beat Rutgers 42-13. William Green ran for 223 yards & 2 TD on 22 carries! Cedric Washington ran a TD & caught 2. pic.twitter.com/i8PMituuJV

— Scott F (@TheFrizz87) October 28, 2019

In Green's Junior year, he rushed for 1,559 yards on 265 attempts and had 17 touchdowns.
Green's 33 career touchdowns rank 2nd-best in school history.
His Boston College accolades are many:
2-Time MVP
Ranked In BC Top Ten All-Time for Rushing Yards and Rushing TDs
Boston College Hall of Fame Member
Heisman Trophy Nominee (2001)
Congratulations to former #BCEagles William Green and Paul Zukauskas – now hall of famers! pic.twitter.com/GkB7LnWRbQ

— BC Football 🏈 (@BCFootball) September 24, 2016
Recurring Drug and Alcohol Use In College
Football was William's distraction from life, but he still was battling his demons.
He tried to deal with it by abusing drugs and alcohol at different times in his life.
Green was suspended twice because of his marijuana use in college.
Perhaps the substance abuse was a cry for help especially since he was caught more than once.
Green decided to skip his senior season to enter the NFL draft.
He did so even though his college coaches encouraged him to stay his senior year because they knew he would be in trouble without their structure.
Cleveland Browns
Green entered the NFL draft as a true junior with only 3 seasons at BC under his belt.
There was a reported divide in the Browns front office at the time about William Green.
As the Browns prepared for the draft, Butch Davis (then Browns head coach) had Green ranked as his No.1 player on his wishlist.
The Browns needed a running back and with the red flags that Green had in college, he would probably drop in the draft.
Carmen Policy, Cleveland's team president at the time, claims he was against the selection of Green at the time.
"William's presence actually became a point of contention between me and Butch Davis," Policy said. "We had resolved that we just weren't going to take a chance on drafting a young man who had all the problems that life had thrown at him on his plate, and all the setbacks William had experienced. My position was I know we need a running back, I know we need to improve our running game. He is a talented young man. There were some very positive things said about his personality and the type of human being he was. I just felt there were so many negatives. We were such a young franchise, we couldn't afford the risk."
With the 16th overall pick in the 2002 draft, the Cleveland Browns drafted William Green.
@RandomNFLPeeps William Green Browns' Draft:
2002 / Round: 1 / Pick: 16 pic.twitter.com/DE2zeGa1W7

— McNaficent (@McNaficent) July 9, 2018

William speaks fondly about the relief and happiness he saw in his grandma's eyes when his name was called.
He used his $3.9 million signing bonus to send his younger brother and sister to college and to take care of his family.
Green told his dying mother years ago that all would be okay because "I will play in the NFL."
And he was on his way with the Browns.
The Ultimate High: "Run William Run"
"Run William Run" is the most famous play of Green's NFL career.
Coined by Browns Sportscaster, Jim Donovan, which is the mantra he chanted as the play unfolded.
It happened in his rookie year, on December 29, 2002.
The Browns were playing the Falcons.
It was a must-win game for the Browns to make the playoffs for the first time in 8 years.
Clinging to a narrow lead with less than 5 minutes left in the game, Browns QB Kelly Holcomb handed the ball off to Green.
With the help of his teammates blocks, the field opened and Willie ran 64 yards to score the TD that sealed the win and the playoff berth.
To this day, William Green occasionally hears, "Run William Run" as he walks down the street, or eager fans question him about that play.
The 2002 year of "Run William Run" was his finest.
Green rushed for 887 yards and 6 TD's in his rookie season while topping 100 yards 3 times.
He finished as the runner-up for Rookie of the Year and was elected the Browns Player of the Year in 2002.
Off The Field Issues
2003 started off well for Green as he had 2 100-yard games in a 3 game span.
However, Green's personal issues that plagued him at BC started to show up again.
During his 2nd year in the NFL (in 2003), he was arrested for drunk driving and marijuana possession.
Following his arrest, Green was suspended for four games by the NFL.
He rushed for 559 yards and one touchdown before his arrest
Later that year, he was stabbed in the back by his fiance Asia Gray in an ugly domestic dispute.
The league then extended its penalty for the rest of the 2003 season so he could undergo counseling and treatment in Boston.
Green missed eight games for the suspension and one with a shoulder injury in 2003.
With 2003's off field substance abuse and domestic dispute issues presumably in the rear-view mirror, William found himself embroiled in another controversy in 2004.
On November 14, prior to the Browns games against the Steelers, Green got in a fight with Joey Porter and was ejected.
Throwback to when Joey Porter fought William Green before the Steelers-Browns Week 10 game in 2004. 😂 #Steelers pic.twitter.com/udgN5oipuB

— BlitzburghVideos (@BlitzVideos) November 14, 2019
In 2004, Green rushed for 585 yards and 2 touchdowns in 15 games while averaging 3.6 yards a carry.
He finished the 2005 season on the injured reserve following an ankle injury.
He only played in 8 games and rushed for 78 yards during that season.
Following the 2005 season, William Green was released after what was unanimously declared an unimpressive preseason performance.
He played in 46 games for the Browns from 2002 through 2005.
For the first time in his life, football stopped.
Reckoning
With his NFL career in shambles, William finally came face-to-face with the realization that he had been running away from for years.
No amount of money or fame could drown out the trauma of his childhood or the lack of a relationship he had with God during that time.
He had used his share of distractions over the years including drugs, alcohol, and women.
Green also recounted the story of how he felt after being drafted and becoming a millionaire in the NFL.
"Smoking weed and drinking. That was it," Green said of his overall professional downfall. "I had went out and bought these nice cars [Mercedes Benz AMG and a Cadillac Escalade]. I didn't realize how it was. I was kind of a laid-back guy. I would just let those cars sit and go get a little rental car to drive around. I didn't like the attention. It was the opposite of me. I wasn't ready for it."

"To me, it was the strangest feeling," Green said. "I don't feel any different. What am I supposed to feel like? I was very green. What does this mean? Does this mean I am in the NFL now? What does the money mean? Does it mean I never have to work again in my life? Can I spend what I want and never run out? What is a million dollars? I'm a kid from the street. My wheels were just spinning.

"I'm here, it's really happening, I can't believe it's happening, but it's not the way I thought it would be. It was really just a world of not knowing. What is going on? What does this just mean? … When I got drafted, it went in the opposite direction. It wasn't happiness. It was pain and frustration and coming at you from every angle."
What should have been a happy and satisfying moment was anything but that.
He recalled feeling as sad and lonely as any other time in his life.
Nothing took away the hurt, and it was time to deal with it.
Rebirth
Following football, William dug into his faith and his relationship with God.
In 2008, he became a Christian.
It was not an instantaneous decision or revelation.
William studied and discerned in his own time.
And his spiritual rebirth led to a decision to give the NFL one more try.
With his life finally coming together, Green showed up at Boston College's Pro Day in 2008 and gave the scouts his best effort.
The prospect of potentially playing for the Giants or Panthers motivated him.
He looked good overall, but a 40-yard dash of 4.85 seconds was not enough to earn a contract and reentry into the NFL.
Accountability and Forgiveness
William would be the first to admit that he made many mistakes in his youth.
But when he owned them and forgave himself and others particularly for his upbringing, growth happened.
It also led him on the path to becoming an ordained minister in 2012.
Symbolic of his life's ups and downs, he was confronted with the horrific news that a bright spot in his life, his mentor Tim Fetter, was charged with criminal contact with boys.
William was not one of his victims.
He testified on Fetter's behalf which potentially reduced Fetter's sentence.
Fetter served 2 years in prison.
His Mother's Faith
Faith was not a new concept for William.
His mother was a faithful woman even in the midst of suffering from the debilitating AIDS virus during a time when medication was not available to save her life.
He recounted a story where his mother who was nearly blinded from AIDS had very minimal night vision.
His football coach told him that he could not play in the evening game unless he had proper spikes.
William knew that his mother could not afford spikes, and she could not see, so he wanted to spare her the pain of all of it and skip the game.
She saw through his excuses and offered the problem up in prayer.
As he told it, they went to the sporting goods store and looked at the spikes.
Of course, the best looking ones were the most expensive ones.
They finally settled on a pair she could afford.
The cleats were black with what he described as ugly green writing on them.
He had a fantastic game and scored multiple touchdowns in those ugly spikes.
When he met his mother after the game, he fully expected that she did not see any of it because of her poor night vision.
But what she told him shocked him.
She said the ugly green writing turned out to glow in the dark so she "saw" his game.
In that respect, William said her prayers were answered.
His mother's faith shined forth in another instance.
Shortly after his father's death and when his mother was already diagnosed with AIDS, she learned that she was pregnant.
Many people encouraged her to abort the child because she was dying, and the child would most likely also be inflicted with AIDS.
She refused to do so and gave birth to a miracle daughter who did not have AIDS and who lives and thrives to this day.
Hindsight
Green is often asked if he has any regrets about his NFL career.
He assertively answers no.
Motivated by the drive to make it to the NFL, he pushed himself hard in high school and college.
He knew it was against the odds to make it so when he was drafted by Cleveland, he felt a sense of accomplishment.
His rookie year also makes him proud.
But he believes that his missteps and failures in the NFL were all parts of God's plan and led him to the platform he now has.
Motivational Speaker
William has plenty of life experience to share with audiences, whether they are prisoners, athletes, or students.
Former @Browns and @BCFootball standout William Green to speak at Late Night at @WollyNaz WEDNESDAY @EasternNazarene @fcanews pic.twitter.com/f8y7NEKSYn

— ENC ATHLETICS (@ENCAthletics) October 30, 2017
He learned the hard way that the keys to success in life revolve around the 2 E's.
They are effort and education.
He also will be the first to tell you that life is not about how you start; it is about how you finish.
Using her mother's example, he also talks about the importance of faith and how society needs to get to a place where compassion overcomes convenience and fear.
Particularly to kids, he emphasizes how having faith will help them navigate life and trust in God's plan and purpose.
Green recognizes it is more difficult with kids these days with social media and instant news.
He encourages them to challenge themselves and set goals.
Because he's lived it, he knows there is darkness in the world.
He wants to reach out to people and let them know they are not alone.
His message is also one of how to handle life's choices.
BSA hosted William Green, former running back for the Cleveland Browns, who spoke about the importance of working hard, despite obstacles. pic.twitter.com/ytPPOumY1i

— Lee County Schools (@leecoschoolsnc) January 13, 2017

He says there is a definite internal battle that must go on inside each person to "fight the urge."
That urge is to lay down and quit.
Because there are two paths in life, according to Green, to lay down and quit or persevere.
He is a living example to keep pushing through.
Butch Davis
William Green always admired and respected his Browns Head Coach Butch Davis.
He described Davis as family-oriented and someone who was always in the player's corner.
When Davis resigned as Browns head coach in 2004, Green was once again reminded that the NFL was a business.
William Green regretted that his team could not win for Davis because he always felt that Davis was a good coach and teacher.
Green had a chance to reconcile with Davis in a different capacity.
Davis became the Head Coach at Florida International University in 2017.
Shortly thereafter, he asked William Green to come down to talk to his team.
He believed Green's story would be inspiring and enlightening to his players.
Personal Life
William and his wife Asia Gray persevered through the domestic dispute as well as Willie fathering a child with another woman.
They too are a story in accountability and forgiveness.
William and Asia live in Berlin, New Jersey among a house full of 8 children (7 together and 1 from William's previous relationship).
These days are among the happiest of his life.
He attributes that to his relationship with God and embracing his purpose which is to inspire and help others.
Ironically, he feels much more content driving his mini-van these days than he ever did in his fancy Mercedes from his playing years.
Conclusion
It is safe to assume that at 40 years of age William Green's second half is just beginning.
He will continue to tour the world to share his message, relishing the role as a mentor and inspiration for all those who suffer.
And when the time comes for Green, in his old age, to recount to his grandchildren his greatest accomplishments, playing in the NFL will fall down the list.
William Green is a proud husband, father, sibling to his brothers and sisters, and a crusader for all those who are in the depths of dark and despair where he spent too many years of his own life.
Cleveland Browns football fans admire him for all of these things, but those who are old enough, will always remember him for "Run William Run."
Green is living proof that happiness has nothing to do with the riches of fame and everything to do with finding internal peace.