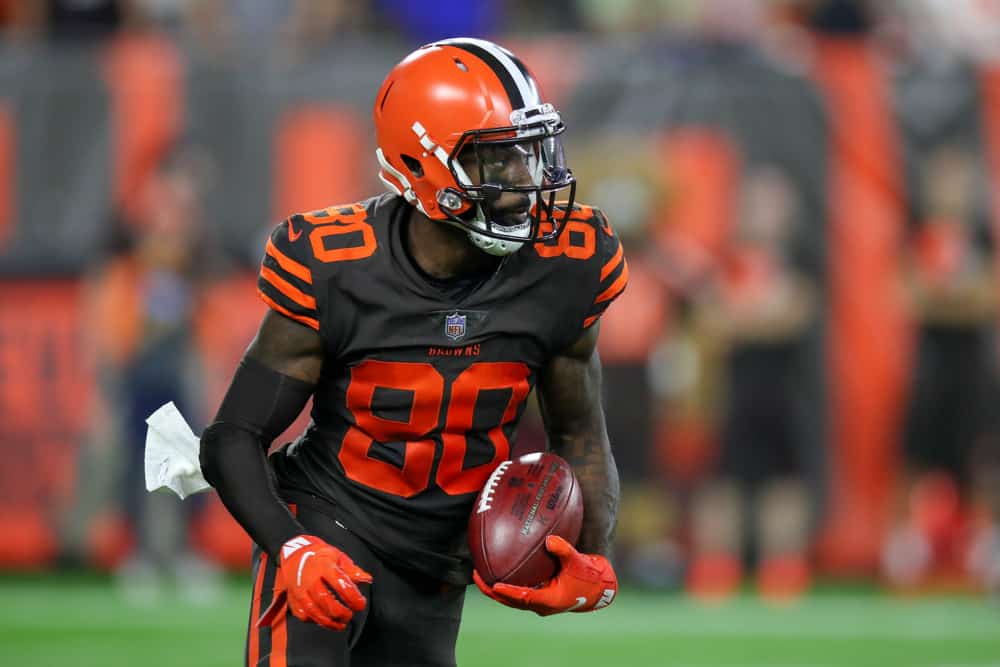 Cleveland Browns WR Jarvis Landry's tweet late Thursday night made fans wonder.
"If One Door Closes…That Means Bigger Ones Are About to Open." he said.
If One Door Closes… That Means Bigger Ones Are About To Open 🙏🏾🙏🏾

— Jarvis Juice Landry (@God_Son80) February 26, 2021
To be clear, it is the offseason so whatever he is alluding to may have nothing to do with football.
In fact, a deeper dive into Landry's tweets seems to indicate that he is talking about something else.
FEAR NOT !!

You Can Achieve Anything You Set Your Mind To… Never Stop Believing You Are A Chosen 1 "The Hand Picked" I LOVE YOU 💜#SEEYOUONTHEOTHEREND

— Jarvis Juice Landry (@God_Son80) February 26, 2021
LOVE THY SELF

— Jarvis Juice Landry (@God_Son80) February 26, 2021
GRACE

— Jarvis Juice Landry (@God_Son80) February 26, 2021
Before we go any further, we hope all is well with Landry.
He is a spiritual guy so his strength and faith show forth in these tweets.
Should The Browns Be Concerned About Landry's Future With The Team?
Turning our sights to Landry as a member of the Cleveland Browns, it seems as though he is one of the select few whose future is sealed.
He is entering the fourth year of a five year $75 million contract.
Landry is the 10th highest paid wide receiver in the NFL.
While he has been a consistent performer for the Browns, his statistics are not of the caliber of the 10th highest paid receiver in the NFL.
Though the Browns could cut him and save $11 million, that seems extremely unlikely because of his consistency.
No one knows exactly what is going to transpire with Odell Beckham Jr. in terms of his recovery and the ever-persistent rumors that he may not be a Brown in 2021.
Higgins is a free agent so Landry is definitely needed.
However, the Browns may want to restructure his contract to free up dollars for the long list of free agents they are faced with.
The restructuring would amount to mathematics and money shuffling, not a pay cut, and possibly adding another year to his deal.
Will Landry Stay If OBJ Does Not?
That has long been a concern.
Landry lobbied for OBJ to come to Cleveland; they are close friends from childhood in the pre-LSU days.
Beyond the media talking about it, there has been no indication that the Browns front office is interested in dealing OBJ.
Furthermore, they are committed to Landry.
2020 was not his best season statistically which could be attributed to a lot of factors including a robust running game and Stefanski's propensity to utilize tight ends more than his peers do.
However, Stefanski found creative ways to use Landry as the season unfolded.
He is a triple threat; able to run, pass, or catch.
Jarvis Landry in 2021
All this means that Jarvis Landry could have a breakout season in 2021.
He joined an elite group of receivers during the 2020 season.
— Jarvis Juice Landry (@God_Son80) February 12, 2021
Fans enjoyed Juice's homage to the Dawg Pound with his emoji.
Jarvis Landry is just one of the components of what is shaping up to be an even more exciting Cleveland Browns offensive attack in 2021.
The consistency of a great head coach (Coach of the Year) in Kevin Stefanski and what will hopefully be a more traditional offseason and preseason will be great for this offense.
Less Zoom and more in person work means more creative plays for the Juice.