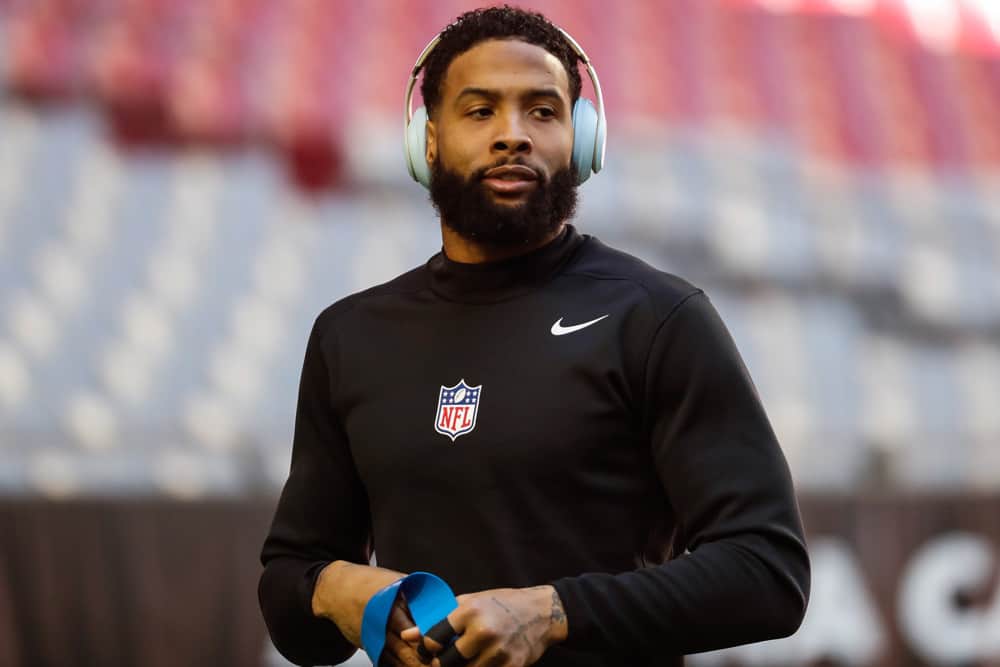 It was a rough day at the office for the Cleveland Browns on Sunday.
That really is an understatement.
The Pittsburgh Steelers beat them decisively and completely from the 1st Quarter through the end of the game.
So it is not surprising that Odell Beckham Jr., a fiery and emotional player, could not contain his emotions on the sidelines in the 4th Quarter.
Halfway through the 4th Quarter, OBJ let it all out.
The Outbursts
OBJ punched a cooler, threw down his helmet, and ripped off his cleats.
At this point in the game, the starters were already pulled because the Steelers lead was insurmountable.
OBJ was seen angrily pacing the sidelines in his socks and either uttering unpleasantries to himself or the fans at Heinz Field.
From this video, it is not clear who his outbursts are directed at.
Coach Stefanski had his back when asked about the outbursts postgame.
#Browns Stefanski said Odell Beckham Jr. throwing his helmet and ripping off his shoes was "normal frustration when you come out and get beat like that"

— Mary Kay Cabot (@MaryKayCabot) October 18, 2020
Pregame
The Browns knew this was a big game.
Yes, they came in 4-1, off to a great start.
But this was the Steelers, a division rival.
The 2019 altercation between Mason Rudolph and Myles Garrett flooded the media outlets and undoubtedly was fresh in the Browns' players minds.
Baker Mayfield and OBJ were seen giving pep talks to the players before and during the game.
#Browns WR Jarvis Landry says Odell Beckham Jr. pulled team together before halftime in role as leader and relayed a positive message.

— Scott Petrak ct (@ScottPetrak) October 18, 2020
It just wasn't enough today.
OBJ Is A Passionate Player
This is not a new concept.
Part of what a team gets with OBJ is passion.
He is passionate about the game through ups and downs.
It is part of what makes him the competitor that he is.
And honestly, most Cleveland players and fans had to be feeling exactly as he was yesterday.
He just showed it.
Odell Beckham Jr. yelling on the sidelines = player looking to draw out the best in his teammates.

Please let's not take that clip and twist it to make him look like he's unhappy in Cleveland. He's unhappy with this game. Who in Cleveland isn't?

— Camryn Justice (@camijustice) October 18, 2020
Rough Week For OBJ
Recall that OBJ was sent home from practice on Thursday with an illness.
A collective panic happened in Cleveland in this era of COVID-19.
But he had two negative COVID-19 tests so everyone breathed a sigh of relief.
He did miss two days of practice as a result of the illness and testing protocols which was not supposed to be a factor in this week's game preparation.
#Browns HC Kevin Stefanski says re Odell Beckham, Jr that "there is enough time there to catch him up" and his missing two days of practice doesn't affect how he will be used – as long as he's feeling good Sunday vs the #Steelers

— Aditi Kinkhabwala (@AKinkhabwala) October 16, 2020
Moving Forward
Onward and upward, it's time to focus on Week 7 and the Cincinnati game.
No need to delve into past outbursts that OBJ has had on both the Browns' and Giants' sidelines.
This team is 4-2, by any definition that is a great start.
Of course, there are flaws, but they have a fantastic coach that looks to be a problem solver who will keep them positive.
And Coach Stefanski will work tirelessly to prepare them for the weeks to come while taking responsibility for yesterday's crushing loss.
"We need to point the finger at ourselves… starting with me."