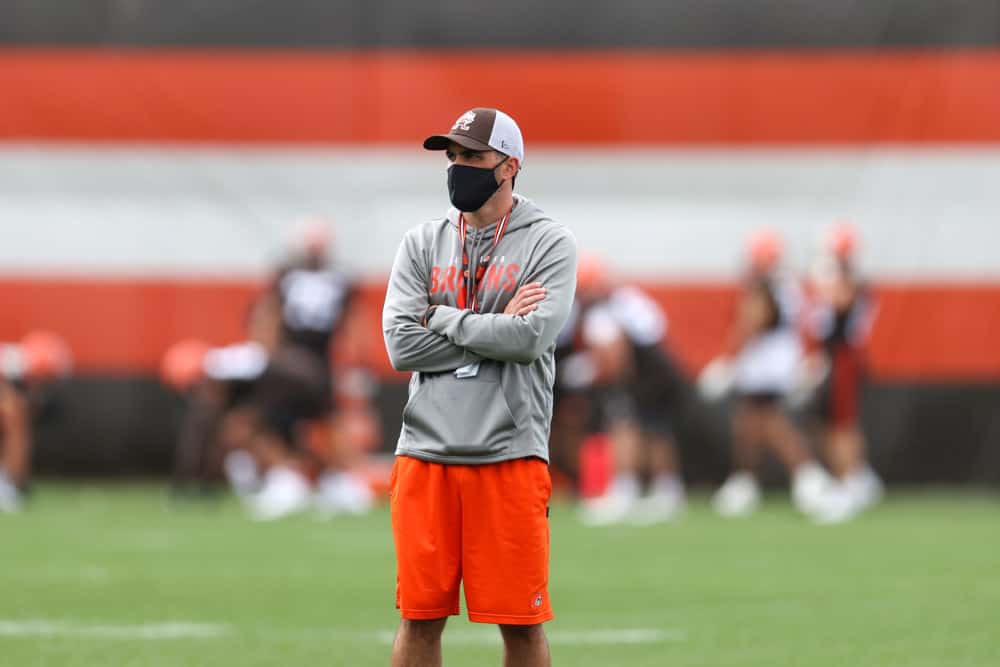 Anything that could go wrong for the Cleveland Browns on Sunday did.
One particular name with tons of concern around them is quarterback Baker Mayfield.
Mayfield has been dealing with rib issues over the past week and was questionable heading into the Pittsburgh game.
After struggling to put together consistent drives and taking a number of big hits, Mayfield was eventually replaced by backup Case Keenum in the fourth quarter.
It was a tough contest for Baker as it felt like he was constantly under pressure.
Playing QB against the Steelers has to be terrifying.

It's 3rd down, and they run a stunt on each side, with Tuitt and Dupree as the loopers. 300-pound Tuitt with a full head of steam, and human rocket ship Dupree coming untouched inside. This should be against the rules. pic.twitter.com/86De12zlE5

— Robert Mays (@robertmays) October 19, 2020
The Steelers pass rush pressured Baker Mayfield on over 47% of his dropbacks 🔥 pic.twitter.com/ZyHpCEmSOM

— PFF PIT Steelers (@PFF_Steelers) October 18, 2020
Bush Sack! #Steelers pic.twitter.com/dZIeJSRLjH

— That Blitz Guy (@ThatBlitzGuy) October 18, 2020
As soon as Keenum came in, the social media posts came flying in debating who would be starting next week for the Browns.
For those pleading for consistency, no worries.
Stefanski has stated that as long as Mayfield is healthy, he will continue to start for the brown and orange.
#Browns Kevin Stefanski said Baker Mayfield will start next week in Cincinnati if he's healthy

— Mary Kay Cabot (@MaryKayCabot) October 18, 2020
Is He Healthy?
Of course, only Baker Mayfield and the Browns medical staff know the true extent of his rib injuries.
Baker won't admit it, but it seemed like there was something off with his play Sunday.
The Steelers defense certainly deserves credit for the performance they put on, and Mayfield doesn't seem interested in making excuses after the loss.
#Browns QB Baker Mayfield on how his injury affected him today: "It didn't."

— 92.3 The Fan (@923TheFan) October 18, 2020
Still, he'll need to seriously address this issue this week.
The team is still 4-2, but both Pittsburgh and Baltimore show no signs of slowing down.
Stefanski wants to keep pace with them, no doubt, and a healthy Mayfield at quarterback gives them the best chance to do so.
The key word, however, is healthy.
Going 10 of 18 through the air for just 119 yards with two interceptions and just one touchdown is not exactly the ideal line for a quarterback.
Those are numbers that one would anticipate from the backup, not the supposed franchise quarterback.
I don't rule that label out for Mayfield yet, but he won't hang onto that playing injured.
Even the greats have their limits, so Mayfield may best be served taking a seat until those ribs are good to go.
The CBS broadcast mentioned his difficulties sleeping on his side this week.
How someone goes from that, to playing an NFL game, is beyond me.

Confidence is Key
The phrasing used by Stefanski here is also important.
In a way, he's defended Mayfield from a bad narrative.
He says Mayfield will continue to start "if he's healthy".
Fans are smart enough to know that Stefanski is aware of Baker's poor play in Pittsburgh.
Stefanski, being one of the more cool-headed coaches around the league, isn't giving up on the former number one pick just because of a bad outing against a great defense.
The leash isn't infinite in length for Mayfield, nor should it be. It's still too early to give up on him though.
If Stefanski were to just name Keenum as next week's starter without referring to Mayfield's injuries, it would send a message of giving up.
That would be a crushing blow for the confidence of Mayfield.
Social media is already doing its best to get to the former Sooner.
Browns fans watching Baker Mayfield pic.twitter.com/Fgl4KhDzPB

— Complex Sports (@ComplexSports) October 18, 2020
Carson Wentz: Leading league in interceptions

Baker Mayfield: pic.twitter.com/SiKHJ8wpWJ

— Tekeyah Singh (@TekeyahS) October 18, 2020
Today's Baker Mayfield energy pic.twitter.com/zhw6e52J9a

— Peep (@PeepsBurgh) October 18, 2020
However, you can use the injury as a safety valve in that regard.
You could call it an excuse, sure.
But, do you really think Baker Mayfield looked 100% on Sunday?
My answer was "no" after watching him get up slowly after a few of the bigger hits he took, clutching at his core.
So, the Browns may just want to let him get healthy.
A healthy Mayfield will be a more confident Mayfield, and that's what the offense needs.