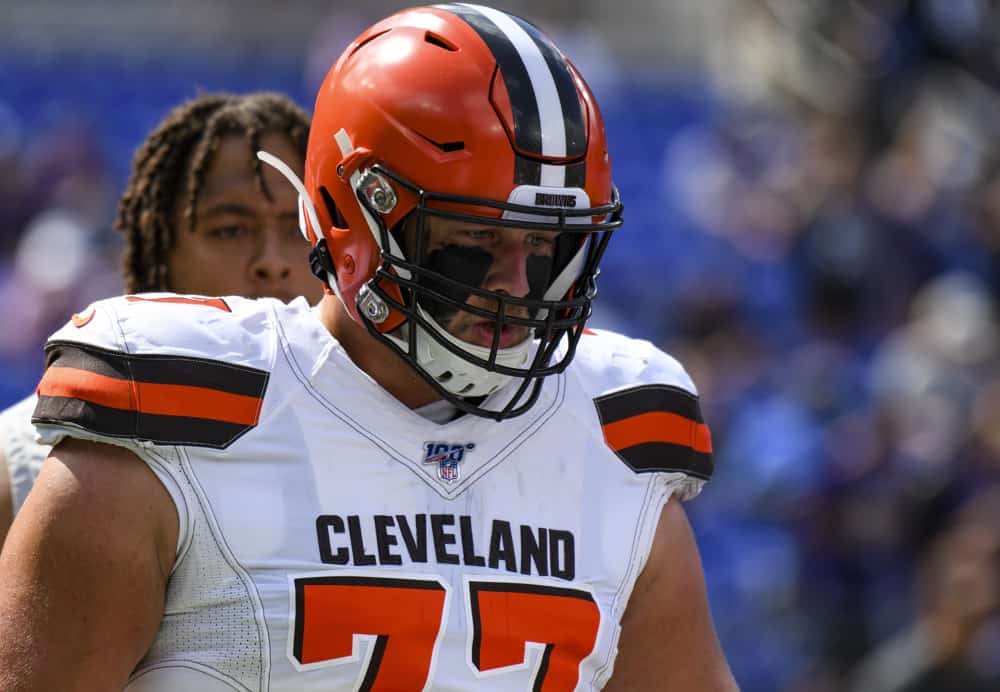 Have you had enough of contract extension talks yet?
If not, good!
The Cleveland Browns have been a point of discussion as far as contract extensions go this summer.
Quarterback Baker Mayfield gets the most attention simply because of his position.
However, Mayfield and his camp have downplayed talks all summer, saying there was "no rush" to get an extension worked out.
Another important guy eligible for an extension is offensive guard Wyatt Teller.
Like Mayfield though, Teller's focus remains on the field.
#Browns RG Wyatt Teller on whether there have been contract talks: "I love Cleveland. I love the fans. I love the city. That's the personal, business side of it. They work with my agent and he kind of leaves me out of it. Right now, the best thing I can do is focus on football."

— 92.3 The Fan (@923TheFan) August 11, 2021
Cleveland Rocks
It's common for guys to compliment the city they play in when discussing the future.
We'll switch sports for this example, but it wasn't terribly long ago that Kyrie Irving told an audience he would never leave the city of Cleveland.
That audience was just a group of kids who's hearts he didn't plan on breaking that afternoon, but still.
Sometimes those proclamations hold weight, sometimes they don't.
At the end of the day, money talks, and trumps the "love" a player has for a city.
Still, Teller's infatuation with Cleveland seems legitimate.
If nothing else, he clearly feels this team is one that can compete at a high level.
Some of the best to have ever played the game never even sniffed a Super Bowl appearance.
If guys sense an opportunity to play in an environment where the Lombardi Trophy is a legitimate goal, they'll take advantage of that.
#Browns Wyatt Teller said Tony Dungy told them at the Orange & Brown practice Sunday that "the best teams are the ones that are the closest."

"I see an attitude and mentality to win and that's special," Teller said.

📸: @TheMattStarkey pic.twitter.com/7vB3Vk5tso

— Camryn Justice (@camijustice) August 11, 2021
Incoming Extension for Teller?
The Browns would love to pay Teller and keep him around long-term.
The issue is whether they can afford to do so or not.
There will be plenty of picking and choosing for the front office to do as far as who gets paid and who doesn't.
Earlier this summer, Andrew Berry and friends decided running back Nick Chubb was someone they wanted around long-term.
You'd be hard-pressed to find someone who disagrees.
#Browns Nick Chubb on his extension. pic.twitter.com/HXC8OVs9IP

— Scott Petrak ct (@ScottPetrak) August 2, 2021
Teller has made quite the case in his own right to get paid.
The former fifth-round pick took huge strides in Cleveland last year and became one of the best guards in all of football.
Highest-Graded Players of 2020:
1. Aaron Rodgers – 94.9
2. Wyatt Teller – 93.8
3. Patrick Mahomes – 93.0
3. Travis Kelce – 93.0 pic.twitter.com/tq87J9q66j

— PFF (@PFF) December 19, 2020
Wyatt Teller's improvement in 2020 was nothing short of incredible 🤯 💪 pic.twitter.com/Netf8DoOnB

— PFF (@PFF) February 23, 2021
This season, Wyatt is slated to make just shy of $1 million.
It's safe to say that number will be much higher after 2021.
The top-five offensive guard salaries in the NFL average out to $13.8 million annually per Spotrac.com.
The 2020 second-team All-Pro will likely be looking at a similar deal.
Investing in the offensive line is smart of any front office, and Andrew Berry is certainly intelligent.
While Teller may be an expensive piece, he's one worth keeping around.
If he does see an extension offer from Cleveland, expect it to be in the $14-$15 million per season range.
Again, that's not the focus for Teller right now.
His goal, as with the rest of the team, is to make a deep postseason run and get to that ultimate stage.
Individuals do not accomplish those goals, rather, a solidified team does.
The former Virginia Tech Hokie understands that.
Plus, as Teller said, "the better the team does, we all get paid."