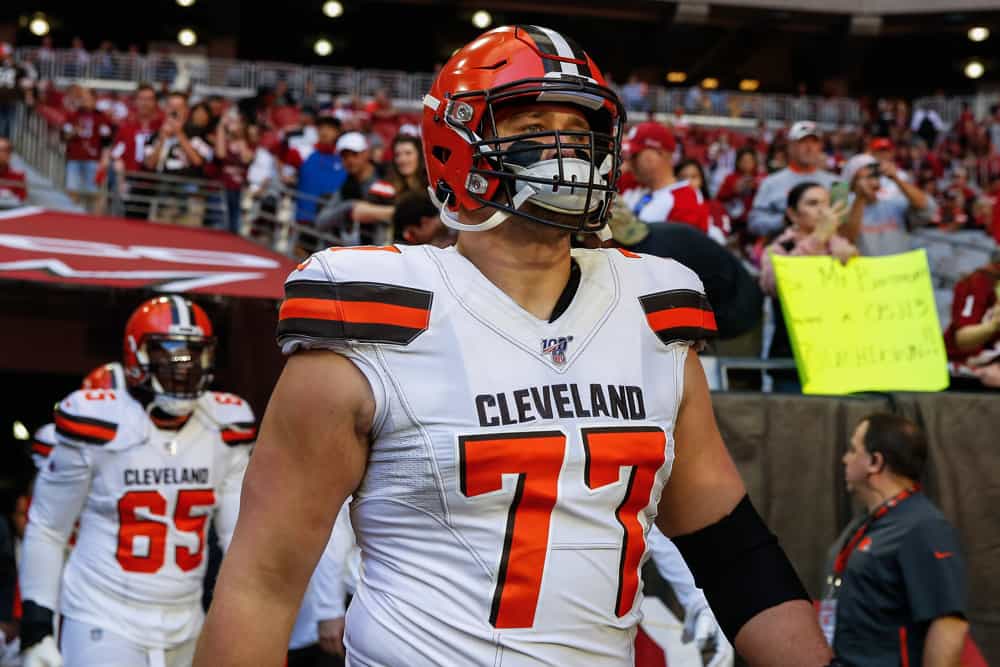 The Cleveland Browns placed starting right guard Wyatt Teller on the reserve-Covid-19 list today.
Teller did not test positive but reported a close contact with a Covid-positive person outside the organization.
There is no indication Teller is ill with any symptoms, either.
#Browns placing RG Wyatt Teller on the reserve/COVID-19 list

— Jake Trotter (@Jake_Trotter) December 8, 2020
As per NFL policy, Teller must remain isolated from the team for at least 5 days since his last contact with the infected person.
If that contact was Tuesday, when he was placed on the list, Teller could be re-activated as soon as Sunday.
But that is contingent on at least three negative PCR tests, one of which must happen on the fifth day.
Cleveland is scheduled to play the Baltimore Ravens on Monday this week, making it more likely Teller can avoid missing a game.
What If Teller Tests Positive? 
At this point, Teller is on precautionary isolation until ruled out for having Covid-19.
Should one of his PCR tests this week return a positive result, he could miss 2 or more games.
The main factor is whether the player becomes ill and how fast he recovers.
Earlier this season, Teller missed three games with a calf injury.
Myles Garrett on missing 2 games w/ COVID-19 and returning Sunday to face the #Titans: "I'm not here to make a cameo appearance or a second-rate arrival. I'm here to do the job that I was doing before. I don't think there will be any drop-off." Photo courtesy of Cleveland #Browns pic.twitter.com/8TT57LKTt9

— Nate Ulrich (@ByNateUlrich) December 4, 2020
Chris Hubbard started in Teller's place and held up well.
Hubbard is among several Browns players who already missed games while on the Covid list.
Teller is having a Pro-Bowl caliber season for the Browns.
Cleveland leads the league in rushing with over 150 yards per game.
Baker Mayfield was pressured in the pocket only once last week against the Titans.
That continues a trend that has the Browns' offensive line regarded as one of the NFL's best.
Covid-19 Wreaking Havoc in NFL? 
Over the past two weeks, a Covid outbreak among the Baltimore Ravens' team resulted in several re-scheduled games.
Denver played a game with a practice squad wide receiver behind center after all 4 rostered quarterbacks landed on the Covid-19 list.
Week 13 continued into Tuesday night as the Ravens-Cowboys contest was pushed back from Thursday.
But overall, the NFL reported a 45-percent drop in positive test rates last week.
The COVID impact on the NFL: there are few if any fans in the stands. So there is no 12th man at Seattle, no decibel-splitting roar at Arrowhead & no longer a homefield advantage in the NFL. Road teams have a 96-94-1 record this season, including a 10-4 mark last weekend.

— Rick Gosselin (@RickGosselin9) December 8, 2020
The league reported 45 employees and players tested positive between November 29 and December 5.
In mid-November, the NFL placed every team under more intensive protocols.
The reduction in positive tests is a welcome result as the league pushes forward with its season.
Week 18 games and a delayed playoff schedule are worst-case scenarios for the NFL.
But with just a quarter of the regular season games left to be played, they remain on track for a Feb 7 Super Bowl.