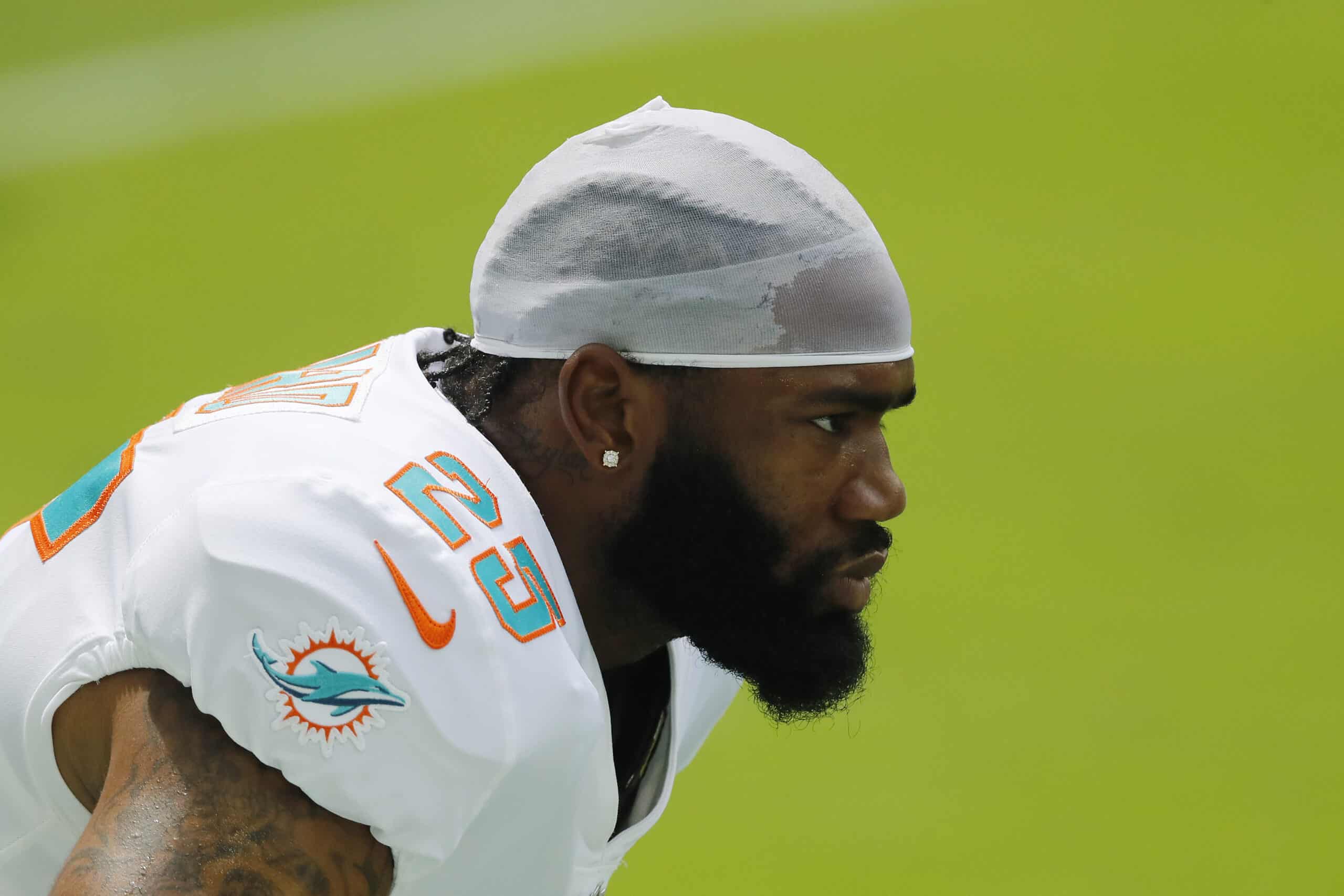 The Cleveland Browns have put together a successful offseason, but it might not be over yet.
There are rumors that they could be interested in acquiring Miami Dolphins defensive back Xavien Howard.
The two-time Pro Bowler is currently holding out in the hopes of a contract renegotiation.
It's not too surprising to see the Browns as one of the leading candidates to acquire Howard.
Bleacher Report believes that Cleveland is a good landing spot for the 28-year-old defensive back.
Why Leave Miami?
Howard is owed more than $12 million next season, but feels he deserves more compensation.
He has lead the league in interceptions during two of the last three seasons.
His teammate Bryon Jones is making over $16 million per season and is playing at a non-Pro Bowl level.
Howard has not appeared at mandatory minicamp and the situation appears to be hitting a breaking point.
The #Dolphins are taking the field for the first practice of minicamp and star CB Xavien Howard isn't there, I'm told. Officially a holdout.

— Tom Pelissero (@TomPelissero) June 15, 2021
Head coach Brian Flores attempted to ease the situation, but it doesn't sound like Howard is playing under his current contract.
To be fair, Miami did sign Howard to that deal in 2019, so it's understandable that they don't want to renegotiate after a season or so.
The organization hasn't openly said anything about moving Howard and Flores continues to say that they continue to handle the situation internally.
Getting Howard In Cleveland
Despite the contract issues, Howard is not going to be an easy player to acquire.
He has shown that he can be one of the best defensive backs in the league.
The Dolphins are going to cash-in on that, assuming the two sides are unable to resolve their issues.
Bleacher Report has the potential deal as 2022 second and fourth-round draft picks and Greedy Williams for Howard.
Bleacher Report's trade packages for Xavien Howard

New Orleans: 2022 1st-round draft pick

Philadelphia: 2022 2nd-round draft pick and Zach Ertz

Arizona: 2022 2nd- and 5th-round draft picks and Jordan Hicks

Cleveland: 2022 2nd- and 4th-round draft picks and Greedy Williams pic.twitter.com/ZyU2Aowrqj

— Dolphin Nation (@Dolphin_Nation) July 17, 2021
Cleveland selected Williams out of LSU in the second round of the 2019 NFL Draft.
He put together a lackluster rookie campaign and missed all of last season due to a nerve issue in his shoulder.
Despite that, the 23-year-old appears fully healthy and ready for training camp.
However, he'll likely be competing with first-round pick Greg Newsome for the No.2 defensive back job.
A trade with Miami would likely provide a guaranteed starting job for Williams heading into 2021.
That is quite a hefty package for Howard, but it would give the Browns two elite defensive backs.
The Verdict
Howard is an enticing player, but the contract situation hinders his value.
The fact he is holding out after getting a new deal in 2019 is obviously a red flag to organizations.
Cleveland does have the cap space to pay Howard, but they want players who care about winning more than money.
The Browns have multiple key pieces on expiring deals such as Baker Mayfield, Nick Chubb, and Denzel Ward.
None of them are holding out and continue to play without demanding a new deal.
Cleveland does pay their top players though as seen by the massive extension given to defensive end Myles Garrett.
The top 10 picks of the 2017 draft has now produced three record-setting extensions:
1. Myles Garrett: 5-$125M (highest defensive player AAV ever)
8. Christian McCaffrey: 4-$64M (highest RB new money AAV ever)
10. Patrick Mahomes: 10-$450M (largest sports contract ever)

— Field Yates (@FieldYates) July 14, 2020
On paper, Bleacher Report has a fairly reasonable deal for Howard, but it's unlikely to happen.
Cleveland wants to develop Newsome and he'll hopefully be the future alongside Ward.
It would stunt the growth of Newsome, assuming the Browns acquired Howard.
The Browns are better off keeping Williams and their draft picks and letting Howard go elsewhere.
A combination of Williams and Newsome is a safer play than paying the hefty price tag for a frustrated defensive back.