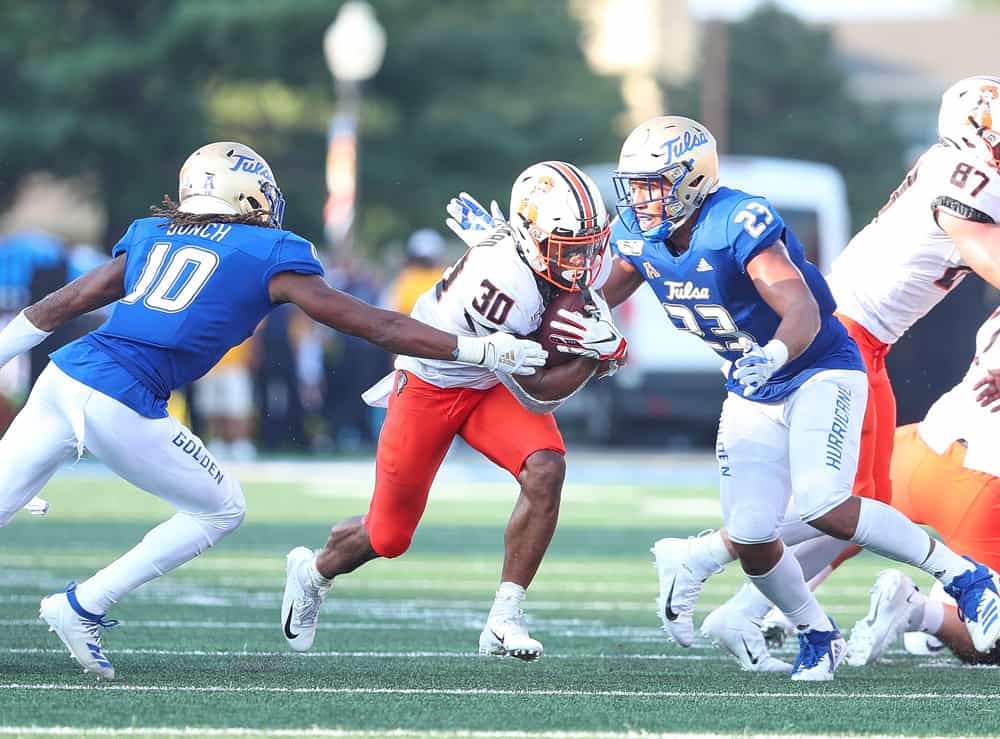 The Cleveland Browns will have many options with their first round pick.
Most analysts have projected that player to be on the defensive side of the ball.
Many have Tulsa linebacker Zaven Collins as projected to be selected by the Browns in the first round including ESPN's Mel Kiper Jr.
According to Collins, he would welcome the opportunity to play in Cleveland.
Collins To Cleveland?
Collins spoke about the possibility of being drafted by the Browns.
"I love the organization. I love the program. I love all the coaches there," Collins said.

"I have no choice (who picks me)," he continued. "Wherever I'm going to go, I'm going to fit in because I know I will. I've done it every time in my life. I like to be around people, enjoy people, make people's day better, and it seems like [the Browns] have that going in their program already. They've completely changed the culture the last couple years, and it seems like a great program."
The three-year starter does just about everything right on the football field.
Collins is an explosive player with solid ball skills and an excellent pass rusher.
In fact, Collins hinted that he believes himself and Myles Garrett would be a dynamic duo together.
Asked #Tulsa LB Zaven Collins if he's imagined blasting off the edge with #Browns Myles Garrett: "Yeah, that quarterback's probably in trouble"

— Mary Kay Cabot (@MaryKayCabot) April 1, 2021
Cleveland could certainly use a player such as Collins.
There is an open spot on the d-line and it appears that Collins is interested in taking over the job.
#Tulsa's Zaven Collins won't come to Cleveland for the #NFLDraft but raved about the #Browns and has been in contact pic.twitter.com/FeNVP8CWyc

— Mary Kay Cabot (@MaryKayCabot) April 1, 2021
He knows at the end of the day he cannot decide where he goes, but it sounds like he'd love to play for the Browns.
There appears to be mutual interest from both parties, so we'll see what happens on draft day.
Collins has already met with the organization multiple times and has loved what he has seen thus far.
He would fit well in the Browns defensive scheme and sounds excited about possibly playing in Cleveland.
Should Cleveland Draft Collins?
On paper, Collins is a perfect player for this system and could make a serious impact on this roster.
He can play off-ball and as a stand-up pass rusher on the edge, which makes him even more dangerous.
Through three seasons at Tulsa, Collins recorded 236 tackles, 7.5 sacks, and five interceptions.
The Browns should certainly be excited about the potential surrounding Collins.
He has a ton of upside and could develop into a possible Pro Bowl caliber player at the professional level.
It's unlikely that the Browns trade up in order to select Collins on draft day.
However, it sounds like the team will strongly consider drafting Collins, assuming he falls to them in the first round.