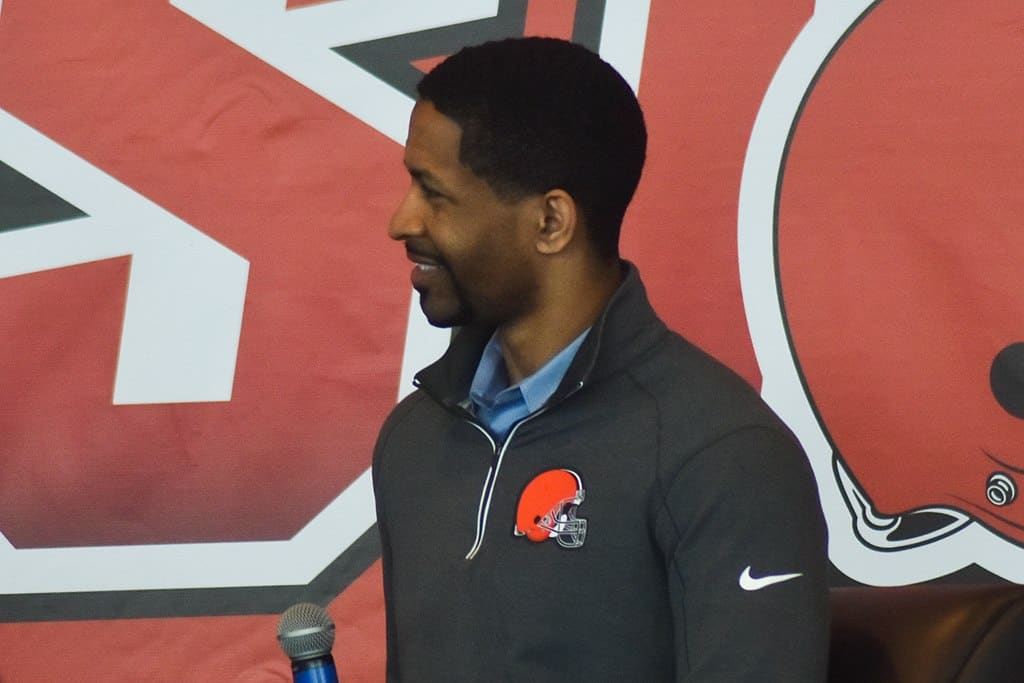 Despite recent allegations to the contrary, Cleveland Browns GM Andrew Berry is not just an analytics guy.
He was once a starting cornerback for Championship-winning teams at Harvard University.
Random College Athletes, an accurately titled Twitter accounted, posted evidence of such on Wednesday.
Andrew Berry
Harvard College, Cornerback 2007-2008 pic.twitter.com/ewiDUyHlfR

— Random College Athletes (@RandomAthletess) March 31, 2021
In the photo, Berry is running with the ball, possibly after an interception.
Berry helped clinch Harvard's second consecutive Ivy League Championship in 2008 with such an interception.
Then-Harvard head coach, Tim Murphy, remains impressed by Berry, a rare freshman starter under his reign.
Murphy told Harvard Magazine last season that Berry quickly became a lockdown corner, throttling even the best receivers.
As far as outstanding plays or heroics, Murphy said,
 "He set the bar so high that it's hard to pick out one moment. But on more than one occasion he tracked down guys who were heading for touchdowns and caught them from behind. While the athleticism and speed were impressive, it was just the incredible effort that had his teammates on the sidelines jumping off their feet."
Berry, a high school quarterback, once dreamed of lining up behind center at Stanford University.
But when Stanford fired their head coach just before his scheduled campus visit, he jumped at Murphy's invitation to Harvard.
Along with 5 interceptions and 2 college degrees, Berry met his future wife before leaving the Ivy League institution.
Berry Almost Never Played Football 
Andrew Berry grew up in a football-loving family.
But his mother never wanted the slightly-built Berry or his twin brother to play the game.
She introduced the pair to a variety of alternate activities, hoping to spark a passion away from sports.
Her efforts went for naught during their middle-school years when both signed up for their scholastic teams.
Quarterback Andrew threw passes to his wide receiver brother, Adam, through high school.
Congrats to Andrew Berry '09 on being named the GM of the @Browns!!! https://t.co/v2L5TpmGfv #GoCrimson pic.twitter.com/JfSiK3JCBJ

— Harvard Football (@HarvardFootball) January 28, 2020
When Berry kicked off his Harvard career, academics did not come as easy as his conversion to defense.
Berry followed an economics concentration as a freshman.
But a class called Introduction to Computer Science (CS50) sparked his analytics journey.
The future Cleveland Browns GM focused on artificial intelligence and machine learning.
He went on to earn a Masters Degree in Computer Science, telling Harvard alumni reporter Adam Zewe,
"In my computer science courses, I really liked how I would learn programming and algorithmic thinking and then produce something that even my peers thought was cool. It isn't just a paper—I was building robots to play games or developing a neural network to recognize digits for a post office," he said. "There's a certain logic and organization that comes from solving problems in this realm that can be more broadly applied to problems you tackle in the real world, even ones that are not computer science-related."
With his history on defense, we can understand the Browns' mantra that they can never have enough good corners.
But with his academic experience, we wonder if Cleveland might field a robot behind Myles Garrett someday.