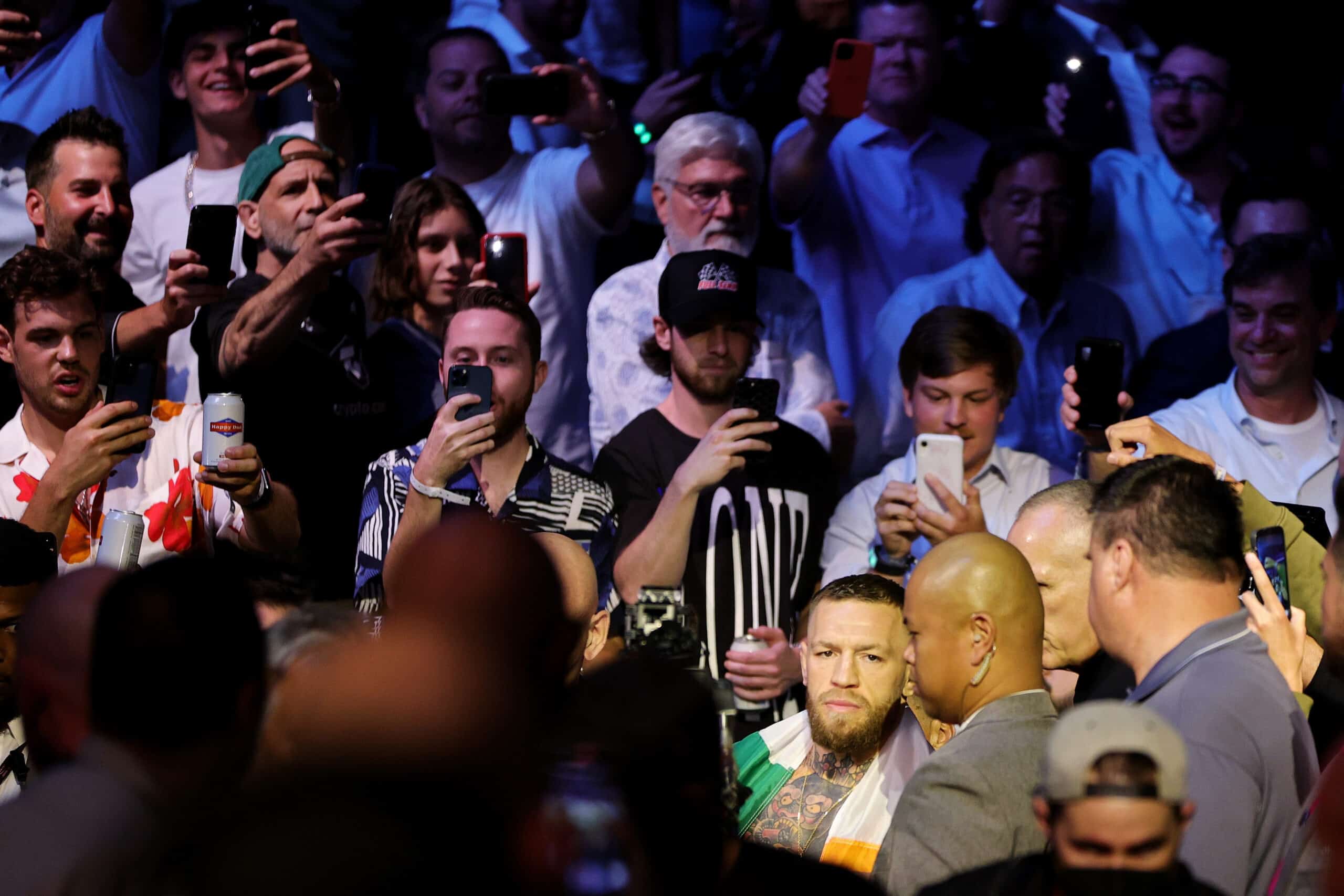 The Cleveland Browns were well represented at Ultimate Fighting Championship (UFC) mixed martial arts 264 on Saturday night in Las Vegas, Nevada.
The headliner bout between Conor McGregor and Dustin Poirier ended at the end of the first round with McGregor suffering a broken ankle.
There was still plenty of undercard action for Baker Mayfield, David Njoku, Austin Hooper, and Odell Beckham Jr. to watch including a bout with former NFL defensive lineman Greg Hardy.
Hardy was knocked out in that bout.
Baker, Njoku, and Hooper were seated together.
— B/R Gridiron (@brgridiron) July 11, 2021
For the second time in a week, Mayfield made an interesting shirt selection reminiscent of the "robe" Charles Barkley teased him for wearing during "The Match" celebrity golf coverage.
#Browns Baker Mayfield with a guest appearance during the Match

Said his golf game isn't great

But said his swing is still better than Chuck's

Also interesting shirt choice pic.twitter.com/eCf2aYSoA1

— Matt Fontana (@MattFontana83) July 7, 2021
OBJ was seated elsewhere in the arena.
He was sporting a Mike Tyson t-shirt and a backward hat that is bound to drive Colin Cowherd crazy.
OBJ at #UFC264 @brgridiron pic.twitter.com/ACYHDp0ryv

— Bleacher Report (@BleacherReport) July 11, 2021
Baker And His Tight Ends
It is a positive offseason development seeing David Njoku smiling among his teammates.
Last offseason, he was demanding a trade before training camp which obviously did not materialize.
1/2 Browns' TE David Njoku and his agent Drew Rosenhaus asked today for the team to trade him. The Browns told Njoku they would like to keep him, but Rosenhaus told them he's intent on a trade. They want a trade before training camp.

— Adam Schefter (@AdamSchefter) July 3, 2020
Njoku and Hooper should be big factors in the Browns offensive strategy this year just as OBJ should be.
OBJ
With training camp just two weeks away, fans are excited to see more of OBJ.
After suffering the ACL injury last October, he has worked hard on his rehab and recovery.
He joined his teammates at "Camp Mayfield" in June and looked fantastic cutting and running routes.
OBJ is back running routes with Baker 🔥

(via @God_Son80) pic.twitter.com/cLoMpohfbA

— B/R Gridiron (@brgridiron) July 7, 2021
"Camp Mayfield" is what the players coined the event where Mayfield hosted teammates in Austin last month for throwing, working out, and team building.
A Little Relaxation Before Training Camp
Training camp starts on July 27.
It is good to see the Browns players out relaxing and enjoying themselves before the hard work and intensity begins later this month.
With so many expectations in 2021, this young Browns team will need to find ways to manage the stress and pressure of a limelight that has not fallen on them with any seriousness for decades.