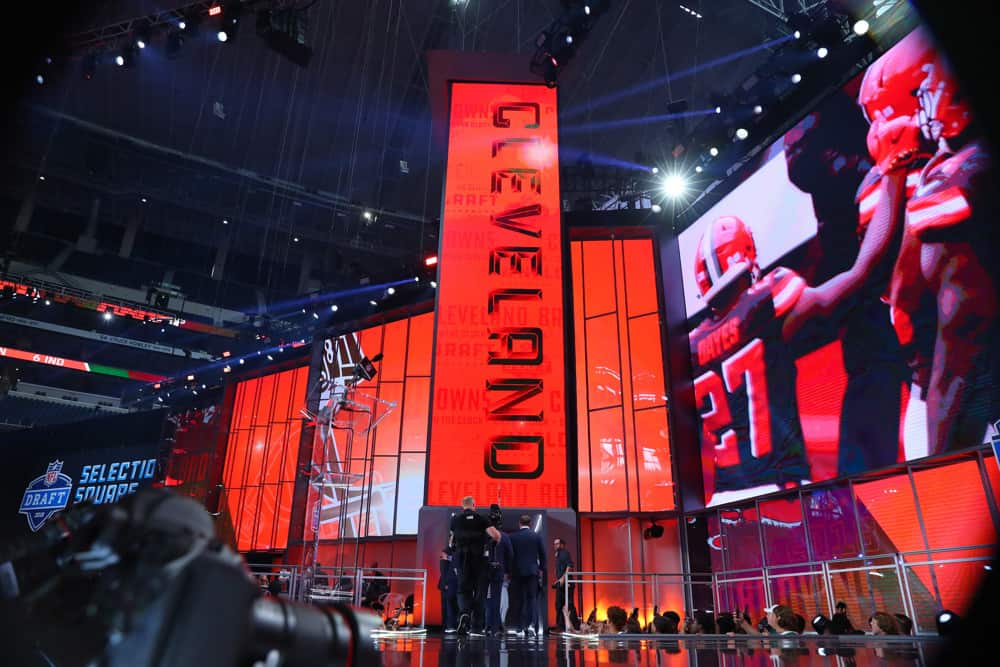 Cleveland Browns general manager Andrew Berry has done well since coming to Berea.
This past offseason featured some of his best work in his career with acquisitions like John Johnson III and Jadeveon Clowney.
Even though the on-field result has been disappointing at times this season, Berry isn't exclusively at fault for those shortcomings.
Looking at his two draft classes, the picks have been solid.
However, there are criticisms to be made.
Two guys from the 2020 class may have some concerns regarding their long-term status in Cleveland.
1. Jedrick Wills, Offensive Tackle
Berry has made sure to invest in Cleveland's offensive line since joining the organization.
He established this quickly by selecting offensive tackle Jedrick Wills out of Alabama in the first round of the 2020 draft.
When healthy, he has shown he can be an integral part of the offensive front.
Throughout points of last year, Wills had gained attention league-wide.
In October, Wills was right there in comparison to other first-round offensive linemen per Pro Football Focus.
2020 1st Round tackles by pass-blocking grade:

🔸 Jedrick Wills 77.9
🔸 Tristan Wirfs 74.6
🔸 Mehki Becton 69.1
🔸 Austin Jackson 52.0
🔸 Andrew Thomas 47.4 pic.twitter.com/kSOgoURCiy

— PFF (@PFF) October 15, 2020
The problem is Wills isn't always healthy.
It's become a more pressing issue this season.
He's missed only two games this season, albeit big ones in weeks five and six against the Cardinals and Chargers.
Playing through injury is commendable, but when you become a liability, it becomes an issue.
It's similar to the ongoing Baker Mayfield discussions regarding whether he should even be playing or not.
A nagging ankle issue continues to bother Wills.
As we've seen at times this year, it's lessened his physicality and quickness.
The following clip from the loss to New England emphasizes this.
Ja'Whaun Bentley shot past Jedrick Wills like a rocket 🚀pic.twitter.com/C3VpovWU8I

— Guy Boston Sports (@GuyBostonSports) November 14, 2021
He hasn't been a bad part of the offensive line by any stretch.
Keep in mind he made the transition into left tackle after leaving Alabama.
He just hasn't been his same dominant self this season.
Injuries may be a huge reason for that, but his regression can't be ignored.
2. Grant Delpit, Safety
The former LSU standout Grant Delpit has not had an easy NFL career.
His entire rookie campaign was washed away due to injury.
Heading into 2021, expectations were that he would get healthy and breakout onto the scene as a standout player for the defense.
So far, that just has not panned out.
Before diving into the negatives, Delpit did record his first career interception in Cleveland's loss to Baltimore.
Grant Delpit first career pick 🔥pic.twitter.com/GvBhw0iTTs

— PFF CLE Browns (@PFF_Browns) November 29, 2021
Highest-graded #Browns in Week 12 (min. 25 snaps):

1️⃣ Grant Delpit, S- 91.5
2️⃣ Joel Bitonio, OG- 89.5
3️⃣ Jeremiah Owusu-Koramoah, LB- 88.1
4️⃣ John Johnson III, S- 77.8
5️⃣ Greg Newsome II, CB- 77.7 pic.twitter.com/1YeHgYD2gz

— PFF CLE Browns (@PFF_Browns) November 29, 2021
Perhaps Delpit will earn more playing time after Week 12's performance.
This season, he hasn't done enough to earn consistent snaps on defense.
The past three games he has been on the field for either just above or below 50% of the defensive snaps.
That's not great for a guy that many thought would be able to take a massive step forward this year in terms of progression.
There's still time this season for Delpit to make a bigger impact.
Again, he's coming off his best game of the season, so hopefully he continues to trend in the right direction.
Creating some more turnovers would be a major help to a Browns defense that has struggled to create those this season.