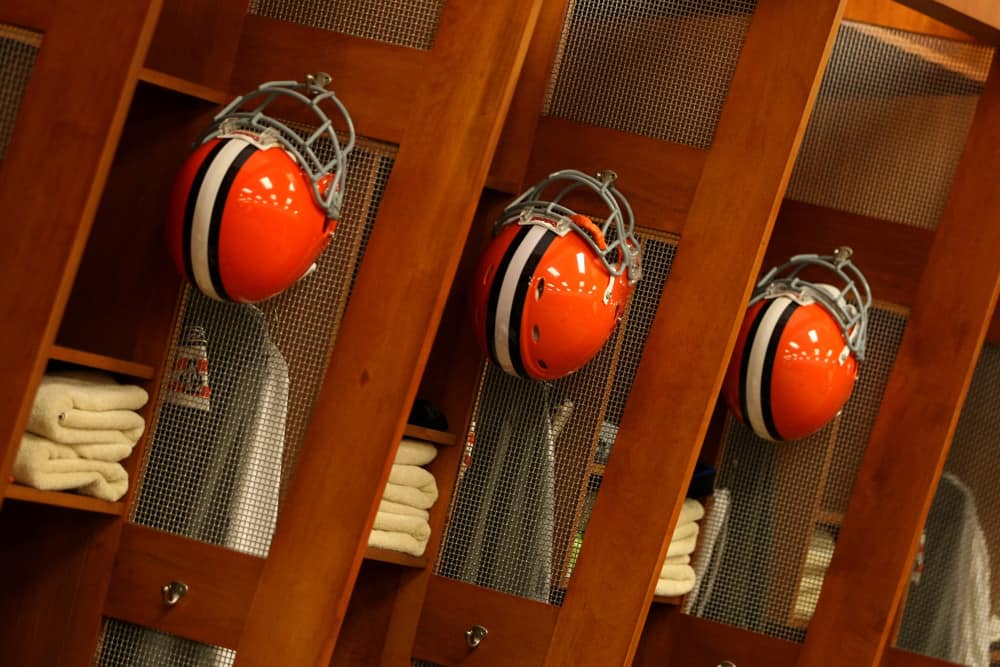 It has been an action packed week for the Cleveland Browns.
They parted ways with wide receiver Odell Beckham Jr. and terminated the final two years of his deal.
Then, the Browns used that extra money to extend both guards Wyatt Teller and Joel Bitonio.
The #Browns signed OG Joel Bitonio to a three-year, $48M extension per @RapSheet.

Bitonio: 88.7 grade in 2021 (3rd among OGs) pic.twitter.com/7KYHiTsono

— PFF CLE Browns (@PFF_Browns) November 10, 2021
It's also worth noting that the Browns have locked up Nick Chubb, Kareem Hunt, and Myles Garrett as well.
Sadly, not everyone can get paid and there are going to be some players who don't get extended by Cleveland.
The front office is going to have some big decisions to make on who to let walk this offseason.
1. David Njoku
It took long enough, but the Browns are finally getting some production out of tight end David Njoku.
The fifth-year tight end is in his final year with the organization and is set to hit free agency after the season.
It has been a rollercoaster five years for Njoku in a Browns uniform.
His career started off on a promising path, but he hasn't been the same player since 2018.
However, he is putting together a fairly decent campaign with the Browns this season.
Through nine games, Njoku has 21 receptions on 27 targets for 341 yards and two touchdowns.
David Njoku paid homage to the one and only @DaveBautista with his touchdown celebration today pic.twitter.com/6EhkECEaMq

— Ben Axelrod (@BenAxelrod) November 8, 2021
He is certainly going to want to be paid this offseason and it's unlikely he would take a hometown discount.
The Browns are already stuck paying tight end Austin Hooper and his massive contract.
It seems unlikely that the Browns would want to have two big money tight ends on their roster.
It's also worth noting that the Browns have second-year tight end Harrison Bryant waiting in the wings.
The Browns front office would be better off letting Njoku walk and using Bryant as their No. 2 tight end in 2022.
Njoku has been able to somewhat revive his career in 2021, but the Browns can't take that big of a risk.
It seems unlikely that he'd take a team friendly deal and who knows if he'll be able to continue playing at his current level.
2. Ronnie Harrison
Last season, the Browns got an absolute steal when they traded a fifth-round pick to the Jacksonville Jaguars in exchange for safety Ronnie Harrison.
This move gave the Browns a young starting safety who was coming off a career-high 71 tackles in 2019.
Sadly, Harrison's numbers dropped off last season and he hasn't looked too sharp at times this season.
Pat Freiermuth wins the TD vs Ronnie Harrison pic.twitter.com/CQqRKiEqYs

— Matt Waldman (@MattWaldman) October 31, 2021
The 24-year-old still has plenty of talent, but it's uncertain if he is part of the Browns' long-term plans.
They do have former second-round pick safety Grant Delpit who is putting together a decent 2021 campaign.
The hope is that Delpit can be the future long-term starter at safety for the Browns.
That means Cleveland is unlikely to give a big money extension to Harrison this offseason.
They'd likely rather move Delpit to starting safety and sign a cheaper backup to play in Delpit's current role.