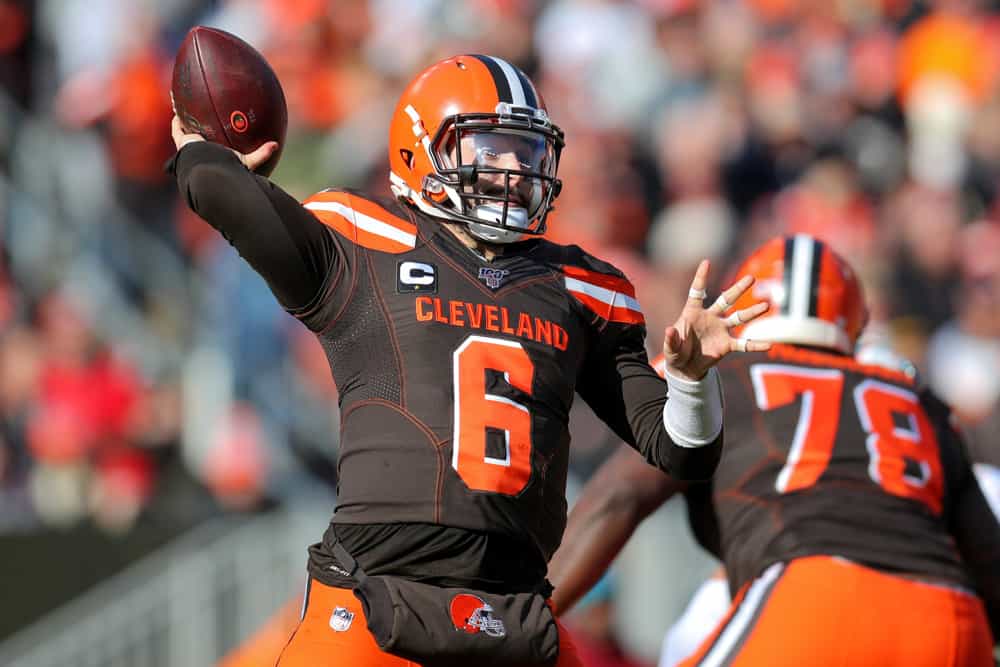 Cleveland Browns QB Baker Mayfield had a great season.
It cannot be overemphasized that in his third year he had four head coaches and offenses to learn.
That is hard for veteran players much less a young NFL player.
With the stability of NFL Coach of the Year Kevin Stefanski and offensive coordinator who has worked with the likes of future Hall of Famer Aaron Rodgers, Baker matured tremendously.
Baker Mayfield improves to 14/20 for 190 yards and 2 TD on the day with this dime to Rashard Higgins. #Browns pic.twitter.com/b11R47oZXU

— Pat Chiesa (@PatChiesa) October 11, 2020
He improved two key areas of his game in 2020.
Those were protecting the ball and his overall decision making.
As a result his stats improved and the Browns were successful.
It should be mentioned that the two-headed monster running attack of Nick Chubb and Kareem Hunt definitely benefitted Baker's game also.
Highest-graded QBs since Wk. 12:

1. Ryan Tannehill – 93.6
2. Aaron Rodgers – 92.8
3. Baker Mayfield – 91.5
4. Matthew Stafford – 91.2 pic.twitter.com/Lkp6X5ZHNR

— PFF (@PFF) December 26, 2020
Ask any driven professional athlete; there is always room for more improvement.
Mayfield is no exception, and there are many "expert" opinions on what he needs to do.
PFF's Seth Galina offers this:
"Mayfield is both good and bad because he can only play at one speed. That's why there is so much inconsistency. The fastball is as good as anyone in the league, but sometimes you need a second pitch, and Baker doesn't have that quite yet. The guy needs a breaking ball."
With all of this in mind, here are two areas Baker can work on to make 2021 even better for the Browns offense.
1. Batted Down Passes
There could be several reasons for Mayfield's persistent issue with batted down passes.
It could be his eyes; he is using tunnel vision and locked on the intended receiver.
Defenders get a read on this and put their hands up.
It could also be a factor of the offensive line's performance.
They protected Mayfield well in 2020 so the only way for the defensive linemen to make a play was to put their hands up and hope to tip or pick off the ball.
2. Completing Passes In The Pocket
Casual fans and opposing teams know that Baker's MO since his college days is to be in shotgun or he prefers to roll out of the pocket.
He has been very successful in his comfort zone.
However, when opposing defenses can cut off his running lanes or confine him to the pocket, he is definitely not as confident.
This is also when the batted balls mentioned above tend to happen.
A key growth area for Mayfield would be to stay in the pocket and complete the tight passes in coverage, particularly down the sidelines.
Are These Changes Possible?
Yes, they are.
Some will say that he is what he is, and that is all the Browns can expect.
However, Baker has shown us his desire to improve during the season.
Remember that Alex Van Pelt was helping him with his footwork last offseason in the pandemic with a virtual golf program.
Those virtual efforts helped his footwork.
Van Pelt will hopefully be able to work with him in person more during this offseason.
It is likely that Baker has maintained these habits out of comfort and because he did not have consistent and quality coaching in Cleveland.
Thankfully, the coaching is now there so more improvements can be expected.