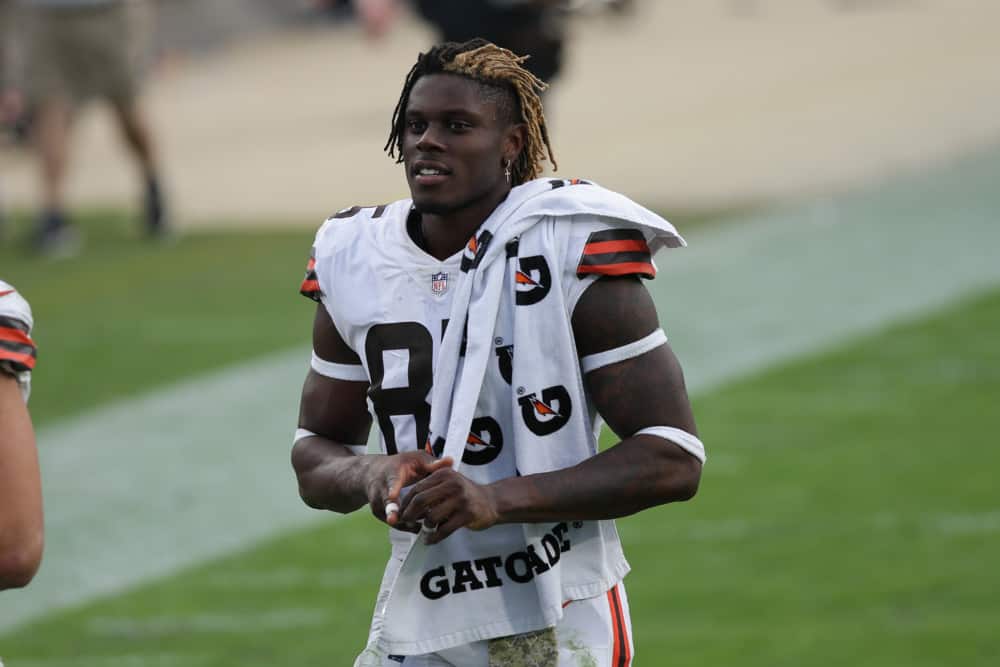 David Njoku still has Cleveland Browns fans wondering what is going on with him.
Last season, Njoku asked for a trade, rescinded his request, only to ask for a trade again.
Just a few weeks ago, the former first-round draft pick declined to discuss his future with Cleveland with Jim Rome.
"I have no comment towards that at this moment. I'm just going to enjoy my family, my friends, and my loved ones. I have a couple of projects happening in the near future, so I'm just focused on the right now and I'll let everything handle itself in the near future."
But then yesterday, he posted this to his Instagram account:
View this post on Instagram
"The Truth Will Be Revealed," Njoku said.
What does, "The truth will come out" mean exactly?
Of course, we don't know because that is how it goes with the Browns' tight end.
For all we know, there is a problem with the car he poses in front of.
Someone who might have more insight into what Njoku is alluding to is teammate Odell Beckham Jr.
Beckham posted a simple reply to the Chief's statement, "It always does."
Will He Stay? Or Will He Go? 
Njoku was understandably leary when the Browns added Austin Hooper and Harrison Bryant last year.
Cleveland had already picked up his fifth-year option, and the mixed message perplexed him.
He heard about Kevin Stefanski's tight end-heavy offense.
But he still wasn't happy about being second fiddle to the highly paid Hooper.
Neither was his new agent, Drew Rosenhaus, who knows second-string tight ends don't get big contracts.
Baker trying to get some points before half time! Great throw and catch to Njoku #Browns

Every game starts at BET99
🛑 | We are Responsible Gambling
pic.twitter.com/mkjgAcL1US

— Bet99 (@Bet99Sportsbook) January 17, 2021
There was speculation Rosenhaus was the driving force behind the preseason trade request.
But when Harrison moved ahead of Njoku in the pecking order, Njoku made another pre-deadline trade request.
Njoku finished the season with just 19 catches, but he delivered 13 first downs and a pair of touchdowns.
He added 6 catches in the Browns postseason games, but Njoku noticed the first offseason move by the Browns.
Andrew Berry signed practice squad tight end Kyle Markway to a 2-year contract.
With Stephen Carlson set to be a free agent, it doesn't seem like a roster-shuffling move.
But if you are already worried about your status with a team, every move looks threatening.
Looking Deeper Into Njoku's Mood 
Njoku doesn't post a lot of things on social media.
But there are a few items that indicate he is sensitive to player-team relations lately.
Just last week, Njoku retweeted a Sportcenter piece on the NBA's Draymond Green.
It quoted Green talking about a double standard in his league:
"Everyone wants to say, 'That young man can't figure it out.' But nobody wants to say the organization can't figure it out."
"Everyone wants to say, 'that young man can't figure it out.' But no one wants to say the organization can't figure it out."

Draymond Green sounds off on a double standard he sees in the NBA. pic.twitter.com/z6R4zq0Bcw

— SportsCenter (@SportsCenter) February 16, 2021
Njoku didn't want to discuss his future with the Browns, but he did talk to Jim Rome about last season:
"We weren't really on the same page, the Browns and I. We were trying to figure things out, trying to make sure both parties were happy and it was very complicated."
If the Browns mysterious tight end has good reason to be confused or worried about his future in the NFL.
Cleveland can cut him or trade him before March 1 and not have to pay his $6 million fifth-year option.
Njoku's excellent production in a limited role, as well as improved blocking, might have increased his trade value.
But there are a plethora of tight ends available via free agency, and his price tag might be too high.
Rather than waste time worrying, perhaps Njoku should follow the advice of another of his recent posts.
Life's short! Let go of all negativity and choose happiness. Be the best version of yourself 🖤

— Chief David Njoku (@David_Njoku80) February 11, 2021
And eventually, the truth will come out.