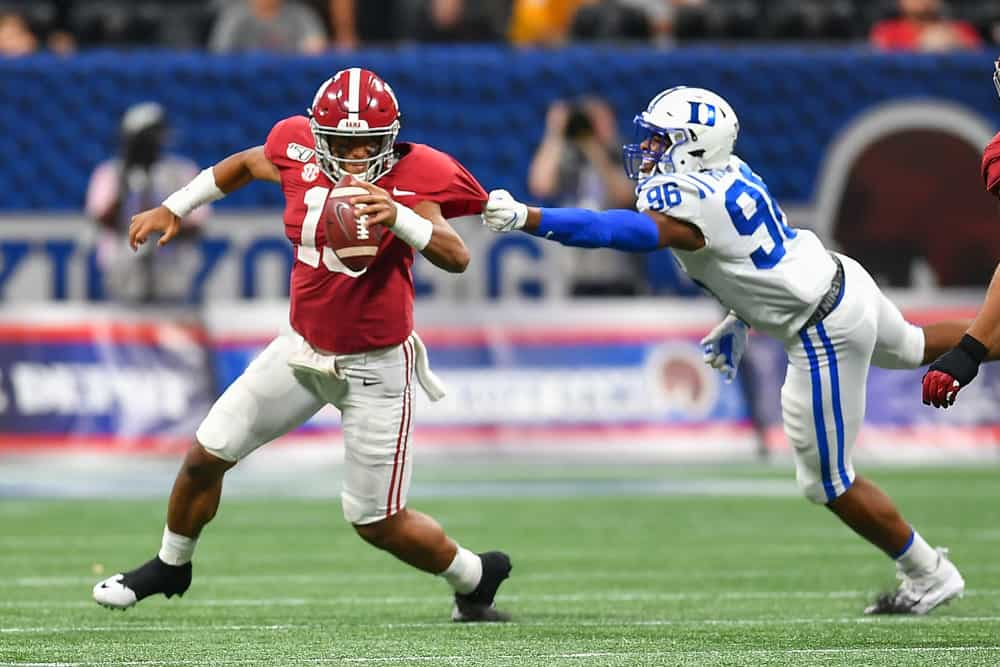 The NFL Draft is one of the most exciting times for football fans.
They get to watch their favorite organization draft possibly franchise-changing players.
Last season, the Cleveland Browns selected tight end Harrison Bryant in the fourth round.
He saw limited snaps with the Browns in 2020, but has the potential to be a starting tight end in the NFL.
It's never easy finding those hidden gems, but the Browns front office has done a fantastic job on draft day over the last few seasons.
Here are 2 players who would be draft day steals in 2021.
2. WR Jaelon Darden
At first glance, the Browns don't exactly need to add much talent on the offensive side.
However, they could benefit by adding some depth at wide receiver.
North Texas wide receiver Jaelon Darden could very well be the most underrated receiver in the draft.
A three-year starter who does just about everything right on the football field.
Darden is an effective route runner with excellent hands and an ability to separate himself from defenders.
Is Jaelon Darden the most underrated WR in the draft? 🤔pic.twitter.com/ptWAZsUHXJ

— PFF Draft (@PFF_College) March 20, 2021
The biggest negative about Darden is his lack of size, but plenty of smaller receivers have made an impact in the NFL.
He is a slot receiver that could cause problems for opposing defenses if they overlook him.
Darden has improved in each college campaign and is well deserving of a look on draft day.
In 2019, he recorded 76 receptions, 736 yards, and 12 touchdowns in 12 games.
He followed that up with 74 receptions, 1,190 yards, and 19 touchdowns during his senior season.
Yes, Darden did play against weaker competition since he attended North Texas.
Although, he certainly has the skills to make an impact at the professional level.
At worst, Darden can be a fourth or fifth receiving option and a useful weapon on special teams.
1. DE Chris Rumph II
The Browns could certainly use a pass rusher or two on draft day.
One of the biggest steals in the entire draft class might be edge rusher Chris Rumph II.
The fact he went to Duke is probably part of the reason he isn't getting as much attention.
He is a versatile defender with quick hands and is frustrating for opposing o-lines.
Rumph is a hybrid type of player that could be useful in multiple defensive schemes at the professional level.
It's honestly quite surprising there isn't more talk about Rumph heading into draft day.
"Chris Rumph is the best defensive lineman in college football."@PFF_Mikepic.twitter.com/OPObBQ7D72

— PFF Draft (@PFF_College) June 18, 2020
He has put together back-to-back successful seasons at Duke.
In 2019, Rumph finished with 47 tackles, 13.5 tackles for loss, and 6.5 sacks in 12 games.
He followed that up with 52 tackles, 11.5 tackles for loss, and eight sacks in 2020.
Despite the fairly impressive stats, Rumph isn't the type of player that will be a starter in the NFL on Day 1.
There are still a few areas of his game that need to be worked on.
However, he could be a helpful player even has a rotational option because of his versatility on defense.
Rumph could play an Adrian Clayborn type of role and be a weapon in certain formations.
There is a decent amount of upside here to warrant taking Rumph in the middle rounds.
Both Darden and Rumph could find themselves making an impact in Cleveland in 2021.