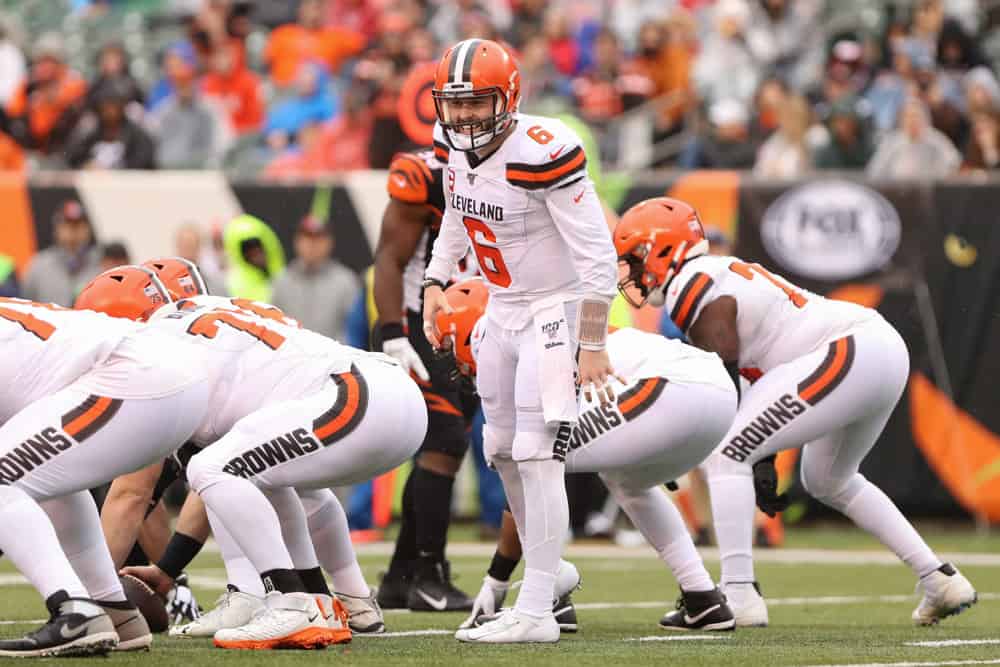 The Cleveland Browns have a tough matchup ahead of them against the Tennessee Titans in Week 13.
This will be a great test for this team after having a fairly favorable schedule lately.
Both organizations come into this contest at 8-3 on the year.
That being said, both teams cannot afford to lose an important matchup like this one.
This won't be an easy game for Cleveland, but they must do a few things right if they want to come away with the victory.
Let's take a look at 2 things the Browns must do well to beat the Titans.
1. Throw The Ball Effectively
This Browns offense has been leaning on the running game for a majority of the season.
At this point, you'd assume a defense would be able to slow down Nick Chubb and Kareem Hunt.
The good news for Cleveland is that no team has figured out how to stop them yet.
However, this offense is in danger of becoming too one dimensional.
This team needs to learn how to pass consistently if they want to succeed in the postseason.
The Browns have been successful when quarterback Baker Mayfield is on his game.
Baker Mayfield had a QB rating of 116.7 today, marking the 5th time he's cleared 100 on the season. He did it 3 times all of last year.

Browns are 5-0 in those games this season.

— Andrew Gribble (@Andrew_Gribble) November 29, 2020
As of right now, the Browns have won every game this season when Mayfield throws for 200 passing yards or more.
This offense will be able to beat bad teams solely on the running game, but it'll be tough to beat the Titans using that strategy.
Head coach Kevin Stefanski will need to shake it up if the Browns want to have a successful game on Sunday.
Having consistency in the passing game is going to be key in taking home the victory.
2. Stop Derrick Henry
It seems like almost an impossible task to slow down running back Derrick Henry this season.
He has put together three straight games of 100 rushing yards or more in each of the last three contests heading into this matchup with Cleveland.
Henry won the rushing title last season and has looked like an unstoppable force for quite some time in the NFL.
Only two players in Titans franchise history have rushed for 10+ TD in three straight seasons.

Earl Campbell… and Derrick Henry. pic.twitter.com/OhYuUa7EuF

— NFLonCBS (@NFLonCBS) November 29, 2020
The Titans pound the ball with Henry seemingly every week and the opposing defenses know it's coming.
However, they cannot slow him down even when they know he's getting the ball.
The best way to beat this Titans offense is to keep Henry in check.
That isn't an easy task especially for a running back who has already surpassed 1,200 rushing yards this season.
Cleveland should have a good chance on Sunday, assuming they can somewhat contain Henry.
Otherwise, it's going to be a long day for the Browns if Henry is able to run wild on them.