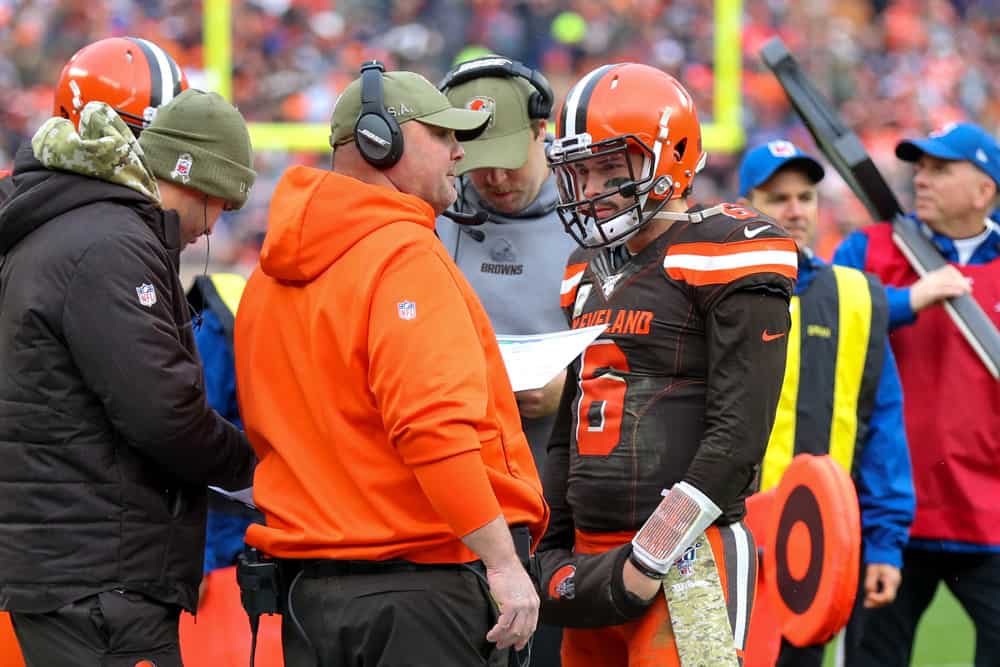 As has been discussed by many in and around the city of Cleveland this week, the Cleveland Browns won a game for the first time since the end of September against the Baltimore Ravens.
Was the win pretty? No, but a win is a win, and right now, that's what the Browns need more than anything.
For embattled head coach Freddie Kitchens, this win is the start of something greater. At least, that's the message he's sending to his team.
Keep. Fighting.#BUFvsCLE pic.twitter.com/llQwNS8GfJ

— Cleveland Browns (@Browns) November 10, 2019
"We're one and [expletive] zero," he told players in the locker room after the Buffalo Bills' victory.
While the team may be a long way from a playoff spot, especially with the way the AFC North and Wild Card races are shaping up, the Browns have no choice but to look at it that way.
"Freddie said the same thing he's been saying all week," Odell Beckham Jr. told reporters after the game. "He said, 'We're going to win this game, and we are going to find a way to win this game. We're going to see who's with us. We are really going to have to dig deep within ourselves and be 1-0.' All it takes is for us to be 1-0 this week and that's what happened."
Kitchens took a lesson from the Indianapolis Colts last season, a team that won 9-of-10 after starting their season 1-5. Head coach Frank Reich inspired his team to take it one week at a time and "be 1-0 each week."
Browns players were greeted this week with a headline from the Colts' website last season that read, "Colts' 1-0 Mindset Continues into Postseason."
"We have a playoff mentality," Joe Schobert said. "We put ourselves in this spot and we know we have to respond. Freddie started last week by saying we have to go 1-0 this week, and it's like we're already in the playoffs. Last week, we showed we're taking it in the right direction. We have to win out to have a good chance, or it's going to be a wasted season."
That 1-0 mindset will be tested this week against bitter division rivals the Pittsburgh Steelers, who the Browns beat only six times since the team returned to Cleveland in 1999.
"We have no more time to waste," T.J. Carrie said. "This is a critical game and every game after this is going to be critical. Right now, we're facing the Steelers, and this is the opponent in front of us, so we have to dive into it on a short week, get our bodies back, get into the film, see what they like doing, see what they're comfortable doing, and try to take something away."
The short week and a rival that has dominated over the years will surely be a test for Cleveland, but maybe this is exactly the kind of moment the team needs.
There is no bigger test of will power than when a team's back is up against the wall, facing a make-or-break challenge.
Sights set on Thursday Night 😤#PITvsCLE prep 📸's » https://t.co/H5FCo01il2 pic.twitter.com/1iqYNa9tXc

— Cleveland Browns (@Browns) November 13, 2019
Sheldon Richardson said, "We put our own backs against the wall. Getting back to work, we're excited to be playing a division game. We have to have just as much attention to detail, and as much enthusiasm as we did last week. This is basically the playoffs. That's how we're looking at it."
The 1970 Bengals were the last team to start a season 2-6 and make the playoffs, so clearly it's a herculean task for Cleveland. Two wins in three weeks against the Steelers would go a long way to making Cleveland's playoff hopes a reality, but the Browns aren't looking that far ahead.
Cleveland is 0-0 coming into Thursday night. Will they be 1-0 on Friday morning?