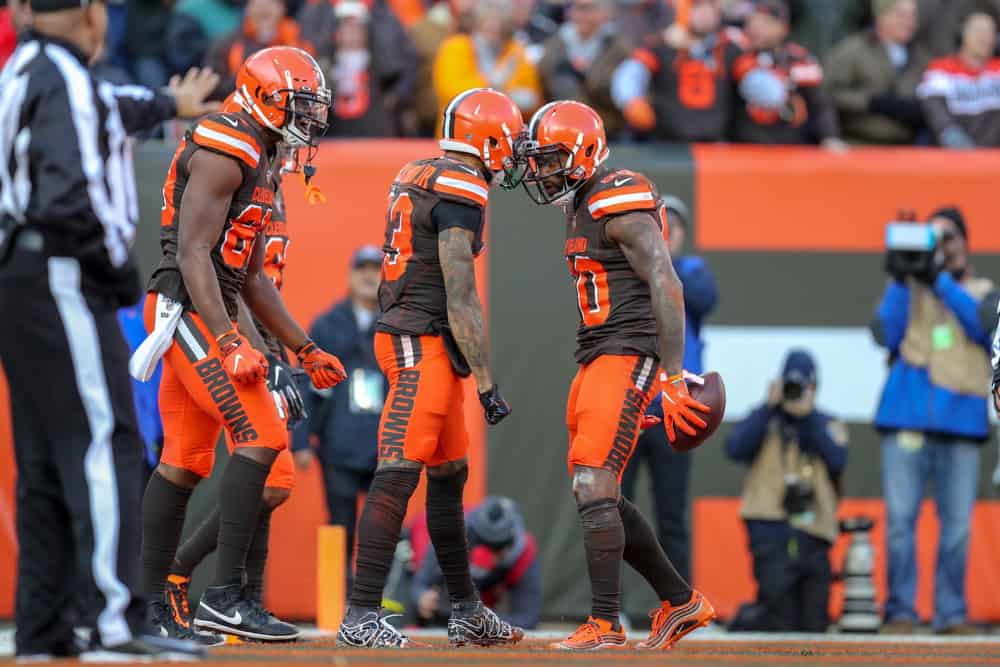 "On paper, it's pretty scary."
The above comment was made by new Cleveland Browns tight end Austin Hooper when discussing what his addition means to the team's offense. Said sentiment was echoed across the league yesterday after news broke about Hooper heading to Cleveland.
Baker's weapons:

– OBJ
– Jarvis
– Hooper
– Chubb
– Hunt
– Njoku

🔥 @brgridiron pic.twitter.com/tgjJoUyK08

— Bleacher Report (@BleacherReport) March 16, 2020
It'd be natural if this felt familiar for you. After all, it's the second straight year the Browns entered free agency with a splash, adding a weapon which had the fan-base drooling about the potential of their offense.
On paper, the team looked pretty scary then, too. However, what we saw once games were played should effectively dissuade Browns fans from getting too excited for the year ahead. At least for right now.
This isn't a guarantee that the 2020 season will be a letdown for Cleveland. It's just some much-needed context for those who saw the pickup of Hooper as reason to start dreaming of an electric offense.
As a refresher, remember what we are all thinking around this time last year?
"You're adding Odell Beckham Jr. to an offense with Baker Mayfield, Nick Chubb, Jarvis Landry, David Njoku and, eventually, Kareem Hunt?! Where do I buy my Super Bowl tickets?"
How'd that work out?
Browns fans spent the entire summer thinking of playoff scenarios for the new and improved team, only to be treated to the most dysfunctional six-win season in recent memory.
Mayfield significantly regressed. Beckham was playing through pain while being painfully underutilized. Chubb was forgotten for long chunks of games. The play-calling from rookie coach Freddie Kitchens was borderline unwatchable. Njoku got hurt and spent most active weeks in Kitchens' doghouse.
All in all, the offense which gave fans starry eyes in the offseason spent the entire year looking like a disjointed mess.
Which is why it'd be wise for everyone to hold off on the "Browns are back" takes for the time being.
Yes, Hooper is a very talented tight end. The two-time Pro Bowler being paired with Njoku on two-tight end sets sounds like a red zone dream scenario. Likewise, giving Mayfield a new weapon to use alongside Landry, Chubb and (hopefully) Beckham essentially creates a 'pick your poison' threat for opposing defenses.
However, as we learned last year, there's a huge difference between how a team looks on paper and how it looks on Sundays.
In order for this offense to meet its potential, the Browns need two concepts which never even made cameos last season – solid coaching and a general sense of organization.
As mentioned, despite having a stacked supply of play-makers at his disposal, Kitchens spent the bulk of 2019 lost in the woods. His inability to effectively strategize and make in-game adjustments essentially undid any of the potential Cleveland's offense carried into the season.
This lack of structure eventually bled into the locker room, causing an already upsetting season to completely careen off the rails. By the time the year came to a close, fans ended up feeling swindled by all the offseason hysteria.
As unpleasant as the 2019 collapse was, it can also serve as a reminder that no games are won in March, and no teams receive trophies for solid offseasons. Upgrading the offense is important, but until we see proof new coach Kevin Stefanski can utilize said upgrades properly, there's no sense in getting too hyped up.
To be fair, there are a couple reasons to at least feel slightly optimistic about Cleveland's offense actually living up to potential this year.
For one, Stefanski comes to the Browns with more coaching experience than Kitchens had. He's also far more willing to consider handing off play-calling duties, insisting he'll let OC Alex Van Pelt run the offense for some preseason games to help determine who'll own the task moving forward.
Additionally, new GM Andrew Berry already made an upgrade to one of the big issues which plagued the Browns in 2019.
His predecessor, John Dorsey blatantly ignored holes in offensive line last offseason. In fact, he actively made said holes bigger.
Berry took a different route yesterday, upgrading the tackle position with former Tennessee Titan Jack Conklin.
These are certainly silver linings to consider when looking ahead.
Still, as far as this offseason goes, the thought remains the same.
No matter who the Browns have added, or who they'll add from here, a great roster on paper is exactly that. Until we see how said roster looks on the field, there's no sense in getting too swept up with Cleveland's offseason moves.