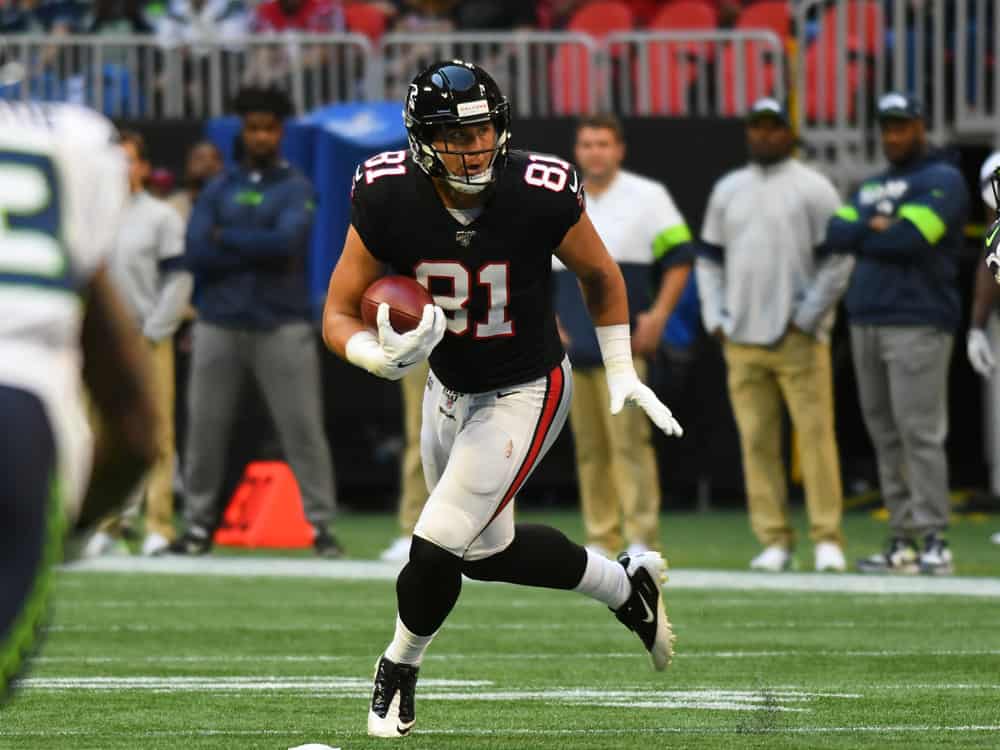 The money part was nice, but Austin Hooper saw more than that in the Cleveland Browns.
The Browns made Hooper the richest tight end in the league with a four-year deal, worth up to $42 million with $23 million guaranteed according to Mary Kay Cabot of cleveland.com.
Hooper did his homework though.
Quarterback Baker Mayfield and Hooper have been talking during the offseason.
Hooper knew he was going to get paid, but joining the Browns' offense was something he really wanted to join.
The Talks
Hooper doesn't need a nickel for every time Mayfield said the word "excited," but you get the gist.
After Hooper signed the deal, his new quarterback was, well, you know.
"He was really excited," Hooper told the Browns' flagship station 92.3 The Fan on Monday in an exclusive interview with the Bull and Fox. "I can't say that word enough. Just talking to him, just how excited we both were about the opportunity. We both just want to get to work."

"On paper, it's pretty scary," said Hooper. "Already having David [Njoku] in place there, just the ability to have both of us just create some different matchup problems for the defense and especially with the two monsters Cleveland already has on the outside, the four of us out there it'd be hard-pressed to find a defense that could play man-to-man against all four of us across the board.''
A Scary Offense
The Browns already had a steady lineup on paper.
Odell Beckham Jr. and Jarvis Landry both finished over 1,000 yards receiving.
Running back Nick Chubb was the second-leading rusher and ran for the second-most yards in franchise history.
With Hooper in the mix, this could be the best Browns offense to ever take the field.
Only two tight ends have ever surpassed 1,000 yards since Ozzie Newsome since 1984.
Kellen Winslow finished with 1,106 yards in 2011, and Gary Barnidge had 1,043 in 2015.
Hooper finished with a career-high 787 yards in 2019 but he is a consistent receiving threat that could join that club.
Either way, Mayfield could produce three 1,000-yard receivers on the team.
Now, that is scary.
David Njoku Is Pumped
When Njoku was healthy in 2018, he finished with 56 receptions for 639 yards and four touchdowns.
Bringing in Hooper will split the role at tight end.
Some have suggested that Njoku might want to be traded, but he put those rumors away quickly.
Nahhhh man cmon I love competition. We'll push each other and get better together🦾 https://t.co/nmAoz5cgl5

— Chief David Njoku (@David_Njoku80) March 16, 2020
An Easy Decision
There was a reason that Hooper signed with Cleveland so fast.
Hooper credited his prior relationship with GM Andrew Berry.
He also "really liked" head coach Kevin Stefanski from "watching film from afar."
Hooper said he believes in Mayfield and thinks that he is a talented quarterback.
Throw in the rest of the pieces in place, Hooper called it "foolish" if he did not sign with the Browns.
"The way it was sold to me was that they're just a couple of pieces away from getting to where they wanted to go,'' Hooper said. "It was an exciting opportunity for me that I thought would be foolish to turn down."