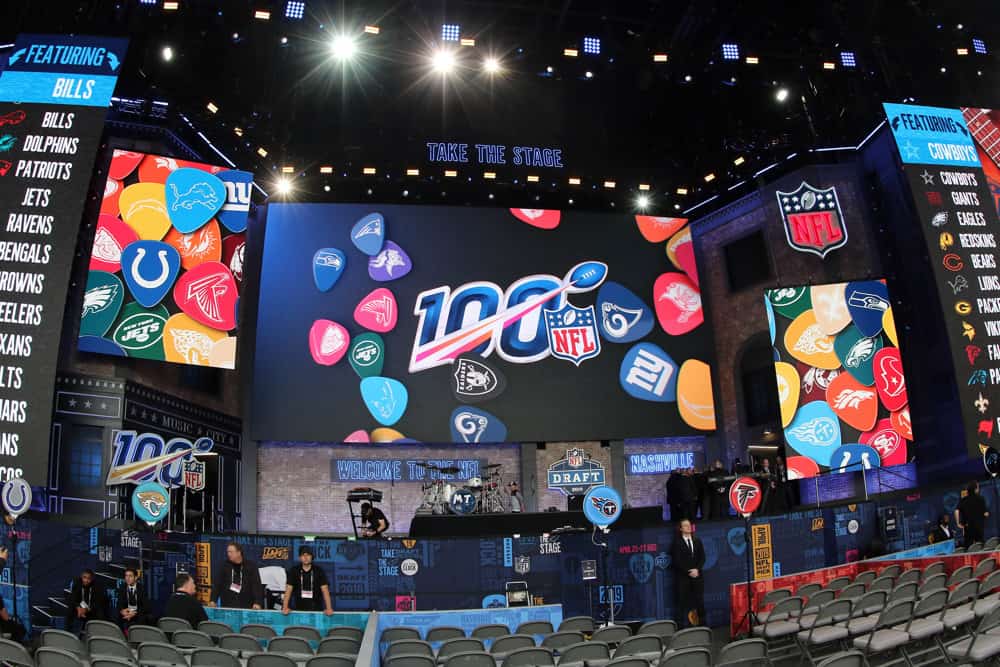 Just like you, we wanted to know who the Cleveland Browns are most likely going to get in this year's draft.
We ran The Draft Network's NFL Mock Draft Simulator and the following picks were released.
This does not guarantee that the Browns will draft any of these players.
You can run the machine as many times as you want, but for now, we are going to analyze the draft picks in the mock draft.
First Round, No. 10: Mehki Becton (Louisville)
When it comes to Becton and Georgia's Andrew Thomas, it's a toss-up.
Both linemen have been linked to the Browns as a replacement for the open left tackle position.
For a while, he has been regarded as one of the best linemen in the draft.
BIG MAN CAN MOVE! @UofLFootball's Mehki Becton is 6'7", 364lbs and still ran a 5.1 40-yd dash 🤯

(via @nfl)pic.twitter.com/FyhPjrtDcv

— FOX College Football (@CFBONFOX) February 28, 2020
The Browns also have interest dating back to the NFL Combine.
According to Scott Patsko of Cleveland.com, Becton was interviewed by the Browns and spent 18 minutes watching game film.
"We were watching my technique and they were telling me what I was doing wrong," he said. "They showed my good plays, showed my bad plays, so they'll tell me what I did wrong on the bad plays and what I did good on the good plays."
Becton would be an immediate help to the Browns at left tackle with his 6-foot-7 and 369-pound frame.
Becton started 12 games as a sophomore, 10 at left tackle and two at right, and 11 games at left tackle his junior season.
He earned First-Team All-ACC honors and chose to skip the team's bowl game to prepare for the draft.
Mekhi Becton (left tackle) moves people in the run game #NFLDraft pic.twitter.com/Vjl8zPB9sT

— Fair Shake Football (@FairshakeFB) April 3, 2020
Becton knows that he has the talent to be an NFL-ready contributor.
When talking to reporters, Becton sounded like the most confident prospect in town.
"I feel I'm the most dominant tackle in this draft. You wouldn't go wrong picking me," he said, via Patsko. "The tape shows it. The tape shows that I finish almost every play. It's as simple as that."
NFL.com's Lance Zierlein gave this scouting report:
A consistent year-1 starter
An enormous frame complemented by nimble feet and functional athleticism
Needs to play with better patience in order to control and redirect
Weight and quickness are a concern but can be corrected if he's disciplined to prioritize them
Could benefit a team's run-game
Second Round, No. 41: Willie Gay Jr. (Mississippi State)
Gay is a 6-foot-2 and 240-pound senior linebacker that played all four seasons at Mississippi State.
However, he ran into trouble last season.
Due to a violation of team rules, Gay played in just five games after receiving and eight-game suspension.
Mississippi State's Willie Gay Jr. said he was suspended eight games in 2019 for cheating on a test in a chemistry class.

He said he's learned from the experience, has told teams he's ready to be a pro at the next level.

— Austin Gayle (@PFF_AustinGayle) February 27, 2020
When on the field, Gay is an absolute monster, which is why he chose to forgo his senior season and declare for the NFL Draft.
In five games, Gay finished with 28 tackles, 3.5 tackles for loss, one forced fumble, and two fumble recoveries.
The 2018 season is where Gay put himself on the map.
After appearing in 13 games, including six starts, Gay finished with 48 tackles, including 5.5 tackles for loss and 5.0 sacks.
He also one of the best linebackers in the SEC in pass coverage, earning a 90.6 grade over 156 coverage snaps.
Get to know the name Willie Gay Jr. — dude is a baller.

Vertical: 39.5″ (98th percentile)
Broad: 11'4″ (99th)
40: 4.46s

BIG riser after an absurd Combine performance, and rightfully so.pic.twitter.com/E1kDkK9SAs

— Austin Gayle (@PFF_AustinGayle) March 4, 2020

Gay allowed a passer rating of 25.8 when targeted, did not allow a touchdown over his 20 targets, and was tied for fifth among SEC linebackers in total pressures (17).
In a span of 455 total snaps, he recorded just five missed tackles.
An 11'4″ broad jump.
A 39.5″ vertical.

And now Willie Gay Jr (@HailStateFB) runs a 4.46u 40-yard dash!

📺: #NFLCombine on @NFLNetwork
📱: https://t.co/vDFxxNddNZ pic.twitter.com/41bL9joFIO

— NFL (@NFL) March 1, 2020
Zierlein gave this scouting report:
MIght not have the feel to play in the middle on the next level
A healthy hitter
Lacks instincts and angles to mirror ball-carriers from the caps to the flanks
Does a nice job of sticking and finishing
Carving a defined role will be important to make an NFL roster
Possesses flailing arms and energetic playing style
Third Round, No. 74: Jordan Elliott (Missouri)
Elliott is a 6-foot-4 and 315-pound redshirt junior that played defensive lineman for Missouri.
A former All-American, Elliott transferred from the University of Texas after his freshman year.
After sitting out the 2017 season due to transfer rules, Elliott was named the team's Defensive Scout Player of the Year.
In 2018, Elliott quickly became an impact player and was named 2nd-Team All-SEC by the media.
His stats included 24 tackles, eight tackles for loss, and 3.0 sacks.
PFF ranked him the highest defender on the team's squad with a grade of 88.8.
I'm really starting to like Missouri IDL Jordan Elliott.
He's a strong 2-gapping IDL with a good high swim move and can get small for a big man.
His counters are solid and he has some sneaky good athleticism. He's also very versatile. pic.twitter.com/Jv4XOXxIXs

— Zack Thomas (@NFL_Zack) March 29, 2020
Last season, Elliott finished with 31 tackles, 8.5 tackles for loss, and 2.5 sacks.
NFL.com believes that Elliott can be a starter in the league within his first two seasons.
Zierlein gave the following scouting report:
Skilled hand-fighter with explosive upper body strength
Consistent in controlling gaps than shooting them
Highly respected by opposing teams
Will take a big step forward if he adds move and counters to go with his early push
However, it seems odd that Elliott would drop down this low given his grade.
According to Yahoo Sports' top prospects, Elliott is listed as the No. 42 overall prospect, which is just one pick after Cleveland's second-round choice.
I don't think #Missouri DT Jordan Elliott is talked about enough as one of the better DT prospects in this class. Strong, long and slippery.

Brown/Kinlaw is the top DT tier. And IMO, Elliott might start the second DT tier. He's battling Blacklock, Madubuike, Gallimore, etc. pic.twitter.com/LvIgisYR5e

— Dane Brugler (@dpbrugler) February 6, 2020
Third Round, No. 97 (Via Houston): Terrell Burgess (Utah)
Burgess is a 6-foot-0 and 198-pound safety that finished his senior season at Utah.
While many are enamored with his football playing ability, some may not know that he is a two-time All-Pac 12 All-Academic selection.
After playing primarily on special teams in 2017 as a sophomore, Burgess broke into the scene in his junior season.
In 2018, Burgess played in all 14 games, including two starts. He finished the season with 16 tackles, three pass breakups, and one blocked field goal.
Last season, Burgess capped his career off with Honorable-Mention All-Pac 12 honors.
He started all 14 games at strong safety and finished third on the team with 81 tackles, including 7.5 tackles for loss.
Also, Burgess had six passes defended, two fumble recoveries, and a career-high 12 tackles in the Pac-12 Championship against Oregon.
If you're looking for a 2020 safety prospect to fall in love with… Utah's Terrell Burgess should be on your radar. Intelligent playmaker in both man and zone. pic.twitter.com/lxEoN3h7jZ

— Jonah Tuls (@JonahTulsNFL) December 19, 2019
NFL.com's evaluation sees Burgess as a potential backup in the league that could one day become a starter.
Coincidently, Zierlein compared Burgess to former Browns safety Damarious Randall, who left this past free agency for the Las Vegas Raiders.
Among the comparison, Zierlein gave the following scouting report:
Cornerback-turned-safety with uncommon discipline and field vision
Versatility and ability to play nickel
Matchups against speed could be a problem
Good instincts but doesn't have striking ability to concern targets in the middle
Aside from short-area reactive quicks to mirror/match routes, two things NFL slots must possess are good route feel and ball skills. @Utah_Football DB Terrell Burgess showed both things at @seniorbowl. Burgess could start for many teams as a rookie. #TheDraftStartsInMOBILE pic.twitter.com/oIc5o5ifCg

— Jim Nagy (@JimNagy_SB) March 11, 2020
Burgess' greatest strength is likely his versatility.
His former head coach called him a "swiss-army knife" when talking to Dirk Face of the Desert News.
Utah head coach Kyle Whittingham noted that Burgess has the ability to play cornerback, nickel back, free safety, strong safety, and special teams.
"Terrell is like the football equivalent of a Swiss Army Knife. He's able to do so many things and play so many positions," said Whittingham. "So I would say that Terrell's main thing he brings to the table is his intelligence and his versatility."
Fourth Round, No. 115: Trajan Bandy (Miami)
Bandy is a 5-foot-9 and 189-pound cornerback that finished his junior season at Miami.
In 2018, Bandy was a Third-Team All-ACC nomination, and an Honorable-Mention All-ACC selection in 2019.
In his sophomore season (2018), Bandy enjoyed a breakout season.
According to his player profile, Bandy wore the "Turnover Chain" five times, which was the most out of any player on the team.
He finished the 2018 season with 36 tackles, 4.5 tackles for loss, two fumble recoveries, three interceptions, and eight passes defended.
In 2019, Bandy started all 13 games and finished with 29 total tackles, including 20 solos.
He had a team-high eight pass break-ups and added 3.0 sacks for 27 yards.
Thank you Trajan Bandy. Always a Miami Hurricane pic.twitter.com/8gsUh4ZczG

— Mamba Marsh (@hurricanesmarsh) December 27, 2019
NFL.com's evaluation sees Bandy as someone that can make a final NFL roster or the practice squad.
Zierlein gave the following scouting report:
Field-fast, slot cornerback whom production doesn't match his athletic ability
Inconsistent footwork
Low-level of nonchalance in space
Recovery bust covers up for mid-rep mistakes
Needs corrections in fundamentals to handle slot coverage
More effective in zone coverage
Miami CB Trajan Bandy gets beat off the release, but does a great job reading the QB and recovering to make the INT. A name to watch in the 2020 NFL Draft. pic.twitter.com/9pIToBUZza

— Rob Paul (@RobPaulNFL) April 28, 2019
Other analysts have compared Bandy to former Pro Bowl cornerback Brent Grimes.
Grimes, who went undrafted in 2006, was 5-feet-9 and played 12 seasons in the NFL.
On Lindy's Sports Pro Football Draft, he compared Bandy to what is likely the best-case scenario.
Here are his comments:
"Grimes had some similar technical issues when he entered the NFL. He became one of the league's better boundary cornerbacks, eventually improving his technique and combining it with his natural swagger. That's the blueprint for Bandy, a late-round type who can make an early impact on special teams."
Lindy furthered referenced Bandy as the No. 27 overall cornerback prospect in the draft.
Sixth Round, No. 187 (Via Arizona): Antonio Golden-Gandy (Liberty)
Golden-Gandy is a 6-foot-4 and 220-pound wide receiver that finished his senior season at Liberty.
After appearing in 11 games as a freshman, Golden-Gandy took the next step in 2017.
His sophomore season featured a breakout campaign, where he led the Big South Conference with 1,066 yards on 69 receptions.
He tied the Big South for 10 touchdowns and did all of this in just 10 games.
According to his player profile, he would have been ninth in the nation in receiving yards if Liberty's players were eligible to be ranked in the national statistics.
In 2018, Liberty was still in the process of transferring from the FCS to the FBS, so they were ineligible for national rankings.
This time, Golden-Gandy would have been ranked No. 14 in the country with 1,037 receiving yards and 10 touchdowns in 11 games.
He was one of 39 FBS players in the country to have 1,000 or more receiving yards and one of 22 players to have 10 or more touchdowns.
The 2019 season was by far his best, recording 1,396 yards on 77 receptions and his third straight season of 10 touchdowns.
Liberty WR Antonio Gandy-Golden is an intriguing player to watch. Big/athletic with huge catch radius. Doesn't have special top speed but he generates a ton of big plays. Still needs work as a route runner but there's upside. pic.twitter.com/tU0oJMbMdF

— Daniel Jeremiah (@MoveTheSticks) November 13, 2019
NFL.com graded Golden-Gandy as a player that could be a backup down the road.
Zierlein compared Golden-Gandy to Miami Dolphins wide receiver DeVante Parker, who isn't a terrible comparison for a sixth-round pick.
Parker is just coming off a 1,000-yard season in receiving.
Among the comparison, Zierlein gave the following scouting report:
An intriguing height-weight-speed prospect
Superior hands
Has an innate ability to add yardage after the catch thanks to size and agility
Route-running needs work
His build-up of speed, length, and ball skills could allow him to develop to become a third-level threat
NFL DRAFT:
REDSKINS PROSPECT PROJECT.
My 1st is WR Antonio Gandy-Golden.
Being familiar to Liberty (VA), I've loved watching AGG. My diamond of the draft and will transition to the NFL very well.
Pro: Size and Hands
Comp: Competition level
2019 stats: 79 Recs, 1,396 yards, 10 TDs pic.twitter.com/LD5v7XpZ3T

— Burgundy Network Podcast 🎙 (@BurgNetworkPod) January 2, 2020
According to Anthony Romano of WBJD7, Golden-Gandy has been in communication with fellow Liberty alum Rashad Jennings, as well as Pro Bowl receivers Anquan Boldin and Chris Carter.
"Just trying to help me fix a lot of small technique things," he said, via Romano. "Nothing super major as far as taxing on the body, but stuff that could definitely make a big difference as far as speed, being in the league and getting that extra separation that I need. Just expanding my overall knowledge. We would go over different schemes and things like that. Between the two minds, they had two different coaching styles and it was pretty cool to get that."
For a sixth-round pick, he has some solid analysis.
Seventh Round, No. 244 (Via GreenBay): Kevin Dotson (Louisiana)
Dotson is a 6-foot-4 and 315-pound offensive lineman that finished his senior season at Louisiana.
After a productive first three years of his career, Dotson broke into the scene last year.
In 2019, Dotson was named a First-Team All-American by USA Today, the Associated Press, Sports Illustrated, Pro Football Focus, and a Second-Team All-American by Sporting News.
According to this player profile, he was one of the highest-graded linemen in the nation.
Dotson started in all 14 games and became the second player in school history to be named All-American, including the first since Orlando Thomas since 1994.
On the field, Dotson helped the Louisiana ground game rank third nationally in yards per carry (6.28), and fourth nationally in rushing touchdowns (42).
On the passing side, Dotson was apart of an offensive line that ranked fifth nationally in sacks allowed (1.07).
Louisiana OG Kevin Dotson is one of the best run blockers in this class. His size, physicality, and old school mentality is putting him on the Steelers' radar (they have a private visit scheduled with him). #Steelers

He's the RG in these clips. https://t.co/XOBDWdoqe9 pic.twitter.com/eNtyi0U66X

— Alex Kozora (@Alex_Kozora) March 11, 2020
NFL.com did not have a grade for Dotson given how low he is ranked in the draft.
However, Dotson talked to Justin Melo of USA Today and said that one of his greatest strengths is his versatility.
"I'll play on the interior of the offensive line. That seems to be the feedback I'm getting. I played right guard mostly. I played a little right tackle during my red-shirt freshmen year but the majority of my experience has been at right guard."
Louisiana guard Kevin Dotson will visit the #Vikings April 6-7, I hear. @JustinM_NFL first mentioned the visit here. Able to advance the dates. He's @pff_college's top ranked run-blocking guard. pic.twitter.com/GMXZdA3QrU

— Darren Wolfson (@DWolfsonKSTP) March 9, 2020