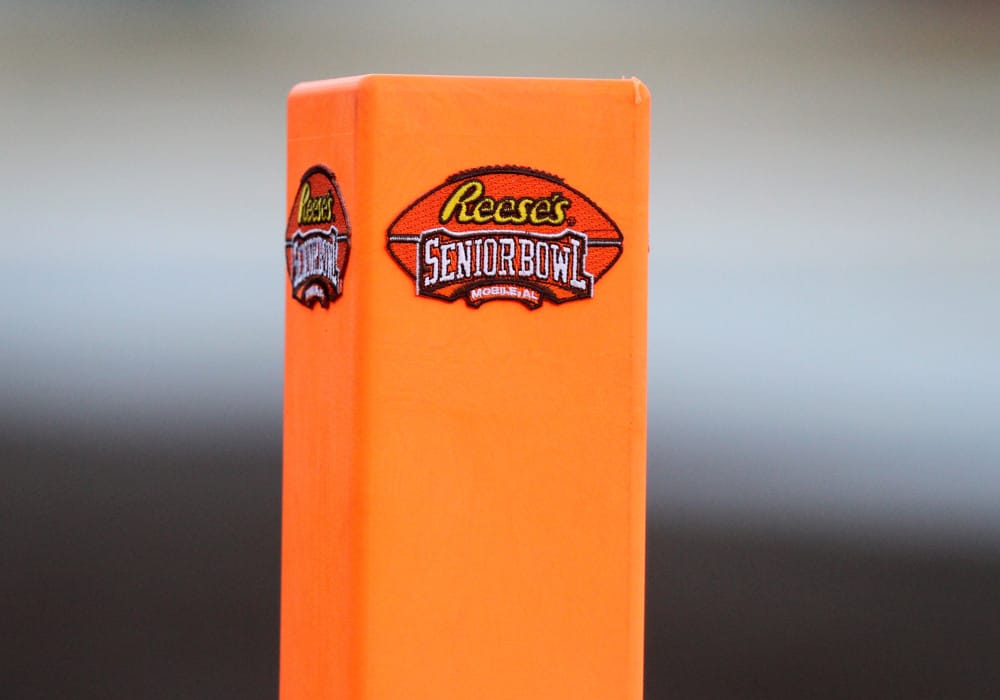 The draft season begins with the Senior Bowl on Saturday, January 25 at Ladd-Peebles Stadium in Mobile, Alabama.
Browns Nation will be live at the game for insight and interviews with potential picks in the 2020 NFL Draft.
Look for live tweets during the game, and special reports on key prospects.
Headlining the Senior Bowl
The buzz around this years' game is the three top-name quarterbacks that will try to improve their draft status.
Justin Herbert of Oregon is the top name and could be the second QB picked in the draft behind Joe Burrow.
Jordan Love of Utah State is a potential first-round sleeper, and Jalen Hurts of Oklahoma hopes to impress to get Day One draft interest.
Another big day at @seniorbowl HQ. Brand new Nike practice and game uniforms have arrived. Excited about our new partnership with @nikefootball! 🔥#TheDraftStartsInMOBILE pic.twitter.com/3ftqG6Fx0G

— Jim Nagy (@JimNagy_SB) January 15, 2020

The Browns aren't as focused on the QBs as much as the star-caliber defensive players amongst the 114 seniors in the game.
Javon Kinlaw (DL, South Carolina), Terrell Lewis (DE, Alabama), Kristian Fulton (CB, LSU), and Ashtyn Davis (S, California) are the top players that most NFL scouts will track during the game.
However, there are many others hoping to gain first-round consideration in their last college contest.
Who are the Browns Watching?
With new head coach Kevin Stefanski only a week in and a new GM potentially named this week, don't look for the Browns to stray too far from a very simple scouting strategy.
Improve the offensive line and the defense.
Browns' scouts will likely focus on offensive linemen, safeties, and inside linebackers in the Senior Bowl.
Eleven offensive tackles accepted invites to the game and the Browns will be evaluating each of them closely.
Fourteen potential safeties and seven potential inside linebackers are also on the watchlist in Mobile.
Aside from specific position needs, athletes that stand out during the game will draw attention from Browns' scouts as well.
Players that aren't on the Browns' radar today might be legitimate prospects with a good Senior Bowl showing.
Discovering Tackles
This years' draft is loaded with offensive tackles, but the top names are not planning to play in the Senior Bowl.
That means there are several projected later round prospects hungry to prove they are first-round material.
The two that stand out are Prince Tega Wanogho (OT, Auburn) and Josh Jones (OT, Houston).
The 6'7″, 305-pound Wanogho is relatively new to football but has the frame and athleticism to be an NFL starter.
Derrick Brown, Prince Tega Wanogho, Devin Duvernay, Jeff Gladney… these are only a few of the big names headed to the @seniorbowl.

So far, 8 of our Top 75 prospects are signed on to head to Mobile.

Check out our 2020 Reese's Senior Bowl Tracker below! https://t.co/hUB6FTJfaN

— The Draft Network (@DraftNetworkLLC) November 8, 2019
Jones will be more of a work in progress for his next team but stands 6'7″ and weighs 310 pounds, and is a potentially dominating offensive line anchor someday.
Both OTs are currently projected as mid to late second-rounders and could fit well within Browns' draft strategy.
Especially if they opt for a safety or linebacker in the first round.
The sleeper OT in the Senior Bowl is 6'7″, 300-pound Matt Peart of Connecticut.
Peart is quick and athletic, and a scrappy blocker that is projected as a 5th or 6th round prospect.
His play in the Senior Bowl could help boost his draft status by as much as two rounds higher.
4-3 Linebacker Help
Two unanswered questions will guide the Browns draft strategy for linebacker prospects.
First, will Stefanski's DC continue to run a base 4-3 alignment, and secondly, will Joe Schobert play for the Browns in 2020?
Regardless of the answers, several Senior Bowl linebackers will be on display for the Browns to evaluate closely.
Two that warrant special attention are Malik Harrison (ILB, Ohio State), and Evan Weaver (LB, California).
Both are strong senior leaders with a commanding field presence and would fit well into a 4-3 alignment.
Malik Harrison is the first Buckeye to accept an invitation to play in the 2020 Senior Bowl. https://t.co/VOPOjJhWVZ

— Eleven Warriors (@11W) December 11, 2019
Searching for Safeties
It's no secret that the Browns are in the market for solid talent at the safety position to complement former first-rounders Denzel Ward and Greedy Williams at CB.
While there are candidates in free agency this year, the Browns hope to land another quality DB in the draft.
Projected first-rounders Grant Delpit (S, LSU) and Xavier McKinney (S, Alabama) are both juniors and won't be at the Senior Bowl.
But Ashtyn Davis of California is a solid second-round prospect skilled in multiple coverage schemes.
He will be the top-rated safety playing in Mobile.
The sleeper in the crowd is 6'2″, 220 pound Kyle Dugger of Division II Lenoir-Rhyne College in North Carolina.
Dugger is a fast and agile safety in the body of a linebacker.
Other Eye Catchers
Although the Browns will be focused on some key positions, there are always players whose Senior Bowl performances earn them a draft spot that they might not have otherwise enjoyed.
For instance in the 2019 Senior Bowl, Temple DB Rock Ya-sin and South Carolina WR Deebo Samuel were both considered Day Two prospects before impressing scouts in the Senior Bowl.
Both were drafted in the second round last year and both had solid rookie seasons in the NFL.
There are certainly prospects that will grab attention in this years' game and the Browns will hopefully witness.
Players like Joshua Uche (DL, Michigan), Neville Gallimore (DL, Oklahoma), Troy Pride, Jr. (CB, Notre Dame), Micheal Pittman, Jr. (USC), and Lamical Perine (RB, Florida) all have the potential to play their way into a higher round on Saturday.