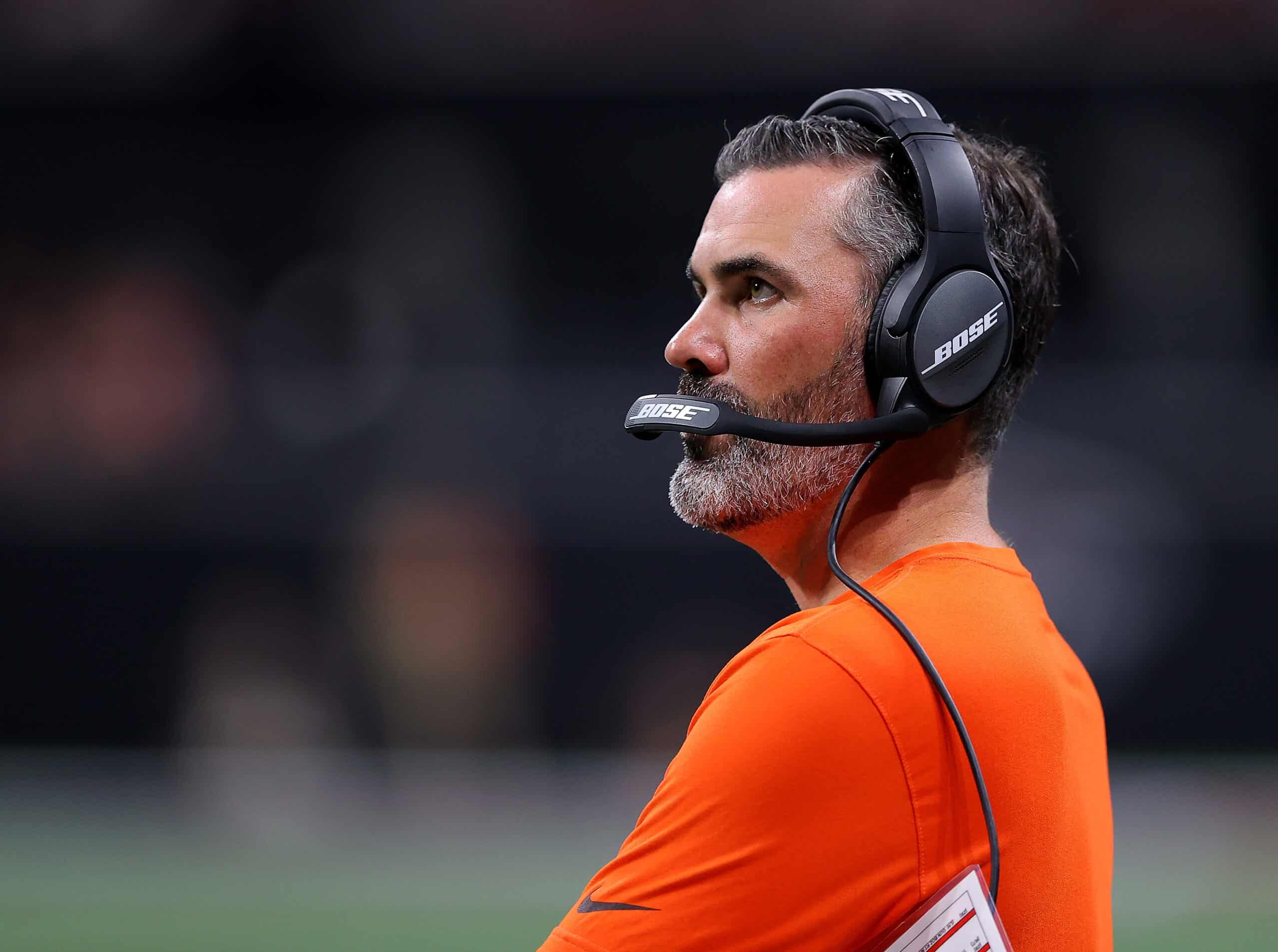 To say the wheels fell off for the Cleveland Browns in 2021 is an understatement.
And nobody represented the disappointment more than head coach Kevin Stefanski.
Week after week, he spoke about needing to be better, prepare better, and put players in better positions to win.
And then the reigning NFL Head Coach of the Year wouldn't.
Stefanski on @bakermayfield this year: "It's our job as coaches to put him in a position to succeed. It's true that Baker got better as the season wore on…Baker–he has to be better, all of our players need to get better, I need to get better."

— ESPN Cleveland (@ESPNCleveland) May 5, 2021
Fans and analysts had great expectations for last year's Cleveland Browns.
Those expectations magnified every mistake, each missed opportunity, and failed execution.
And whether they can be traced to one issue or not, the damage spread across the whole team.
Some areas will be easier than others to identify and remedy.
Here are 3 adjustments Kevin Stefanski needs to make to help the Browns get back on track.
1. Re-Unify The Locker Room- Literally 
Communication and camaraderie are vital to building a team atmosphere.
But the team's Covid plan created a very visible reminder that the team was not together.
Cleveland's defense was literally walled off from the Browns' offense.
Several players cited that divider as a barrier to informal communication and bonding.
Stefanski said he was limited in bringing in outsiders and also bringing the team together.
I asked John Johnson III what the communication looked like this season between the offense and the defense. He said it was pretty separate and that communication between the two sides of the ball might be something the #Browns can work on to play better complementary football. pic.twitter.com/iczmpmGOSK

— Camryn Justice (@camijustice) January 10, 2022
Diminished risks for properly vaccinated players and masks should allow that wall to come down.
We can only hope tearing down the physical barrier will cause any virtual barriers to disappear with it.
Players should get together in Berea or elsewhere when they can, and not just for practices.
And the coaching staff has to recognize when they need to relax and just let the players be a team.
2. Stefanski Needs To Assert Himself 
Enough with the mea culpas- Kevin Stefanski needs to call out others and exert some authority.
Stefanski is too quick to blame himself for everything that happens.
Sure, we can cite coaching when silly penalties and mistakes happen too often.
But coaching can only do so much- like maybe benching a player here and there.
Instead of, "I have to do a better job coaching," how about saying, "(Player) has to pay more attention?"
#Browns coach Kevin Stefanski said he thought game was going to be tight and we were going to have to go on a drive, and I just didn't put the guys in position to succeed, we came up short, it wasn't for lack of effort, but I've got to do a better job

— Nate Ulrich (@ByNateUlrich) January 18, 2021
If Mayfield's timing is off or is he playing tentatively due to pain, pull him out of the game.
Show him- and the rest of the team- who is in charge.
Stefanski doesn't always have to call better plays- players have to execute the play he called.
Show some emotion on the sideline, in the locker room, at the pressers… because passive and meek don't win games.
3. Place a Bigger Priority on Special Teams 
Before last season, Stefanki said his team had to improve on kick and punt coverage.
But at the final cuts, several of their best coverage guys were among those let go.
The most glaring decision was cutting Khadarel Hodge in favor of Rashard Higgins.
Higgins doesn't contribute on special teams, and Stefanski barely used him in his offense, either.
Cleveland also failed to bring in any competition for their 30th-ranked punter from 2020.
The two biggest games of the day—Pittsburgh at Buffalo and Cleveland at KC—both turned on special teams plays. Steelers blocked a punt and Browns punter dropped a snap. You have to be sharp in all aspects to win big games.

— Tony Dungy (@TonyDungy) September 13, 2021
Perhaps they hoped he'd return to his 2019 form, but they had no answer when he didn't.
And when Codey Parkey went down late in training camp, they settled on their practice squad backup.
Worst of all, they went 17 games without deciding on who their kick and punt returners are.
They need to find one guy the receiving unit can get to know (and vice versa) so they can gel and grow.