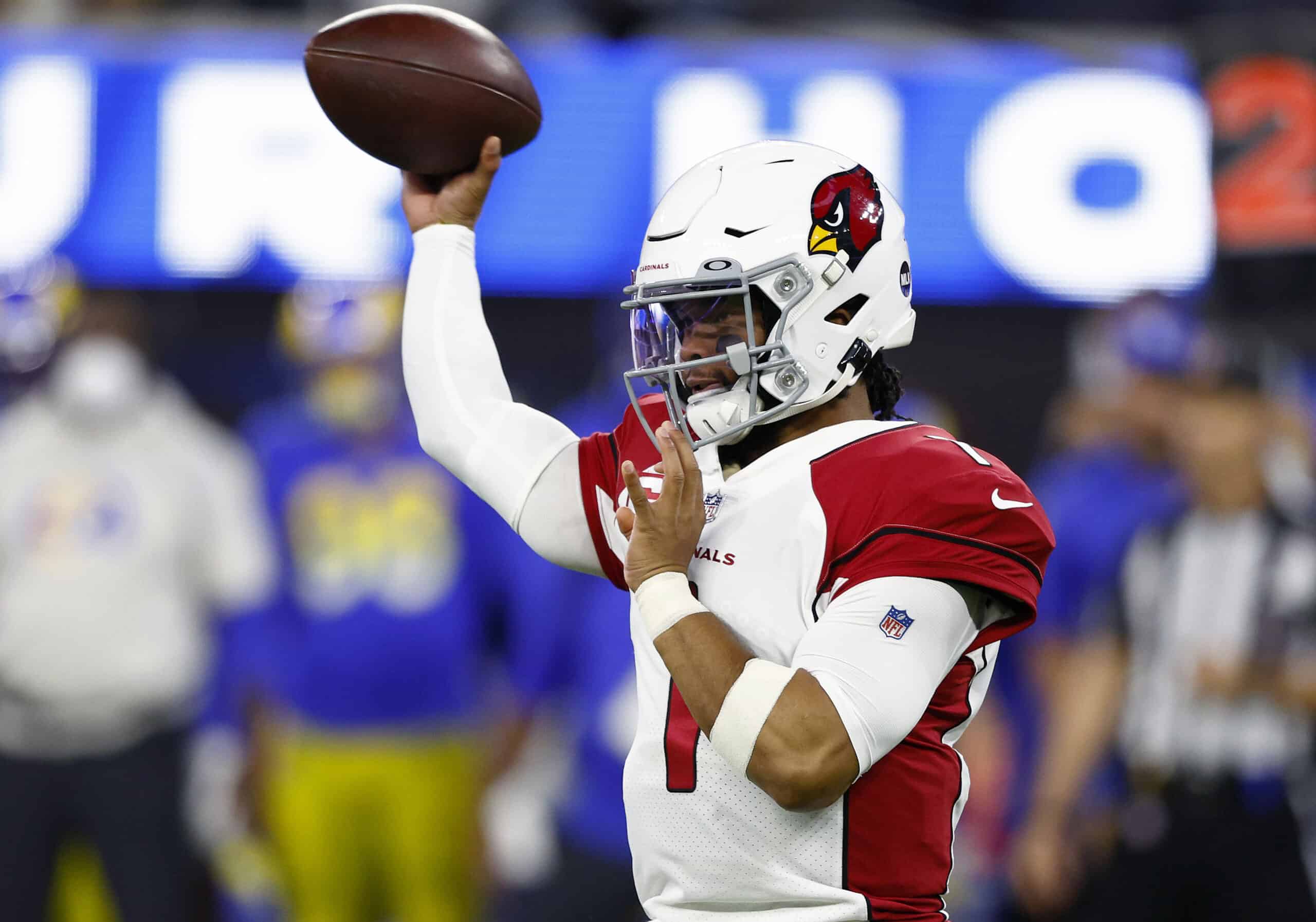 The quarterback situation for the Cleveland Browns is uncertain heading into the offseason.
The front office has backed Baker Mayfield, but also mentioned they will consider all options if it helps improve the team.
One possible option for the Browns is Arizona Cardinals quarterback Kyler Murray.
The third-year starter could be on the trade block this offseason.
Dan Orlovsky has named the Browns as one of the teams that should have interest in Murray.
So if the @AZCardinals don't give Murray the extension soon that he wants—teams that I would expect to inquire about a trade for him:

Denver
Cleveland
Philadelphia
Washington
Indy?

— Dan Orlovsky (@danorlovsky7) March 2, 2022
In theory, it makes sense for the Browns to consider trading for Murray.
Mayfield has one year left on his deal and has been inconsistent throughout a majority of his professional career.
All-In On Murray?
It's uncertain if the Cardinals are legitimately considering moving Murray this offseason.
The two sides have experienced some issues, but it's tough to part ways with a two-time Pro Bowl quarterback who is only 24 years old.
Nonetheless, the Browns should be all-in, assuming the Cardinals open up trade talks for Murray.
He has been an above average quarterback through his first three seasons in the NFL.
Only 1 player in #NFL history has 70 pass TD and 20 rush TD in their first 3 seasons.

Kyler Murray #Cardinals pic.twitter.com/YzBRTbGXfx

— Jeff Kerr (@JeffKerrCBS) February 24, 2022
Cleveland should have the draft capital and young assets in order to acquire Murray.
Although, plenty of other organizations are going to be chasing after Murray as well.
Orlovsky names the Broncos, Eagles, Commanders, and Colts as other possible teams in on Murray.
He's not wrong, all of those teams do need upgrades at quarterback.
However, the Browns might have the best overall roster out of all those teams.
A trade for Murray could really put the Browns over the top in the AFC.
Could This Really Happen?
Honestly, it's tough to imagine the Cardinals parting ways with Murray this offseason.
The third-year quarterback just made the postseason in 2021.
He struggled during his playoff game, but Murray has tremendous upside.
Also, it's unknown if the Cardinals are really taking calls on Murray right now.
A few takeaways from my time at the NFL combine this week:

– The Cardinals aren't taking trade calls for Kyler Murray.
– It doesn't sound like Chandler Jones will be a Cardinal in 2022.
– It sounds like Christian Kirk will have a hot market in free agency.

— Josh Weinfuss (@joshweinfuss) March 2, 2022
Possibly, something changes and Murray wants out before the beginning of the next season.
Until that happens, Browns fans should get used to the idea of having Mayfield as the starter.
Cleveland is likely to ride out Mayfield's fifth year and decide what to do after the 2022 campaign.
Obviously, having Murray in a Browns uniform would be great, but it doesn't seem like a realistic possibility right now.
It makes sense on paper, but the Browns should consider all their options as they look to upgrade their team this offseason.