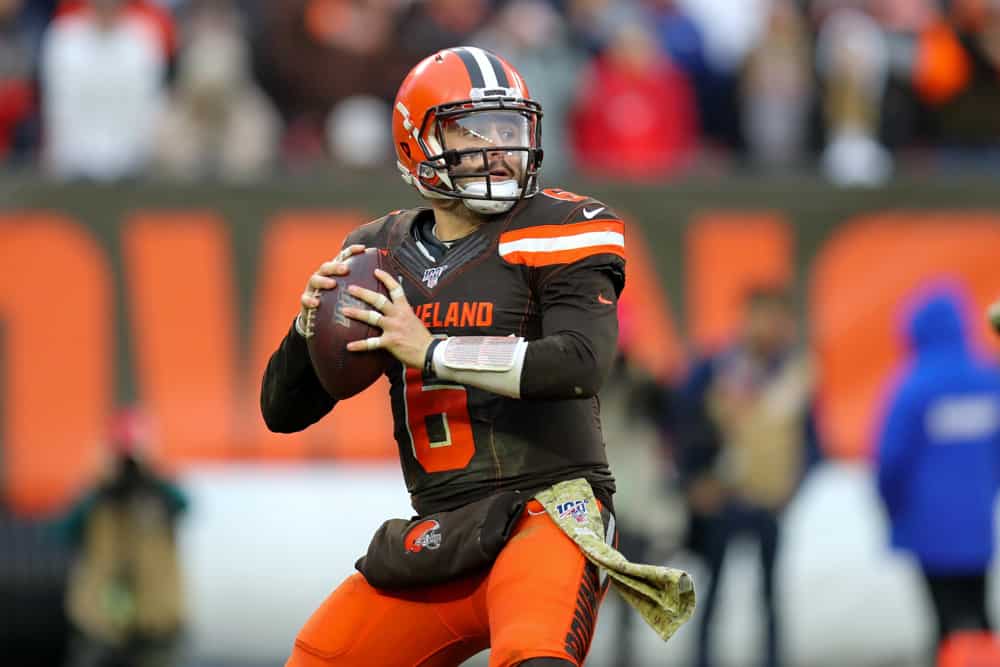 Baker Mayfield showed so much promise during his rookie season in 2018.
Then came 2019 when he had fewer touchdowns and more interceptions than he did the year prior.
All 27 of Baker Mayfield's NFL rookie record-setting touchdown passes.

You're welcome.

— Everything Cleveland (@EverythingCLE_) January 15, 2020
The 2019 Cleveland Browns season was a total disaster for everyone involved.
Mayfield showed too much regression for a former No. 1 overall pick and some of that blame has been placed on Freddie Kitchens.
Kevin Stefanski is now in as head coach and the hope is that he can bring both professionalism and success to the Browns franchise.
Mayfield will remain the player facing the most pressure in 2020, but some proper coaching could lead to a turnaround season.
The alternative is ending up like Mentor, Ohio native Mitchell Trubisky.
Assuming the best, here are some bold predictions for Mayfield in 2020.
1. Baker Mayfield Throws 35 Touchdowns
Mayfield threw 27 touchdowns in a total of 13 games during his rookie season.
That number dropped to 22 when he started all 16 games last year.
Reaching 35 touchdowns is a bold prediction because only one player reached that mark in 2019.
That was Lamar Jackson, who finished with 36.
Four quarterbacks reached that mark in 2018 and zero did in 2017.
Offense in the NFL ebbs and flows but there is no excuse why Mayfield can't have a huge year with the weapons around him.
.@BakerMayfield to @OBJ over the top for the TOUCHDOWN. #Browns #MIAvsCLE

📺: FOX
📱: NFL app // Yahoo Sports app
Watch free on mobile: https://t.co/YLI9jW8U5W pic.twitter.com/Vs7B1Vmico

— NFL (@NFL) November 24, 2019
He already has Odell Beckham Jr. and Jarvis Landry.
The Browns have also added Austin Hooper to form a dangerous tight end duo alongside David Njoku.
And don't forget about Kareem Hunt and Nick Chubb catching passes out of the backfield.
A competent offense where plays are actually being run for the best players on the field should help erase the red zone woes seen in 2019 and lead to a Big 12-type year for Mayfield.
2. Baker Mayfield Throws For 4,200 Yards
Reaching 4,200 passing yards goes hand-in-hand with the prediction of 35 touchdowns.
11 quarterbacks reached the 4,000-yard mark last year, while five eclipsed 4,200 yards.
10 broke the 4,200-yard mark in 2018.
Mayfield starting all 16 games last season was a huge accomplishment for a Browns quarterback.
He finished with 3,827 yards and had a disastrous completion percentage of 59.4.
Baker Mayfield has completed 57% of his passes with 3 TD and 8 Int when targeting either Odell Beckham Jr. or Jarvis Landry this season.

His completion percentage to Beckham (57%) and Landry (57%) rank as the bottom 2 out of 18 QB-receiver duos with 65 attempts this season. pic.twitter.com/Shvap6Rvtc

— ESPN Stats & Info (@ESPNStatsInfo) November 14, 2019
Only Josh Allen was worse with a mark of 58.8.
Working on Mayfield's mechanics and cutting down the incompletions and interceptions, should allow the quarterback to reach 4,200 yards with ease.
3. Baker Mayfield Makes The Pro Bowl
Mayfield making the Pro Bowl sure seemed like a lock at this time a year ago.
Now it is a wildly bold prediction.
The above two predictions happening would certainly help his case.
What could push it over the edge would be Mayfield leading the Browns to the playoffs.
It is easy to forget how great Mayfield looked in 2018.
He arguably should have been the Offensive Rookie of the Year, which was won by Saquon Barkley, and set a new record for touchdown passes thrown by a rookie quarterback.
Peyton Manning and Russell Wilson set the rookie passing TD record in 16 starts.

Baker broke it in just 13.@bakermayfield for Offensive Rookie of the Year. pic.twitter.com/oJTIHHyIl2

— Cleveland Browns (@Browns) January 26, 2019
The Browns actually being good would be the story of the NFL season and Mayfield would be at the forefront of the conversation about the team.
He also wouldn't be the only Browns player in the Pro Bowl if the team ends up playing in January.