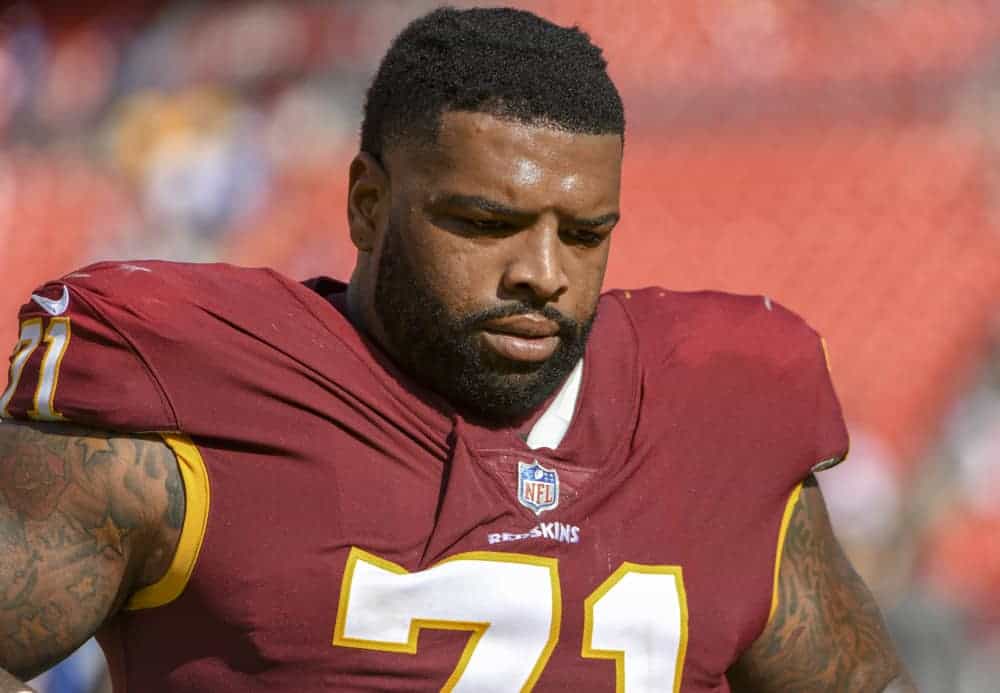 After the Washington Redskins gave Trent Williams permission to seek a trade, the Cleveland Browns remain a contender.
According to Mary Kay Cabot of Cleveland.com, the Browns will make an offer only if the Redskins lower their asking price.
If the Browns try to acquire Williams, there are pros and cons that come alongside that deal.
Pro #1: The Need For A Left Tackle
There is such a great need for a left tackle that the Browns are rumored to use their No. 10 overall pick on a lineman.
Instead of drafting a prospect, why not acquire a seven-time Pro Bowl selection to man the position?
Williams, who has spent his entire career with the Redskins, was named to the Pro Bowl each season from 2012 to 2018.
The Top Graded #Redskins offensive players so far this season:

Trent Williams – 77.6
Chris Thompson – 73.3
Jordan Reed – 72.4
Morgan Moses – 70.3
Alex Smith – 69.6

For more #Redskins PFF stats: https://t.co/UCftCrhbc1

— PFF WAS Redskins (@PFF_Redskins) October 4, 2018
Despite missing last season, Williams would come into a great situation too.
The Browns hired Bill Callahan as the position coach, who worked with Williams for four seasons.
Con #1: What It Would Cost
For starters, Williams will cost $10.85 million in 2020 and $12.5 million in 2021.
That contract could change, which has partially led to the situation Williams is currently in.
According to NFL Network's Ian Rapoport, Williams wants a long-term contract.
Many thought that was the reason talks has stalled because the Redskins want a high enough draft pick.
According to Rapoport's latest post from Williams' agent, trust has been completely lost.
This is a bit odd. The #Redskins have had active negotiations with teams about trading Trent Williams and the large contract demands have made it difficult to get a high enough draft pick. Those talks have continued recently. Now this 🤷🏼‍♂️ https://t.co/FNmwC6DvE4

— Ian Rapoport (@RapSheet) March 24, 2020
If the Browns parted ways with their first or second-round pick, the franchise would have to offer Williams a three-year deal at the minimum.
Do the Browns really want to pay a 31-year old left tackle a high amount of money for a long time?
Throw in the fact that he took a year off and there is no guarantee he will return to his Pro Bowl form.
Pro #2: Improved Passing Game
According to advanced stats, Williams was one of the best pass blockers in the game.
With a quarterback like Baker Mayfield, who is looking to improve on his passing numbers, then having all the protection available matters.
Last year Redskins LT Trent Williams recorded a pass block win rate of 92%, above the OT average of 86%. Today his replacement, Donald Penn, posted a PBWR of 73%. PBWR is an ESPN metric powered by NFL Next Gen Stats.

— Seth Walder (@SethWalder) September 9, 2019
Con #2: No Shot At Isaiah Simmons
The Browns do not have a shot at Isaiah Simmons unless the team trades up in the draft.
As of now, the Browns do not want to trade their first-round pick for Williams.
However, if the Browns trade their first-round selection or even their second, that would hurt their chances of moving up.
While the Browns need a left tackle, there is also a great need for a linebacker, and Simmons is an NFL-ready player.
His 2019 numbers included 104 total tackles, 7.0 sacks, eight passes defended, and three interceptions.