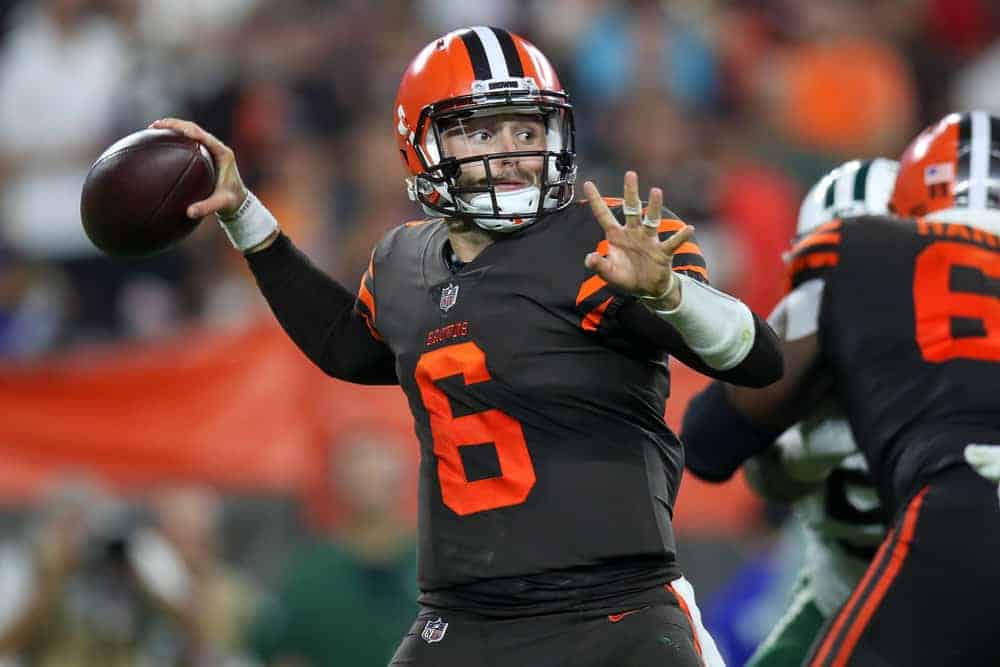 It's been quite a long time since the Cleveland Browns had the same quarterback start all 16 games in the regular season.
How long?
Baker Mayfield was only 6 years old that last time it happened in 2001.
Tim Couch was the last Browns QB in 2001 to achieve this.
Baker Mayfield set to become our 1st QB in 18 years to start all 16 games, vows to be improved for the next 16

📰 » https://t.co/8hqEbE5gcD pic.twitter.com/idid3cE7sk

— Cleveland Browns (@Browns) December 26, 2019
On the season, Mayfield has 19 touchdowns and 18 interceptions.
He needs 177 yards to eclipse the 3725 passing yards that he threw for in his rookie year in only 14 games.
While Mayfield is proud of this achievement, he admits he has fell short in most of his in-season goals.
Mayfield on his accomplishment:
"I'm never one to shy away from competition," Mayfield said. "I play this game because I love it. I truly do enjoy the process. Getting there to compete on Sunday is the fun part about it. Any chance I go out there and compete, I'm going to do it."
Offensive coordinator Todd Monken also praised Mayfield:
"He is mentally and physically tough," offensive coordinator Todd Monken said. "That is how he is wired. He loves to play football. I do not think he could ever see himself not playing on Sundays. You would have to drag him off the field. The doctors would have to say, 'X,Y and Z could happen if you play.'
Browns head coach Freddie Kitchens also offered high praise of Mayfield:
"I think your quarterback needs to be the most mentally and physically tough person on your team," Kitchens said. "I think Baker is mentally and physically tough. You have to fight through things as a quarterback mentally, of course, but physically, as well. There are some games you get knocked around pretty good and you have to be ready to get back out on the practice field, practice, get better and do away with all the other stuff and just focus on getting better.

"I think it is remarkable. It says a lot about the resolve and resiliency of Baker, Odell and several guys. There have been several guys playing injured. I said it back in training camp, you are never going to feel normal until March. That is the way the season is."
Mayfield has seen his share of struggles in his 2nd year as an NFL quarterback.
Most notably, his completion percentage has dropped from his rookie year that seen him set the NFL rookie passing record with 27 touchdowns.
While accuracy was supposed to Mayfield's strength, his completion percentage has dropped to 60.2 in 2019, down from 63.8 in 2018.
It will be a crucial offseason for Mayfield and he is ready to work on improvements.
But, before he begins, Kitchens stressed that Mayfield needs to focus on the Bengals.
"I want Baker focused on the Cincinnati Bengals right now," Kitchens said. "That is the only thing I want Baker focused on. I am not worried about the offseason yet. We will talk about that next week."