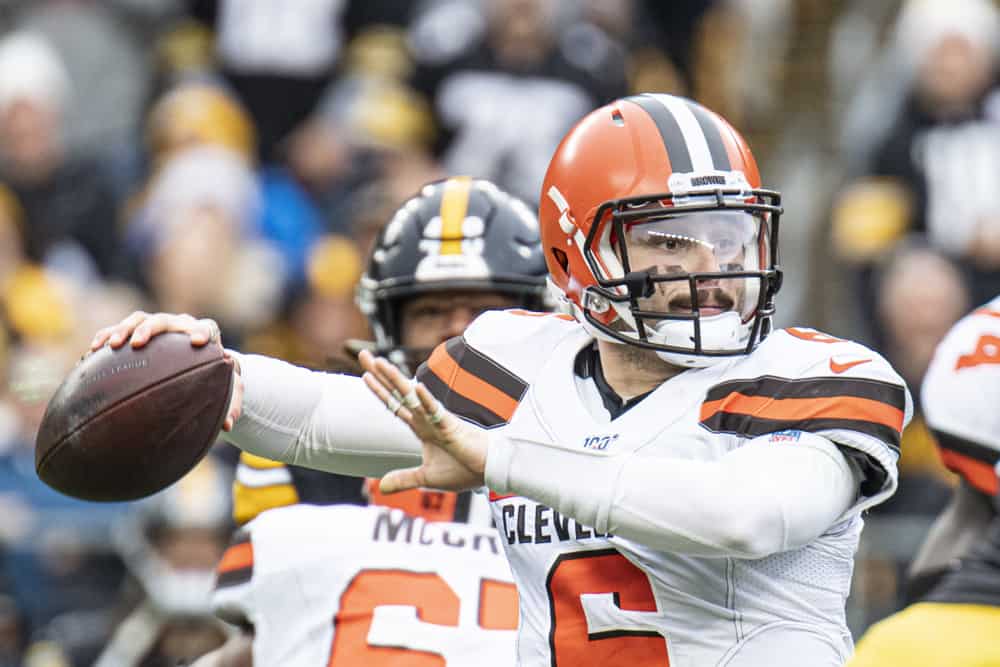 Last Sunday really happened; the Cleveland Browns beat the Pittsburgh Steelers to make the playoffs.
Now comes the hard part and difficult memories.
Three playoff losses, so many years since their last victory in Pittsburgh… Browns fans know all the numbers.
But Kevin Stefanski had the best answer to how the Browns' tragic history in Pittsburgh affects his preparation.
#Browns HC Kevin Stefanski on it being a long time since they've won in Pittsburgh: "Not too concerned with the past."

— Keith Britton (@KeithBritton86) January 4, 2021
Stefanski noted he has more players and coaches with playoff experience than he has those who can talk to the Browns history with the Steelers.
On that note, here are 3 bold predictions for the Browns versus Steelers in the Wild Card game.
1. The Scoreboard Will Be Lit 
Watching the Browns offense recently might drain some enthusiasm from the Cleveland fanbase.
But there were two plays in Week 17 that serve as a warning to the Pittsburgh defense.
One was Jarvis Landry's touchdown run and the other was Baker Mayfield's option run for the game-sealing first down.
.@God_Son80 RUSHING touchdown ❗️

📺: @NFLonCBS pic.twitter.com/G6F3rPlmlr

— Cleveland Browns (@Browns) January 3, 2021
Both of those plays surprised the Steelers, and Stefanski has a lot more of those plays up his sleeve.
During this season, we saw Jarvis Landry passes, wide receiver end arounds, reverses, and true RPOs.
We'll see more misdirection, too, after the Steelers let Austin Hooper slide into the endzone uncovered twice, even though Mayfield only saw him once.
Stefanski didn't earn a reputation as a good coordinator with offensive game plans like we saw recently.
He'll throw the kitchen sink at Pittsburgh to keep up with the air assault of the Steelers.
2. Browns Outrush Steelers 3:1
With Olivier Vernon lost for the playoffs and Myles Garrett slowed by post-Covid lung issues, Pittsburgh is unafraid of the Browns' pass rush.
Mason Rudolph put up over 300 yards last week and barely saw any contact.
Denzel Ward is no sure thing to return, as we don't know if he was symptomatic or not.
Defense confident in its depth as roster shuffle hits key positions

📰 » https://t.co/FTchlIl61U pic.twitter.com/qoa8EeU4LK

— Cleveland Browns (@Browns) January 2, 2021
Greedy Williams can't be counted on regardless of what he tweets to his followers.
Ben Roethlisberger is probably salivating at the thought of facing Cleveland.
But Cleveland will make sure James Connor does not create a second threat.
Couple that with some creative running plays for Nick Chubb, Kareem Hunt, and at least 1-2 receivers.
The result is about 180-60 rushing yard advantage for Cleveland.
3. It Will All Come Down To The Kickers 
Cleveland's defense is at a disadvantage against the elite receiving corps of the Steelers.
But Joe Woods will come up with some blitzes, stunts, and disguises to create more pressure than last week.
And Baker Mayfield will make enough big plays to keep pace.
In any close game, a kicker often makes the difference, which might be keeping Browns fans up at night.
Imagine the Cleveland Browns ending the Pittsburgh Steelers season.

In the playoffs.

With the world watching. pic.twitter.com/Yaa3eun9nV

— Nick Karns (@karnsies817) January 4, 2021
Cody Parkey has been a little shaky in recent weeks, with ghosts of past doinks haunting his games.
Pittsburgh could put rookie Matthew Wright out there for the injured Chris Boswell.
Neither kicker has made a field goal longer than 46 yards this year.
Wright has no playoff experience and Parkey has memories he wishes would go away.
But one of these two will make a big kick that delivers a wild card win for their team.