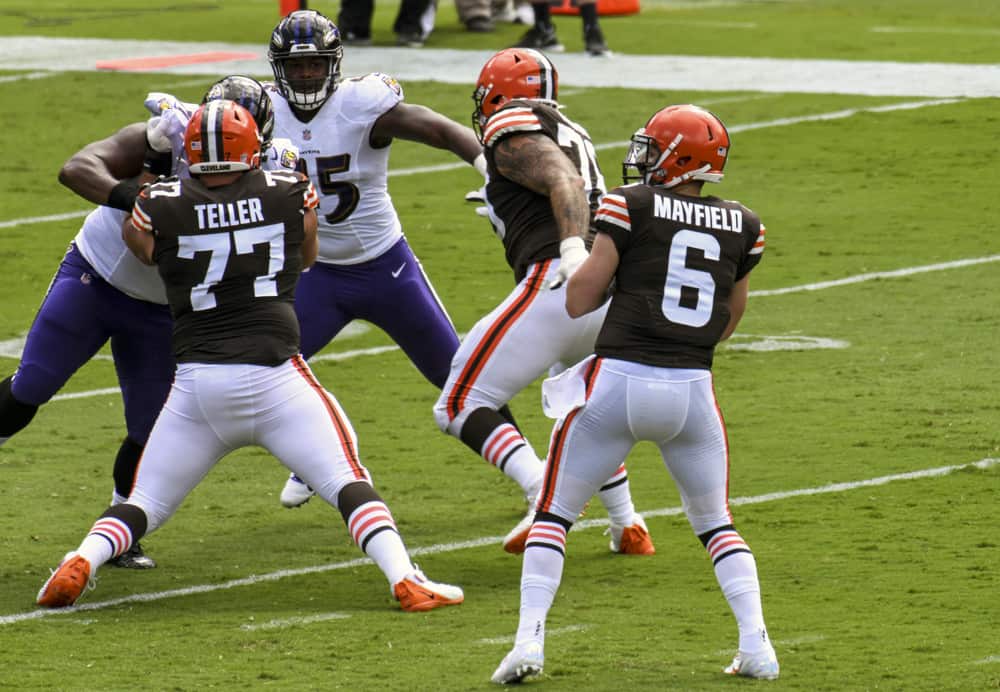 It seems like ages since the Cleveland Browns last played the Baltimore Ravens.
In fact, it was Week 1 of this season.
But even though it counted in the standings, new head coach Kevin Stefanski treated it like a preseason game.
He threw a vanilla offense at the Ravens that had many wondering what all the off-season hype was about.
Joe Woods was still adjusting his scheme after the loss of Grant Delpit and Greedy Williams.
🗣 "We are about the work!" pic.twitter.com/N9iH410pf6

— Cleveland Browns (@Browns) December 8, 2020
It all added up to a dismal 38-6 loss for the Browns and fear of a 2019 reprise for the Browns' fans.
This Monday night, Lamar Jackson and the Ravens will finally play the new Cleveland Browns.
With a chance to clinch a playoff spot and crush Baltimore's chances at the same time, fans are more excited than ever to see what happens.
Here are 3 bold predictions for the Browns vs Ravens game.
1. Browns Defense Stymies Ravens Backfield
Last week, Cleveland threw a bunch of 5-man fronts at Derrick Henry and the Tennessee Titans.
That was part of the reason Cleveland held Henry to a mortal total of 60-rushing yards and one touchdown.
Expect Joe Woods' unit to concentrate on the Ravens short game- runs and screens- on Monday night.
The key might be a repeat performance from an improving linebacker corps.
PFF linebacker run defense grade rankings:

1. SEA Bobby Wagner – 88.4

2. #Browns Sione Takitaki – 87.5 pic.twitter.com/uO93FHaRCL

— Sam Penix (@Sam_Penix) December 7, 2020
Sione Takitaki scored top grades from PFF last week and Mack Wilson is playing better, too.
Expect the front 7 to keep everyone in front of them and limit early-down production.
Cleveland's front line remains their strength and putting the Ravens in 3rd-and-long situations plays right into their hands.
With another week to get his post-Covid strength back, expect Myles Garrett to have a big day.
Lamar Jackson might hit on a long touchdown, but it will be the rest of his day that Browns fans remember.
2. Kareem Hunt Has a Big Day 
Kareem Hunt remains a threat every time he touches the football.
But in recent weeks, the RB-1 and RB 1-A theory of defending Nick Chubb and Hunt has taken a hit.
Since Week 11, Hunt is averaging just 46 yards-per-game on about 14 touches.
That's not horrible for a typical backup rusher, but it is way below Hunt's standards and fans' expectations.
#Browns OC Alex Van Pelt says having Nick Chubb and Kareem Hunt is like having Mike Tyson and Evander Holyfield, two guys that can hit you with that knockout punch

— Mary Kay Cabot (@MaryKayCabot) November 27, 2020
Nick Chubb handled about 20 touches and 132 yards per game over the same stretch.
Expect Chubb to put up his typical 100 yards, even as Baltimore adjusts to stop the run.
But watch Kareem Hunt break more than one 20-yarder on his way to more Hunt-like numbers.
Cleveland's dual rushing threat will open the door for Baker Mayfield to hit a few big pass plays, too.
With a few gimmicks thrown in, Hunt will be the biggest of a bunch of big playmakers this week.
3. Stefanski Keeps the Pedal to the Metal 
It is safe to say last week's final score didn't reflect how badly the Browns outplayed the Titans.
But until Andy Janovich secured that onside kick, plenty of us visualized an extra-point that would crush our souls.
One thing we've seen from Kevin Stefanski this season is he adjusts his game based on previous results.
We could essentially end the Ravens season on Monday night football IN Cleveland. Imagine that. Wow. #Browns

— MoreForYouCleveland (@MoreForYou_CLE) December 3, 2020
Tennessee came out of halftime hell-bent on making a game of things.
But Stefanski won't be afraid to run up some points regardless of the score against the Ravens.
We can't expect 41 points versus the Baltimore defense, but who expected 41 against the Titans?
Cleveland's defense is playing good ball despite injuries.
But the Ravens and other opponents have creative offensive coordinators, too.
Tennessee made things too close for comfort to think any lead is safe in any game.
Bonus Bold Prediction: Baker Bumps Baltimore Back to Oblivion 
Baker Mayfield is not likely to throw for 300 yards and 4 touchdowns against this defense.
But he is likely to continue his mistake-free play and lead Cleveland to another statement win.
The Browns roll 27-16 and clinch an AFC Wild Card berth with their 10th victory.
Kevin Stefanski's bid for Coach of the Year honors gains momentum.
And the party rolls on in the greater Cleveland area.