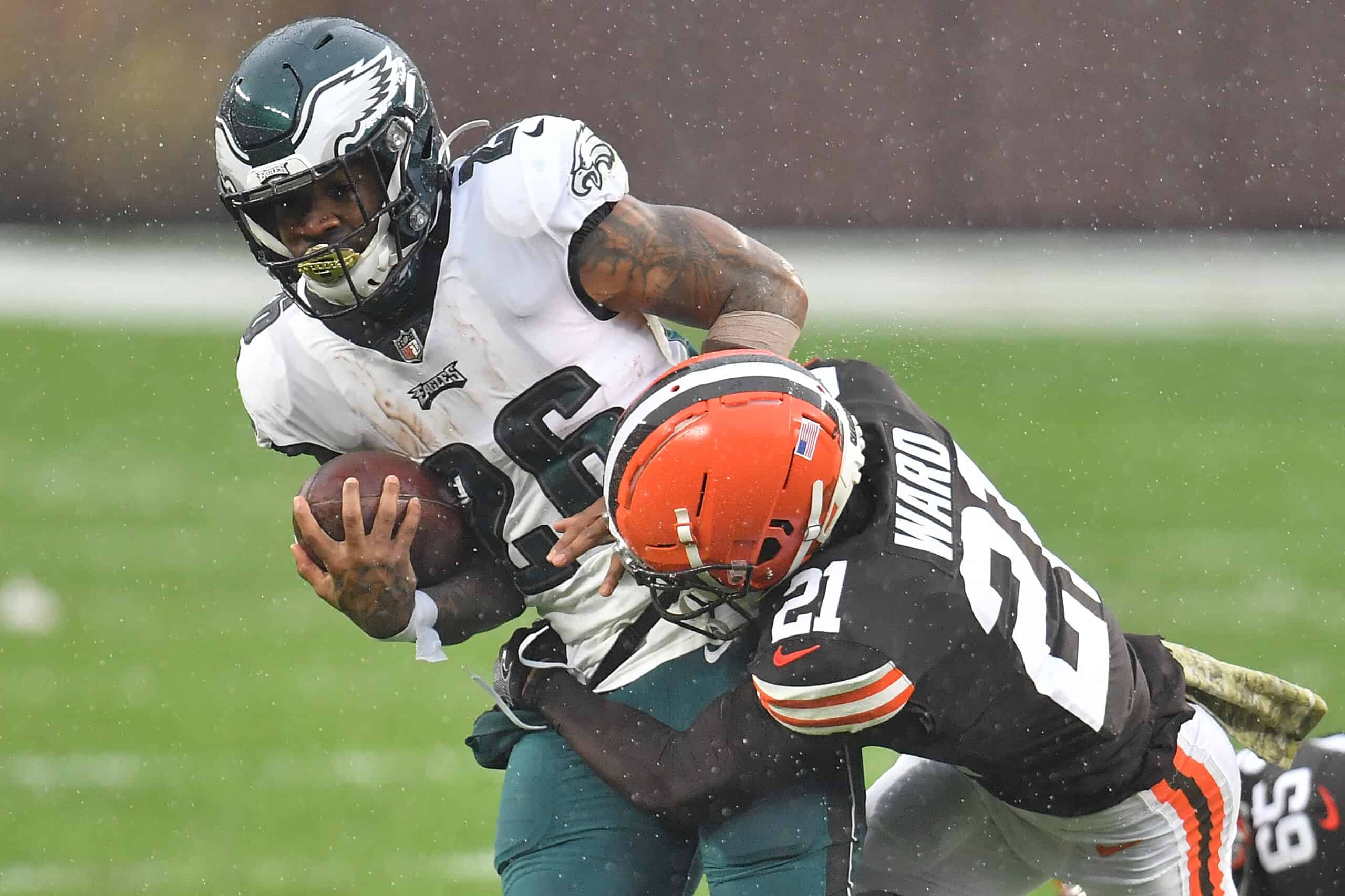 Just in case you're wondering, Denzel Ward will start at cornerback for the Cleveland Browns in 2021.
With all the John Johnson, Greg Newsome, and Troy Hill talk, some folks might forget about Ward.
And Ward is really happy to hear Myles Garrett recovered completely from his bout of Covid.
#Browns Denzel Ward at OTA's this morning (via Browns) pic.twitter.com/gQ5UrHfrw1

— Brad Stainbrook (@BrownsByBrad) June 2, 2021
Cleveland's Pro Bowl-caliber corner didn't post any basketball or weight room videos on social media.
But it appears Ward recovered completely from his late-season encounter with the virus, too.
Ward comes into this season with the security of a guaranteed fifth season and a big pay raise.
#Browns Denzel Ward said he was pretty sick with COVID-19, flu-like symptoms, chills, etc

— Mary Kay Cabot (@MaryKayCabot) January 13, 2021
Pundits, fans, and analysts will debate all season about when Andrew Berry should extend Ward's deal.
But Ward will focus on building his impressive NFL resume, much to the chagrin of Browns opponents.
Here are 3 bold predictions for Denzel Ward's 2021 season.
Ward Starts All 17 Games This Season
Denzel Ward has never played in 16 NFL games over the first 3 years of his career.
He missed 3 games with a pair of concussions as a rookie.
Fortunately, concerns about being a chronic concussion risk did not materialize.
But he missed 4 games with a hamstring strain in 2019 and 3 with a calf injury last year.
He also missed 2020's season finale and the wild card game while battling Covid.
#Browns Denzel Ward was PFF's fifth-highest-graded cornerback in man coverage during the 2020 season pic.twitter.com/eJRpH842A8

— Sam Penix (Odell Beckham Jr. purist) (@Sam_Penix) April 11, 2021
Luckily for Ward and the Browns, experience doesn't just count on the field.
Ward is well-versed in how to care for himself and prevent soft-tissue injuries.
This is the season he finally gets through unscathed.
The newly extended NFL game schedule means he won't finish with 16 games played in 2021.
But 17 game starts sounds better, anyway.
Ward Leads League In Passes Defensed
When he went down with a calf strain last year, Ward was considered a likely Pro-Bowl candidate.
It wasn't because he had a lot of flashy interceptions or highlight-reel big plays.
He grabbed just his second interception of the season right before he got hurt.
But interceptions are a glory statistic, and they do a bad job of defining a cornerback's ability.
There are better statistics to validate a corner, like catch percentage, QB rating, and passes defended.
Denzel Ward's footwork and technique 🎯
pic.twitter.com/8YPzJcXlBN

— Footballism™ (@FootbaIIism) April 26, 2021
Ward led the league in passes defended when he went down.
And despite missing 4 of the last 6 games, he ended 2020 with the second-most deflections and break-ups.
Playing a full season will allow Ward to top 20 passes defended while he maintains his 50% career completion rate.
Ward greatly improved his tackling in 2020, and he'll land a handful of tackles for a loss this time around.
And all of that will make Ward a 2021 Pro Bowler.
Denzel Ward Just Gets the Job Done 
Joe Woods' defense will be faster and he'll take some chances with his revamped unit.
And the success of those chances often depends on the outside corners locking down receivers in man coverage.
Knowing a corner probably won't need help lets the linebackers and safeties run amok.
It also gives the guys doing the crazy stuff all the glory, while the corners are all but forgotten.
Ward is such a lock-down corner, and hopefully, Greg Newsome or Greedy Williams can match his skills.
#Browns first round pick CB Greg Newsome II: "I know I am heading into a very competitive room. It'll definitely be great to learn from a guy like (Denzel Ward). I love going into rooms that are just competitive. I'm definitely going into a secondary with a lot of swagger."

— 92.3 The Fan (@923TheFan) April 30, 2021
Myles Garrett, Takk McKinley, and Jadeveon Clowney will get the cheers as they pile up sacks.
But Ward knows if he is not in the way of the escape pass or on the WR-1's shoulder, the rush doesn't get there.
Cleveland's best corner will earn his contract extension and more Pro Bowl appearances.
Garrett and many of the new pieces around him might be more visible.
But Ward remains one of the most important and impactful players on the Browns' defense.